Okay.. believe it anot, I only have time to blog about my Genting Invasion today. It's been like a week ago. I know… Hahaha… but well I wanted to blog about it. Ermm why? I dunno… at least I can look back when.. eh… god knows how old I will be when I start to click on the archives and goes like… ooo… I did this… wow… I did that….. woooo… I saw this handsome geek~ Okay okay… to be honest with… there isn't any handsome geek in Genting… not as far as my eyes can see.
Better luck next time… I hope~Â 
0400 hrs
Just finish watching mid night show and yum char with friends. Sigh.. was suppose to go dinner with ganesh, but sis say she'll pick me up and go genting.. but she made last minute change of plan. Hahaha…. and I canceled my dinner plan with ganesh. Ah… I should have just went for the dinner!
0700 hrs
Mum called. Dad is on the way down from Genting to pick me up. I was tired. I barely have 2 hours of sleep. Yeah…. in case anyone forget, I packed like 1/4 of my room stuff there. I dunno what got in to me. I just feel I need to have everything there. As if I am staying there for good.
Finally dad arrived. First thing mum say to me was "You've gone fatter" Okay.. I know I know.. That's not what I wanna hear in the early morning
. Dad as usual will deny the fact that I have been gaining weight. Well, I used to be fatter, and I guess that image is still in his head, so as long as I am not as fat as what I used to be… He will still say.. "No lah, It's just the cloths she is wearing". HOW SWEET~
p/s – I sleep all the way from my house to Genting
0900 hrs
Mum made breakfast… Hahaha… yup hot steamed CHAR SIEW PAU and coffee!! Yumm yumm… my favourite. It's really been some time since I last ate char siew pau. Serious shit man. I guess it's like lemme count… A year? Hemmmm.. as far as I can remember, I never had any pau when I am in KL. As a matter of fact, I dun even know where on earth in KL can I get nice and tasty char siew pau. Have a little chit chatz with uncle, auntie, mum and dad, sis and sis bf.
1030 hrs


Me, sis and sis bf(Jason) started off our invasion plan. Yup.. It's sis birthday celebration. So we will all go out and have fun. It's been a long time since the dynamic sisters venture in to the theme park.
Okay… sis went to buy tickets. Me and jason have nothing to do. He decided to test out his camera. Yeay~ I din bring mine. He will be the cameraman for the day~ How would I decline. I love being photographed. Hahaha~
1045 hrs


Okay. We both feel like measuring ourselves. Hahaha… Yup obviously I am more than 152cm. So yeap, I do measure up to the scale. I can play almost everything and anything. Opsss… except for some kiddies stuff. We are all set. We know what we can play and we surely have our bands around now.

In case anyone is wondering. This is my photographer of the day. Hehehe… my sister's boyfriend Jason and my sister, Denise. Sweet eh?
Day 01 – 1100 hrs
We are all set. Got our bands tighten to our wrist. Wooo hooo… Theme Park here we come! We started off out first ride of the day, The "Super Toboggan". Don't ask me what does Toboggan means. My english is seriously Sdn. Bhd. la. You know… ENGLAND no good! Well, this ride have the shortest queue and well, we wonder why. When we finally get to the front, we finally knew why. You actually have to weight yourself, and if you are more than 65kg. I'm so sorry people! You are out of the line. Hahaha… A good choice for a ride. 1. Less people in line. 2. I finally know how much I weight recently.. muahahaha…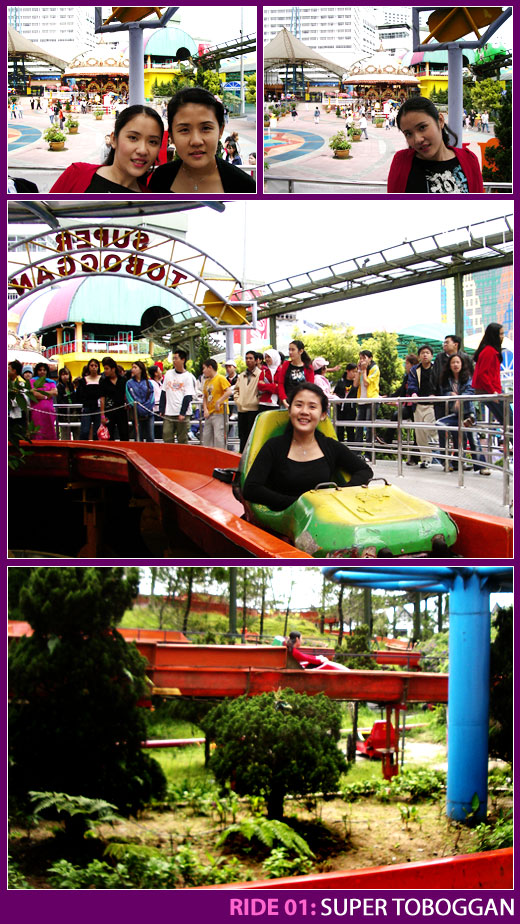 Serious facts about the Super Toboggan. It's amazing.
Type of Ride: Intense, not for faint-hearted
Country of Origin: France
Track 1: 175 meters
Track 2: 554.27 meter
Total No. of Cars: 9 units
Capacity Per Car: 1 person
Speed: 2 – 3 meters / second
Duration: 2 minutes
Minimum Height Requirement: 122cm (4 feet)
Maximum Height Requirement: 183cm (6 feet)
Hehehe…. when I first saw the cars, I asked my sister, "Does it look like those toy cars u see for kids in the supermarkets and just attach some wheels to it?" Hahaha… we both laughed and she say I can be an inventor then. Seriously, the ride looks a little old. Especially the cars. I wonder how long have they been there?
Okay… we move on for more excitement. This time around, we saw this huge spinning thing. Yeah, it's located right next to the entrance. The queue wasn't that long after we left the Super Toboggan. Yippie… when I saw it spinning… my legs start to tremble. Well with my past medical record and fear for heights, I normally will have blackouts. However… we only live once in our lifetime, so I decided to still go for it.

Fun but true facts about The Spinner,
Type of Ride: Thrilling and fun
Country of Origin: Italy
Manufactured By: Zamperla
Speed: 3.5 meters / second
Duration: 90 seconds
Weight: 5000 kg
Total No. of Coloured Lights: 1500 pieces
Minimum Height Requirement: 107cm (3.6 feet)
Features:
48 individual seats
Oscillates and tilts
Rides can rise up to 8 feet
Hahaha… this is my first time on this ride man. No shit! At first it seems scary. I mean okay.. when it start to spin. I seriously dare not look at the groud. All I was looking at was the scenery around the park. Haha…. the first 10 seconds.. I felt it was damn scary and even scream… after that 10 seconds… I start to feel bored… my voice toned down and eventually stop screaming. woo hoo~ I start to be crazy after the ride.
Yeay…. after a fast ride, I wanted to ride on something slow. Hehe… yeah a merry-go-round. I always like the merry-go-round. Hehe…. I dunno.. ever since young I felt it was something very pretty and beautiful. Maybe lots of horses and lights and everyhing else makes it such a favourite.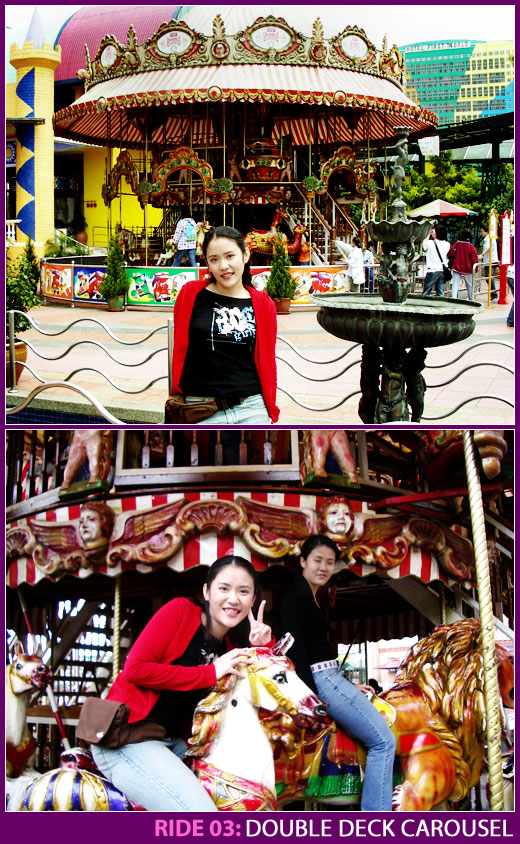 Slow but useful facts about the Double Deck Carousel ride,
Type of Ride: For all the family
Country of Origin: Germany
Weight: 3600 kg
Total No. of Coloured Lights: 1001 pieces
Maximum Capacity: 40 persons
Duration: 3 – 5 minutes
Ride a proud white charger, a fiery black stallion or even a mystical chariot in this magical 11-metre marvel that's in the Guinness Book of Records for the most number of coloured lights! With a patented design that includes an incredible horizontal steam engine and organ. Wow…… Isn't that amazing?
Wow… when the noon time comes, everywhere is crowded with people. Long queue everywhere. We skipped many rides due to the overwhelmed amount of people. We decided to go for the new ride in the theme park. Yeah, due to it being something new in the park, we will have to pay additional RM10 per person for the ride. Yeah… and in malaysia… paying means no one in the queue… Hahahaha… yippie~ lets go!
Okay let's see, according to the facts… this ride is the first in asia hang-gliding roller coaster. Swoop, twist and zoom round turns and drops! This roller coaster is designed by renowned coaster designer Werner Stengel and manufactured by Zamperla of Italy. It gives thrill-seekers the incredible sensation of zero gravity, together with the realistic effect of flying.
The ride lifts the flyer to a height of 20 meters and releases the flyer to a hang gliding flying experience over 391 meters of the track length, with a maximum speed of 25.7 mph.
Minimum height requirement: 137cm
Pregnant women and persons with heart, neck or back conditions are not allowed to take this ride.
Hehe… lucky I pass everything mentioned! Yeay! I fly like superman before~ But come to think of it again. The cage for the ride, looks rather like spiderman than superman. Ermmm.. flying spiderman???
Go.. go.. go.. ole ole ole… Here we go, to play the Grand Prix Fun Kart. Hehe… Wow… I was scared. I dunno how to drive, I always crash when playing dytona, or should I say my car is always sticking to the wall trying to do some wall graffiti. I have doubt if I could even finish one lap. My sis told me. It's really very slow okay~ You won't even need the brakes. Yeah right! You are an expert driver.. sure say so lar! I am still praying to god know who I am praying to. I dunno… just whatever lar. We need to sign this computerized stuff.. like if we die or crash or met with accident, genting shall not be held responsible. Damn… do they have to do that to us. I mean… I am half dead thinking I have to drive round and round.. and they make us sign this shit! I mean.. yah… every other rides doesn't have this thing. Only this one.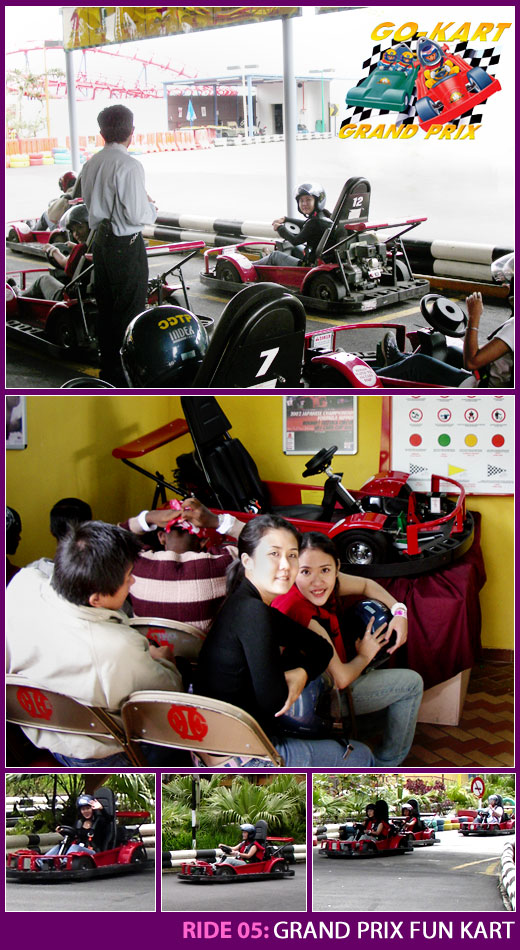 Okay… facts time again.
Type of Ride: Thrilling and Fun
Country of Origin: USA
Total No. of Cars: 10 units
Track Length: 800 meters
Speed: 10 km / hour
Capacity: 1 person / car
Duration: 5 minutes
Okay. I got my lucky number 10 cart. Hahaha….. okay cool cool steady~ I simply just press on the gas pedal and vroom my way around. At first I was quite scared. There are some people in front of me who step on their brakes so I will have to step on it and overtake them. Okay first time doing that in my life. Felt a little less nervous now. Okay… I am still very concentrated. I can see my sister and jason was like bored half way of the ride. But I dunno… my first driving experience. I seriously hold the stering wheel so tight my hand is sweating. Hello… yeah I am sweating. Next time I shall stick this "Newbie On The Road" sign on my car.
No gutts no glory. Yup, I finally have found my glory! Aha… I manage to take a ride on this Space Shot.. and the best thing is.. I never close my eyes this time. Hahaha… okay okay… you might think.. what so great about that. Who cares what you think man. No one ask for your opinion. My first time on this space machine. Hahaha, now I know how it feels to be when I am in the lift and it falls down.

Whoopie facts about the Space Shot:
Type of Ride: Intense, not for faint-hearted
Country of Origin: USA
Manufactured By: S & S Power Inc
Speed: 67 km/hour
Maximum Capacity: 12 persons
Height: 185 feet
Wow.. I have never seen genting view from this top! Hahaha… It really does look beautiful. Only for that 10 seconds I think. Then up and down we go! My heart seriously almost pop out when it first fall. Hahaha… seriously it does. I feel I have week ankle that instant. Luckyly we were on the seat or else I dunno what will happen. Help me! help me!
1425 hrs
It's lunch time. Yeap, we ate at the canteen inside the Theme Park. Yeah, when we bought the tickets, we got this discount coupons so we decided to use it. Don't waste mar. Hehehe.. seriously food service there is bad. It's rather slow and ermmm un-effective. Jason's lamb chop was terrible, it only has fries, salad and fries. They din give him cucumbers and tomatoes. Poor poor. What's e ven worst.. Its so salty I could hardly taste the lamb. My chicken chop was the last to arrive. I din want to have heavy lunch coz I'm waiting for mum's cooking. I gave 1/4 to my sis and 1/4 to jason. One thing cool about this place. Hahaa.. you can play games for free~ while waiting for your food.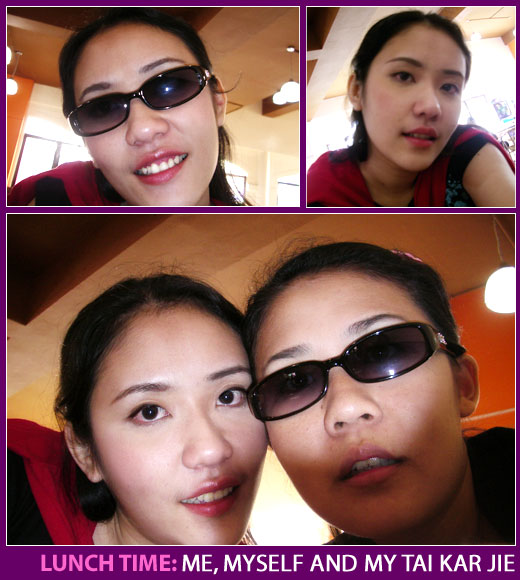 The ride must go on! How can we stop just like that lar. We dun intend to vomit our precious lunch out so we all went for something not so thrilling. Something that doesn't really excite our heart and brain that much. We walked around looking at the map what we haven't play. Actually I should say what's available on plate since almost 1/2 of it is closed for maintenance. Yeah raya and deepavali is up soon. They gotta get ready for that crowd and ignore us.
Yeap… I'm leaving on a jet plane. To where? NO idea, where ever this Astro Fighter takes me I guess. Hemm…. And seriously, of all plane I chose this lousy plane… that can't rise and land. Just going round and round in circle. How sad case lah!

Can't fight the cold hard facts:
Type of Ride: For all the family
Country of Origin: Italy
Total No. of Jets: 12 units
Maximum Capacity: 24
Weight: 7500 kg
Speed: 2 – 3 meters / second
Duration: 3 – 5 minutes
Yeap yeap.. and I am this astro fighter with this lauyah plane. If I were to be in this battle, I would be dead by then.
Woohoo… our last ride for the day! The Antique Car. Yeah I used to remember the good old days. When it was this Antique Car aka Antique Bumper Car. Hahaha.. all everyone wanna do is step on their gas pedal and knock the front car. Yeap, this time I am the driver. I love being the driver!

Antique fact about the Antique Car ride:
Type of Ride: For all the family
Country of Origin: Canada
Track Length: 700 meters
Total No. of Cars: 17 units
Capacity Per Car: 4 persons
Duration of Ride: 7 minutes
Speed: 10 km/h
Car Length: 8 feet
Fuel Capacity: 21 liters
Hahaha…. Okay… Yeah… as you really really see we miss out a lot of fun rides. What happen? Well all of them is under maintenance or there is this super long queue. Can you imagine. By the time we finish, it's almost 5pm. You should know how long we queue up for the rides right?
1712 hrs
We walked in to First World Theme Park to puchase the ticket for X-TREME Push The Limits! I didn't know what's that but well sis says it's some acrobat stuff. Okay… I'll watch it even I'm dead tired. I've never watch such shows before. Guess what the tickets arent that expensive after all. It's only 70 for the scale 1 seats, 60 for the scale 2 seats and 50 for the scale 3 seats. Jason brought the tickets and well, they prvide 20% discount for VISA card members. Wooo hooo… so we got 5th row from the stage tickets for only RM56. That was dead cheap.
We then headed back to our apartment, have dinner, bath, rest a little and get ready to watch the exciting show. Hahaha… yeah I will be talking about the show in the next entry. I think I already have a super long entry for the day~