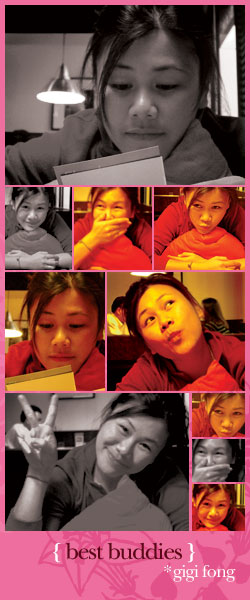 There are people you can apperently click with for no reason, and well there are people that you can hardly get along with. I wonder why?
Well… me and this soh poh… hem.. I dunno, I can't say we click, but I can't say we hardly get along. Well we do complain about one another, we had great time together, we talk a lot. Almost every other day over yahoo and still manage to talk non-stop when we meet. I wink my eye and she gets what I mean… she winks her eyes and well I double wink my eyes. Hemmm… I dunno.. it's just ironic.
We always laugh together but well… I guess we never tried crying together. Maybe someday we should do that. Hahaha… I guess it would sounds crazy but well.. never try never know.
She have different thinking and well maybe it's me who is thinking weirdly but anyway we still coup up with one another and continue talking about weird stuff and topic. That's what makes us weird in a way.
Really been grateful that you are always there for me and supported me.
p/s – nope I am not lesbian and neither is she. So girls out there would you mind to stop peeking at us.