Backdated post. Actual event took place on 23 December 2005.
It's a long awaited party. I always love to celebrate Christmas. Don't ask me why. Erm… it's weird, I am not a Christian, I don't really fancy eating turkey. Yeah, it has this rather rough texture and ermm I seriously dun find it tasty.
I guess this is the celebration that bring the most warmth feeling to me. Hehe… maybe is the movies I watch, it does create the moods. The Christmas tress and the ornaments really did miracle to me. Each time I look at one, it just got me mesmerize. I hope everyday is Christmas day.
It's a Friday.. yippie the whole office was given an extra day leave. I love season holidays. I woke up early. I promise Koala (my lpc, Eunice) to help her out with the party. Ya… it never hurts to help out. It's not as if I can do much. Well, I pre-make 10 tray of konyaku jelly. Hehe.. yeah my favourite.. yum yum. I think I can finish 3 trays at a go. I pack the jellies into a box and left home. Yeah, I'm heading off to KL Sentral and meet Eunice there.
It was a busy day. We first head of to try get a bus ticket for Eunice's brother. The jam was bad. And I thought everyone will be busy working. It's a working day man! Why so many cars one!
We then head off to pick up the turkey from Jake's Charbroil Steakhouse. Phew… the turkey smells just so good. Within 5 minutes, the whole car smell like a big roast turkey going round town. We didn't have enough cash, so we went to *tut tut* from the nearest ATM and return back to the shop to pay. *mmmm… the turkey smells so good. I am hungry!*
We finally hit the mall at bangsar. Oh my god.. It was packed. People was here there and everywhere. We can hardly find any parking. We went shopping for tonight's party. You could never believe it. We bought so many things that I actually lost count. Hehe… we have a hard time carrying the stuff to the car. Yeah. Our parking spot was rather far.
Me and Eunice slept the whole journey back to her house. Yah yah.. poor Alvin have to be the only one to be awake. Don't blame me lar… I gotta help to cook later on so need to save some energy mah.
We reach home and quickly unloaded the stuff. Yeah… Alvin took his turn to rest while me and Eunice do our magic. As soon as I reach, I quickly help to soak and clean the vegetables, squid and other stuff. Foooh… It was a busy and hectic day. Worst than working actually.. But well, I actually love to cook so I guess it's okay when you have interest in doing stuff. Fast forward a little here and there and the food was done. Yes, one short paragraph but in real life it took up like 6 – 7 hours to prepare.
Idol was the first to arrive. Hehe.. as punctual as ever. By 9pm everyone start to turn up. Ah… It was great. After a whole day of cooking.. finally the eating time. My favourite time of the day. Food food food… Feed me please. The party is officially started. Everyone gather around the dining table while Ivan says grace. Haha.. he was forced to prolong the time as I haven't finish snapping pictures of the food and people.
After that everyone's agenda was just carrying their plates and munch and munch and munch. *Burp burp while rubbing my cute yet big tummy* Hehe… I am so full. Everything is just so tasty but I just can't carry on like this. I've gained weight like nobody's business since.. erm god knows when… last year maybe. Yes, I can no longer fit in my old cloths. This is scary and terrible.
All the guys in the house is busy watching America's Next Top Model. I don't blame them.. guys and chun chicks… they mix and blend in just so well. Like… ermmm lets see what example should I give… eh.. like coke and liquor. Muahaha… yes you got my hint right? Drinking sessions is about to begin.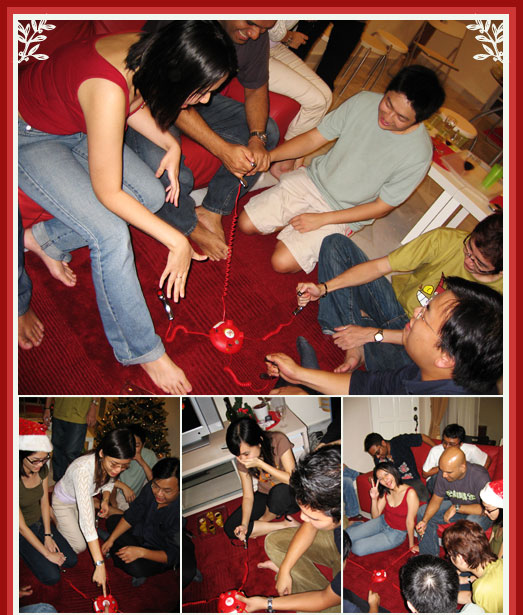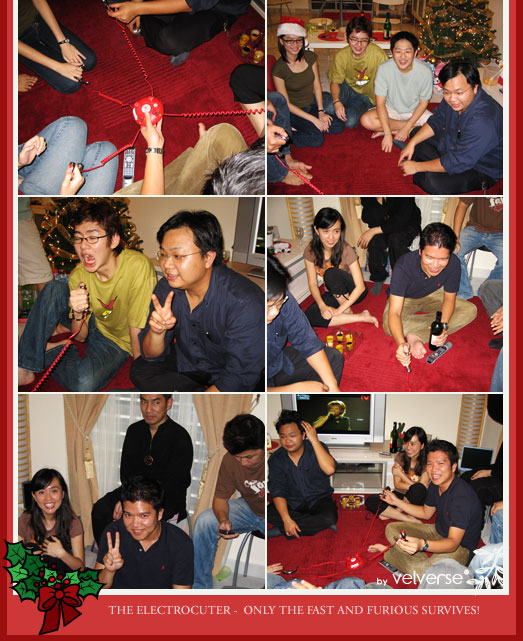 The mad mad night is about to begin. Everyone laid back until Alvin took out 2 games. Obviously you will have to drink if you lose. Ermm… one of it was this thing called Tequilla something something. *I have bad memories. I dun remember* And another one… argh!! I dunno what it's called but I does electrify you if you are the last to press the button. Geez… I am lucky or what, I just got electrify once after playing for so many times. Hehe… even I am blur but I am fast. That is the good thing about having big eyes..*concentrate girl.. you gotta concentrate*
Okay… we are breaking up here… some were active that night.. some were just so anti-social. Sigh.. how can!!! Come out party should have fun and PARTY! We change our strategy. Haha… idol wanna get me to drink. Obviously I just won't drink like that. I've come up with this idea to play "ONE TWO JUS" hahaha… *macam budak kecik oni*
Luck is not on my side. How can… I am the "ONE TWO JUS" princess mar… but I lost. 4 out of 6 times. *glup* I guess I was just plain thirsty.
After that six glasses, the winner get to pick other people to "jus" with the losing person. Haha… It's obvious Thirun didn't play this sorta un-macho stuff when he was young. He lost so many times, hahaha… yes I guess he is half-drunk there and then playing this game. Meng was soon tagged by the winner. Haha… Guess what, he's even worst than Thirun. Geez… if my memory serves me right, I think he has more than 15 shots. He is jinxed. Haha… I guess "ONE TWO JUS" is just not his "thing".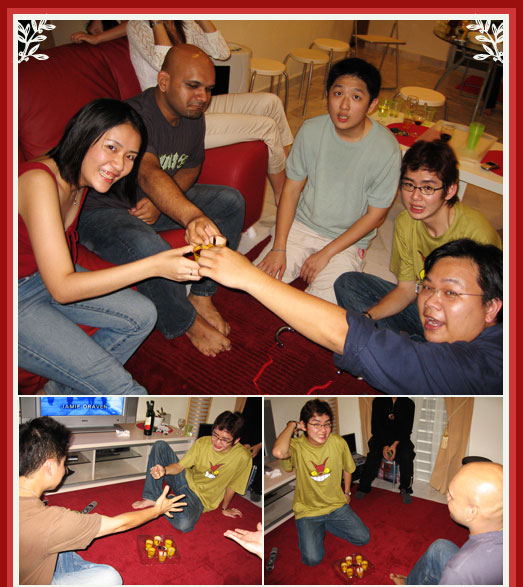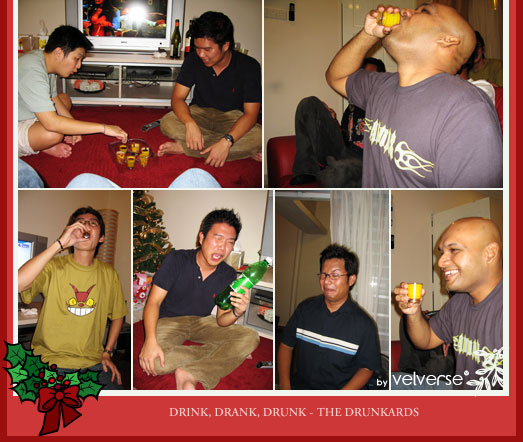 We end up changing games. Yeah, Meng couldn't take it anymore. Haha… we went on with the "7 game". Rules: You can never mention any number that has 7 in it or any number with the multiple of 7. You will have to say "UP" to replace the number 7. When someone says "UP" the turn turns anti-clockwise.
Haha… I quite pity John and Thirun. It's seriously not their "best". Meng and Alvin… haha.. *gan jik hoi jeng hui dei goh farn* They are the masta man. Each time go drinking they sure play this game. Where can lose one. They then add in additional rules. When someone lose and you want them to drink, you can't say "Drink". You gotta replace it with "Fuck ME".
Haha… poor ganesh. He is the slave to "Fuck ME". I think he drank like 8 – 9 shot just coz he always ask people to "Drink". Haha… Remember ganesh… it's "Fuck ME .. not Drink or DOWN.
Before midnight, most people were half drunk. Then there's this busy posing and taking pictures before the party ended. AH… I was tired but I enjoyed myself. Cheers!! *drop on to the bed and snore ZZzzzzZZzz*
p/s – It would have been an earlier post if my pc didn't crash for 2 times while putting the pics together. Argh… I hate it when that happens. Hours of effort wasted.