Backdated post. Actual event took place on 16 December 2005.
I was shocked. I've heard news of Jae Sern and Eling quitting XM. In a way, I was sad. Most of the people I used to work with and have fun with left one by one. But I guess that's life. At some point, everyone walks a different path and carries on with their life. But well, I am glad our paths did manage to cross at some point.
At a certain point, I'm glad and happy for them. At least they find what they want and is getting on with life. I do certainly hope we will still keep in touch and continue to share funny stuffs and whatever. Spend a little of our precious time to catch up.
I was informed that Jae Sern and Eling is having their farewell dinner at TGIF's and well the night continues at Nouvo. My busy and hectic workload does not permit me to join them for dinner, but well I surely will set some time to attend the drinking session.
Well, I guess I could take this opportunity to say something about this two good people. Jae Sern, ah… my first day at work… hehe, I sat on his place. Yup I can still remember, he was away on a holiday trip and they haven't set up my computer. I was amazed with the be@rbricks on his table. Very tempted to steal all his be@rbricks. Haha… ya the normal me. Always naughty! The next day he came to office, he bising bising behind my back saying I took his chair! AH~ I didn't! They throw me to that chair! I didn't take your chair!
Wasn't that close with him coz.. hahaha I think he is rather lansi. Hehe… yeah… seldom talk and he always kutukz me! Argh I felt like whacking him up down left right each time I see his face. But well as time goes by, hemm…. We hang out more and *ta da* he isn't that lansi lar. Nice person to joke around with and a really friendly person. Haha… yes, I know many rumours and gossips resolves around us. But who cares? You think I would waste even a second in my life being bothered by that crap stuff. *huggiez jaebot! You're the best pal!*
I haven't had much time to talk to Eling even we worked in the same company for 2 years. Maybe we were in a different department and well we never actually work on a project together. Well, I do hope we could still come out and gather in the future.
Hehe… When I reached Nouvo, everyone was there. Yup a whole big group was sitting there. I quickly jump in and gave Jaebot and Eling a big hug. Yup.. finally a free man and free woman. Haha… yeah… isn't that a good thing. The normal me was so spontaneous. Straight away jump into position and began snapping pictures of everyone. Woohooo. Yeah, I love to take photos and I love to snap other people photos too. It's something everyone should remember. And I guess pictures are the best way to keep remembering stuff. *so now, don't complain it takes a long time to load my page*
Before long, everyone was high. I could actually notice it from the pictures. Everyone has this innocent look before but as the hours pass, the red faces, the blerks and the pose… it's gone out of hands. Hahaha…. It's a good thing. Everyone has warmed up. More rumours appeared during the farewell party. Everyone had a good time and soon left home.
I'll say I miss all farewell stuff. It's one of those days and time when you can actually gather everyone around and have time to talk and catch up. NO I will not give in. We must do this gathering stuff more often besides this farewell thing!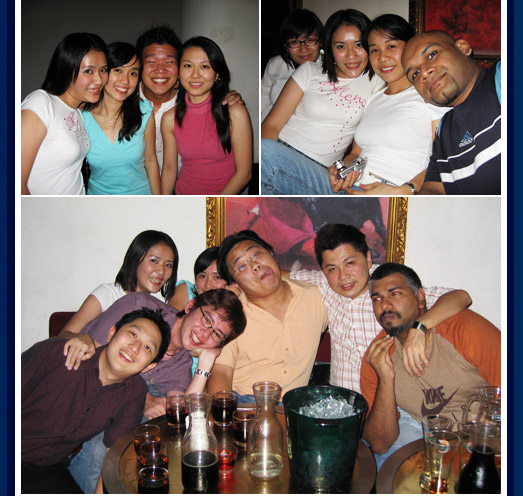 All the best Jaebot and Eling. Jaebot, make sure you know your way around NZ soon. Hahaha… after me go aussie visit jimbo then we might crash over to NZ and visit you. Wah… sounds like a long holiday plan. I guess that means there's gonna be a big hole in my pocket soon.