Backdated post. Actual event took place on 24 December 2005.
Woohoo… back to back Klismas party! Yawn… I woke up around 10am. I wanted to sleep a little longer but I just couldn't do it. Don't ask me why. I kept waking up every one hour or so. I can't take it anymore so I decided to wake up for good.
I then lepak in my house. Watch tv, do some laundry then get ready to party again. Haha.. well, this is the first time I have this back to back party during Klismas time. Hehe… Jerry was suppose to come pick me up. Yeah… I am poor mah and can't afford a car yet
. Hehe… I ring ring him around 4 to ask what time he will be reaching. He told me he will reach around 6.30 – 7.00 pm coz everywhere is jammed.
I know I am a slow-poke especially when it comes to dressing up and make ups. What to do, I am not a pro ma. I dunno what fits me and what not. So I actually does spend a lot of time in front of the mirror. Yeah… don't like that lar, I need to spend some precious time with my evil twin mar. It's Christmas you know. I need to spend more time with her on big occasions like this.
Hah… Jerry was early. He called me "Woi ah mui, I reach dy. Haha.. I'm early wor, so how?" When I told him I'm done and can leave right after I packed the presents I wanna bring along. He was rather shocked when I say I can leave
. Haha… he thought I wasn't ready and needed super long time. Phew.. lucky I called him earlier. Or else I sure die one.
We then reach Jon's office around 7++. Not much stuff was finished prepared but Jon says his colleagues got things under control so we just sit back and relax. Jerry and the usual him started to make noise. Yeah… he keeps complaining that he's hungry. Yes… it kinda gets on my nerves
. I mean, just wait a little while, grab some chips you know… stuff yourself till you're not that hungry and wait for dinner to be served. He refuse to eat any chips or whatsoever. The best part, he asked me to mix a vodka drink for him.
He then quietly ask me to accompany him down to KFC so he can eat something. Haha… I knew it, he's been eyeing on the KFC since we pass by it before we went up to Jon's place. He just gotta have it. Yeah, it's like giving a little boy a candy bar. They will stay happy after having a candy and gives everyone a peace of mind. Before we left, Jon asked us to tapau some KFC when we head up coz he worried the food might not be enough.
When Jerry finish eating and queuing up the second time to tapau the KFC, he suddenly ask me "Why am I having KFC here when I am suppose to tapau some KFC back for Jon? I can just tapau together and eat up there right?
" Haha… good question, but hey I never understand stuff that he do most of the time. We then waited for his friend King Soon to arrive and then we all went up to Jon's place together.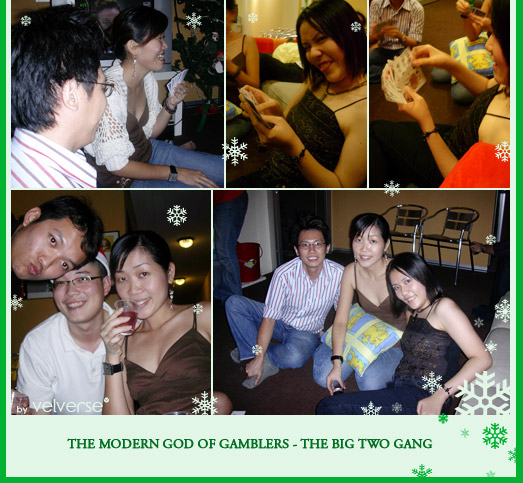 When we reach Jon's office for the second time, everyone's already eating. AH… I join in the fun and munch munch munch. Everyone then rush inside Jon's office and busy playing CS. It's really not my thing. Yeah… I am never good with stuff that needs eye and hands coordination. I always got killed and I can't even walk straight in the game. I will always end up brushing myself against the wall. Sigh…. Lucky Jon's dad was there to chit chat with me and kept me accompanied while I am eating.
I seriously am proud of myself. Why? I am never good in communicating with elderly people. Yes.. zero communication skills. I will normally end up answering "Oh… ya ya" all the time or I will be busy nodding my head. Haha… I guess it's the magic of Christmas. For the first time, I can talk to elderly people non-stop.
Tamy then came out and we all started a group to play "Chor Dai Dee (Big 2)". Party rules, loser obviously gotta down some liquors. Haha… I down a cup or two. Soon, the crowd grew. There were even people playing mahjongs. Yeah… the Kung Fu Mahjong disciples.
Time flies… it's almost 12 midnight. Everyone went down and walked towards Sunway Pyramid. We're expecting to see fireworks but hey no fireworks. Instead, everyone is being sprayed with the party poppers sorta things and foams. Argh… I got sprayed. It's just so sticky! Help!! Hahaha… everyone is busy running around chasing one another and looking for easy targets. IT was fun but really sticky.
We then went up and continued partying. Jon then introduce us with this new game. A game where we have to remember everyone's pose and after we clap our hands we gotta do someone else pose to pass the ball to them. Argh… I'm not good in explaining this in words. Come meet me and talk to me if you are really interested. *winks*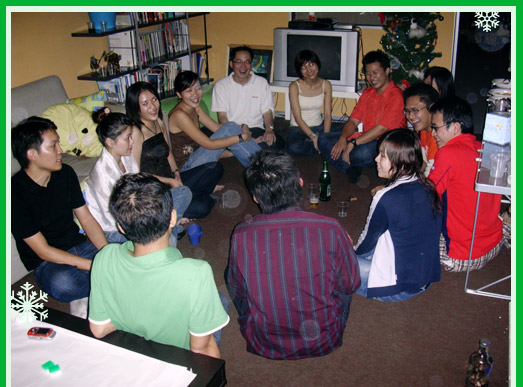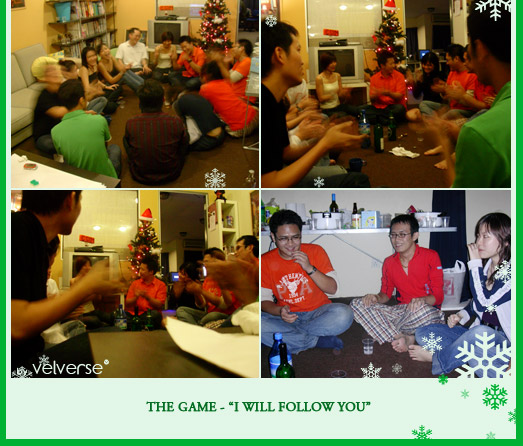 Haha… towards the end they try to make me drink, but hey I survived! Yeay. The party ended quite late, around 3am. ME, Gigi, Jerry, Brian and King Soon then went supper at the coffee shop right behind of Jon's office.
ME, Gigi and Brian soon decided to camp over at the Sunway Hotel that Jon has booked. Yeah… eventually he got 2 night free stay. Muahaha… none of us slept (except for JON). Hahaha.. we were all busy chit chatting. WE chat till early morning next day and we continue to eat our breakfast and everyone soon headed home separately.
Huar.. super tiring day. I can hardly think straight now. By the time I reach home, I knocked out for an hour then wake up when mum called me. Yeah, mum came down for a visit and we then headed to our new apartment and then straight to auntie's place for Christmas dinner. Wow.. back to back to back Christmas dinner.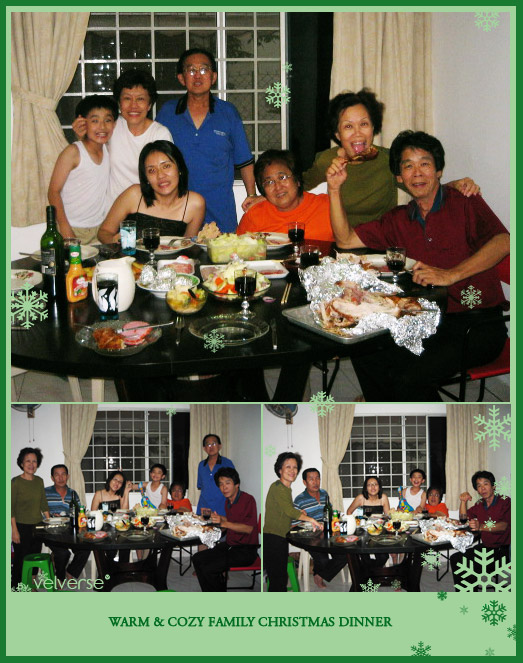 I guess this year's Christmas is different and well, it's something to remember after all.