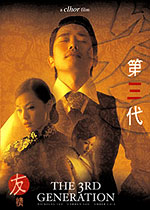 Movie Title: 第三代 (The 3rd Generation)
Rating: ⭐⭐⭐ (3/10)
Year: 2006
The 3rd Generation official site: http://www.the3rdgeneration.com/
Looking at the poster itself, I was quite surprised by the how stunning the poster were and find  it hard to believe it was a local Malaysian movie. The admiration were short-lived , as the movie turns out a Wong Kar Wai wannabe style and approach, poorly written script and horrible (and yes, absolutely horrible) Cantonese accent.
The movie started off very promising, and I must say the level of detail and effort put in to the opening screens were amazing and the silhouette with batik pattern overlay is truly a Malaysian touch. But everything from then onwards went downhill, especially the moment the casts starts talking. One may think I am bias and just pin-pointing to one person, but no, all 3 of the actress have different and weird Cantonese accent and it's pretty obvious they don't speak Cantonese in their daily conversations hence that awkwardness and the forcefulness.
The 3rd generation storyline centres around the Chan family where their 3rd generation, Charlie (Nicholas Teo) just came back to Malaysia after studying abroad for a long time. He came back with his fiancé, Susan (Amber Chia) where the both are soon to held their traditional Chinese wedding while Charlie prepares to take over the family business.
While Susan is busy trying to cope with the change and gain acceptance from the elderly due to their culture and tradition differences, Charlie was busy flirting and having fun with his new found mistress Linda (Carmen Soo) whom he got to know on his bachelor night out.
From poor and forceful acting, the movie's annoying and irritating level reached its climax when  Charlie's and Linda's were together. Those cheesy and poor script will give anyone who understand Cantonese a meltdown. Some of their iconic slow-mo and cheesy speech includes:
1. "You.. me.. why not?" and "You don't mind, I also happy" 😂
2. The classic eating char kuey teow ka hum ka dan (fried kuey teow with extra cockles and eggs). And where Charlie said "Egg, you like" and I'm sure everyone would have guessed it when Linda said "Cockles, you like". ‍😥
3. When they are trying to make out secretly at Linda's place but worry they may get caught by Linda's uncle and aunty, she suddenly out of no where said " You remember to wear it".
With a lot of time spent on artistic Wong Kar Wai wannabe style and approach, only little time is spent on serious things and the soul of the movie in which the movie promotes highly of –  the emphasis on "Chinese believes that the family fortune or the wealth of a family can never get pass the 3rd generation".  This was actually quite down played and instead the movie focused on educating or showcasing of local Chinese believes, practices and culture, which I quite like.
I think the crew finally realize nothing in the movie so far represents what they promote and thus squeeze everything in at the last 20 minutes of the show, in a quick snapshot manner. From birth to death and imprisonment. Wow! If only they planned better and cut down more scenes of Nicholas and Carmen, the movie may not have failed and disappoint that badly.
If you were to watch it, I highly recommend for you to watch it with sound off if you don't want to be annoyed.