It's Christmas time again . This year was quite shocking as I received quite a lot of presents .
Normally the Christmas presents I received were all "gift exchange" parties.
So let's see what I got from my leng leng LPC (Eunice), Brian and Gigi.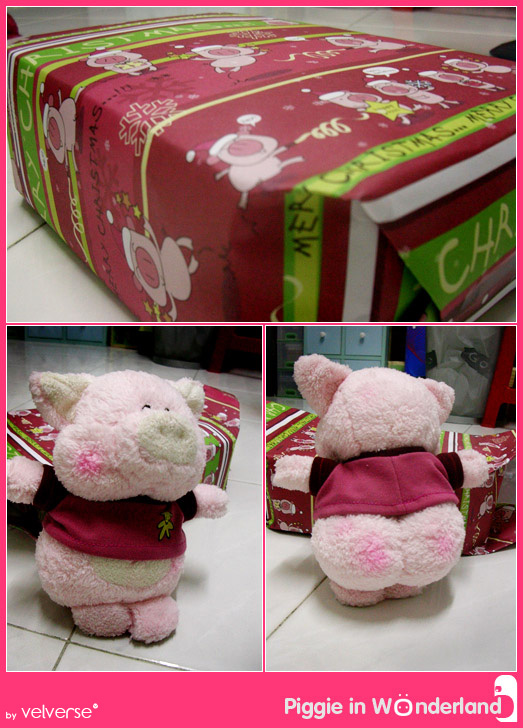 What a coincidence, I wrapped Gigi's present using a piggie wrapper since she love pigs .
And guess what, Eunice on the other hand bought the same wrapper to wrap my Christmas present .
Such a coincidence. She knew I like cute pig items, hence she gifted me this cute piggie doll in  abright pink baby tee.
Haha.. not only it has a blushing cheek, the butt also has a tint of pinkish blush.
Thanks LPC for the cute piggie, it will be my sleep companion. But pray hard I don't end up  flattening the poor piggie.
Brian got me this cool "Mr.P mobile strap", which looks seriously cute.
This little guy with his tiny manhood standing up .
I don't really use a mobile strap and that is one of Brian's concern too.
He is quite worried that I won't like the gift. But not to worry, I'm a creative enough to modify it to a key chain.
Haha..  I am a genius . 
Now it's a Mr. P key chain instead of a mobile strap. Thanks a lot la Brian.
My little cunning bestie, Gigi caught me in a surprise. I thought she was acting funny when she called me a day beforehand asking me weird questions. Didn't really think too much to her questions since I was busy helping out at Eunice's house party.
That day she suddenly called and asked me if I find the Corpse Bride character cute or not? And she told me she wanted to buy the DVD of the movie.
It was quite weird since I remember she watched the movie with her friends even before I saw it. So for her to ask me if the character is cute, seems odd.
As I unwrapped the fgift, I was a little overwhelmed and surprise. I was stunned when I saw the set of Corpse Bride toys . How sweet! *super big hug* for the cheeky girl .
Thanks everyone for their sweet and thoughtful gifts. Also, thanks Maggie and Stella for the cute Christmas cards and wishes. And also much thanks to everyone who wished me in person, SMS, emails, chats and etc.
At least I know you guys thought about me during Christmas times. Really appreciate it.