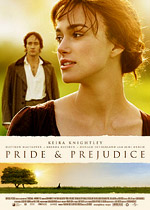 Movie Title: Pride & Prejudice
Rating: ⭐⭐⭐⭐⭐⭐⭐⭐⭐ (9/10)
Year: 2005
Pride & Prejudice official site: http://www.prideandprejudicemovie.net
A movie adapted from the popular Jane Austin's book of the same name – Pride & Prejudice. As a person who hates reading books and novels, reviewing a movie of this sort is always easier.  I'm guessing the movie may have stayed quite true to the book, given a lot of the scripts seems to be memorized and presented in a way as one has read the book a million times.
Pride & Prejudice is a romance story that happens on the early 18th century. The story centres around the Bennet's family, an average family that are worried that they will be homeless after Mr. Bennet pass away as their house will be inherited by their distant relative. To ensure all of his 5 daughters lead a good live in the future, Mr. and Mrs. Bennet can only hope for their daughters to marry someone rich and have the ability to give their family a stable life.
An opportunity came by when a fellow rich man, Mr. Bingley (Simon Woods) is rumoured to have bought a big mansion nearby and decided to hold a grand ball. At the ball, Mr. Bingley were quickly attracted to Mr. Bennet's elder daughter, Jane (Rosamund Pike) while it was love at first sight for Elizabeth (Keira Knightly) when he met Mr. Darcy (Matthew Macfadyen).
For such a lovely romance story to take up 370 pages, the relationship must have gone through ups and downs, and the same we showcased. Forgive me for writing it un-romantically, but there were just too many hurdles in life for both Jane and Elizabeth.
For Jane, Mr. Bennet's cousin fell for her but she only have her eyes on Mr. Bingley who then left the town, leaving Jane no choice but to leave town to find her love. While for Elizabeth, the rejected cousin then go after Elizabeth and were once again rejected as Elizabeth has already fallen for Mr. Darcy. Perceiving Mr. Darcy as cold, arrogant, selfish and unfriendly man, Elizabeth soon realizes he was not what others may describe him to be and love blooms between them. Their love was put to a test after numerous rumours, misunderstandings and betrayal appears before them. But like most beautiful romance novels, they all end with a fairy tale like ending.
I find the acting of the casts were convincing, and Matthew Macfadyen definitely have eyes that can speak for themselves, While for Keira Knightly, this is possibly one of her best performance. Convincing, and she seems to come across as a Jane Austin fans, and probably read the book many times before.
My end verdict? Perfect 💯
Beautiful sceneries, paired with beautiful casts and a beautiful love story.
What can be more beautiful than that.