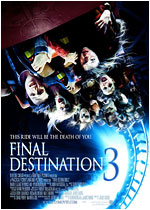 The Final Destination movies was known as movies that will shock you till death. Yes, when it was first lauched, it manage to catch the attention of many people. I guess it is human's nature to see horror death. To some, the uglier way you die, the better.
As for this third episode, it is no different from the first two episodes. A group of students went to a theme park to celebrate their pre-graduation night. Everyone was having fun. Wendy, was busy snapping pictures for the school book soon have this terrible vision that the rollercoaster ride is going to turn into a killer ride and insisted that everyone jump out from the rollercoaster. She manage to convince around 10 people to get off the ride. However her boyfriend wasn't that lucky to cheat death.
*question* In the roller coaster incident.. I have one point which I dun understand. In her vision, everything started to get messy when frank dropped his cam and it got strapped to one of the pillars and then things started to fly out here and there. And then every got killed and stuff. But if frank din get on to the ride, how could this accident happen?
Wendy then found a death pattern when one by one of her classmates that she has photographed before hand died. She and Kevin tries to stop anything and everything from happening however they finally know and understand the fact that they can't cheat death no matter how they try.
I was quite disappointed with the movie as everything happen so fast and unclear compare to the previous 2 movie. Seriously, I was expecting to cover my whole face, spilt coke on the person next to me, toss some popcorn around and all. But no, all I ever do was just "about" to cover my face thing. And seriously, I dun see cruel death here. I see lots of minced meat and tomato sauce around. There weren't much detail stuff being showed compare to the previous episodes. Hemmm… so who wanna sit next to me when we go watch horror movie?
Final Destination 3 official site: http://www.fd3movie.com/