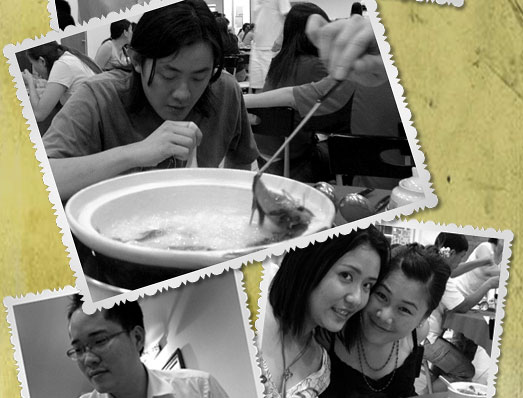 Backdated post. Actual event took place on 14 February 2006.
Yeap yeap… valentine's day appears again in velverseâ"¢. Hahaha… yeah… although it is late post.. but hey.. it brings out memory for me. Everyone wanna know who I went out with on valentine's day. Do I have a date? Who is the lucky guy? Do I get any flowers? Any presents?
The answer is "NO" I din do do anything that is being asked. Instead I lepak with my group of kaki's. Yeah. Everyone is hunger for food. We decided to eat something that will warm our heart. Porridge steamboat…. yum yum.. I always love steamboat. Don't ask me why. I feel it's very warm and cozy.
Well… I love gatherings hehehe.. bring people closer and met more new people. Yeah… in case everyone wonder… Yeah… there's someone new in the pictures. Hehehe… yeah.. first appearance in velverseâ"¢. Hahaha… Evan is Gigi's colleague. *Nama yang canggih kan?* Gotta join in the fun in a lovey dovey day mah! Nobody is alone. Everyone have everyone. *ah… I smell like shakespear*
We all then went to yum char at PJ State. Okay…. Dun ask me where that place is. I am sorta forgetful and well… as those who knows me… I always "sesat jalan"