It's May already! Time just flies.
On this special month, it's May's birthday.
We decided to dedicate our second Project Crossroad work to May
While it is short notice given by Jimbo, we all still managed to create something.
And to my surprise, we all draw out a conclusion – May is a wonderful baker.
Jimbo did a little banner for May.
Love the vibrant colours and also features May's happy and cheerful personality.
While she is with all the sweet stuff, cupcakes and lollipop.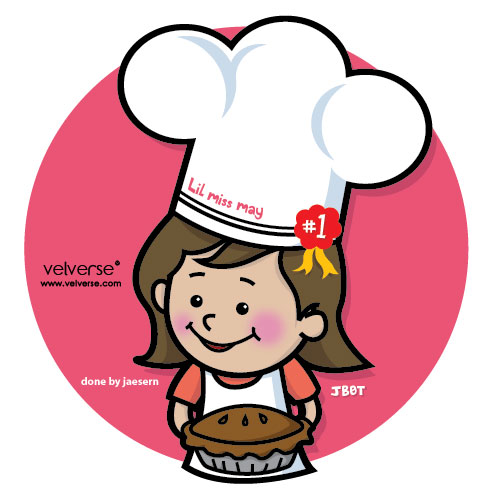 Jae Sern created a cute character that just resembles May.
Look so cute with a pink cheek.
Yes, she is definitely the No. 1 Baker in our office!
I still manage to create something that represents May.
By now, we all know baking is already a trademark of hers.
She just loves to bake. While I have not tried any before, the pictures from her blog have blown me away.
The cakes and pastry pictures looks just so yummy!
Instead of drawing a person which I am really bad in, I decided to use an oven character as representation.
Happy Birthday May! .
I know it's a little too early, but better early than late.
Hope your wishes will come true, all the best.
And do continue to bake and post all the yummy looking cake and pastries picture!
Oh ya, we are moving on to next week's theme.
In conjunction with Superman coming up soon, we decided that the next artwork theme will be "Super-Animal".
Any animal except dogs please. No, we don't have anything against dogs.
It's just that there are a couple of cartoon characters done using dogs, so we decided on everything but dogs.
Anyone else interested to join, email your artwork to me by Monday.