This week's Project Crossroad will actually pay tribute to all the Super Animals in the whole wide world.
We have quite a number of new participation.
Yeay! Big applause to all the new members.
Let the show start!
Haha! As I was addicted to Pussycat Dolls recently, I decided to draw a super sexy kitty!
Yes, a charismatic, flamboyant and sexy cat that will also save the world!
Can't help it if I was inspired by the Pussycat Dolls. Their song is too sexy and catchy.
By the way, this Super Kitty is called vyona.
Jae Sern always surprised us with his choice of character.
Little would I expect him to do a giraffe.
Super Giraffe is quite cute. Reminds me of the famous Toy's r Us mascot.
Which is really super to all of us who likes toys.
His giraffe name is Garfunkel.
You can call him Garf.
Brian decided to join in the fun this time.
Known as Mr. Sheep in our university group, it is no surprise that his little character is of a sheep.
Haha, his super sheep is really cute. Love the golden piercing on the sheep, in replace of the standard tags.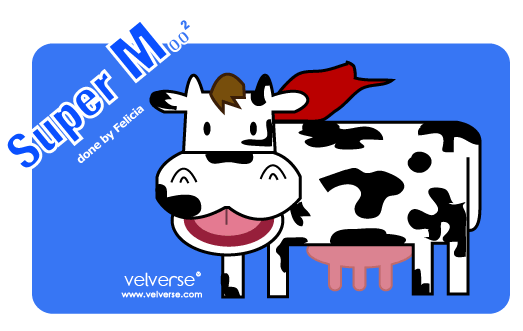 Felicia decided to join us too with her Super Moo Moo character.
She really loves cow so much, so much that everything around her surrounded by cow related items.
Cow dolls, cow prints and wallpapers. You name it, she has it.
Yes, as you can guess we all call her moo moo girl.

I was surprised to also receive artwork from Eunice aka princess koara.
Same like her nickname, she submitted 2 characters.
The first character was a super sexy koala bear. Love the tiara, and instead of a print on shirt, the "super logo" is a tattoo at the arm.
The second character was a Super Penguin. Ah, this is too cute. Up, up and away!
Also received submission from takeru.
His Super Mouse is cute.
It is a cute rendition of a Jerry the mouse in Tom & Jerry and Micky Mouse gloves.
Fly away our dear mouse! You can do it.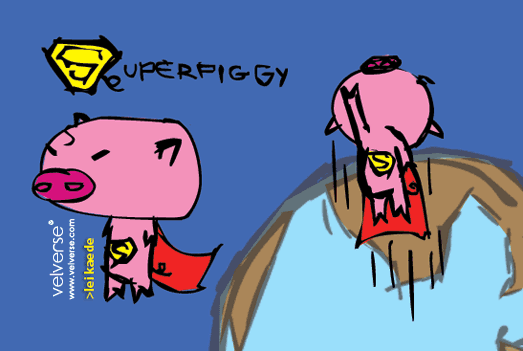 The last submission for the week was by lei kaede.
Lei is a friend of takeru.
He submitted a Super Piggy! Oh, how I love piggies.
The "S" hair style, that piggie tail on the logo.
Haha, just too cute to ignore.
Thank you all for your participation this week.
Really love all the works. They look great.
Coming up next, let us all create a character to promote "fruit cocktail".
You are free to create any character  and do name your fruit cocktail ya.
Hope next week, Jimbo will be able to join us.
Anyone else interested to join, email your artwork to me by Monday.