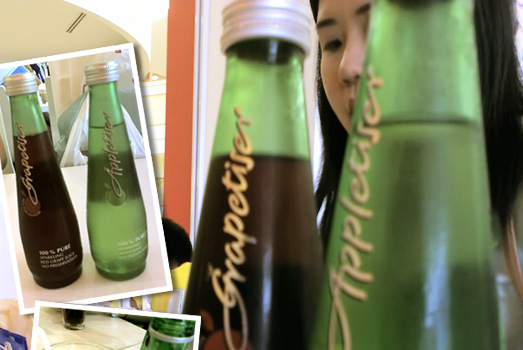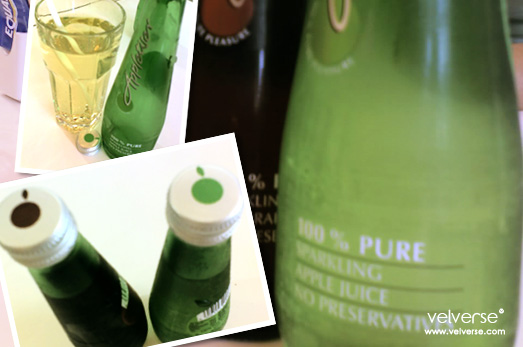 After a long break from writing something related to food and only food itself.. right… I am back. This time writing my Appletiser and Grapetiser experience. I visited the Secret Recipe recently… er not so recently to notice they have new additions to their menu. Right… it's been ages since I last set foot at this place.
They were highly promoting this drink in mini bottles which well… I guess is slightly bigger and taller than a bottle of tabasco sauce. I flip open the menu only to notice it was what they were highly promoting. Being curious and as a matter of fact, I didn't know what to order so I decided to give it a try. My sister decides the same too so we both order something different to taste. It comes in 3 different flavour, White Grape Juice, Red Grape Juice and Apple Juice.
My sister decides on the Red Grape Juice while I settle in on the Apple Juice. Right.. when the bottle came with a very cute half apple half orange like icon at the cap. The green bottle does resembles Heineken. I personally like the simple icon and typography with lots of empty space which makes it looks classy.
Right… I must say again.. it's quite a small bottle and the fact that it cannot fill up a glass. Yes, it can't fill up the glass. It tasted alright… not really too sweet but surely doesn't taste much like apple to me. I almost thought I am drinking white grape juice. That is when I repeatedly read and look at the label of the bottle.
The Grape Juice tasted very much like right.. normal sparkling ribena except the fact that it taste less sweet (way less sweeter) than the ribena juice. It doesn't leave me with a sticky throat and craves for 2 bottles of water to dillute the sugar taste off.
Refreshing and nice… yummmm.
Appletiser and Grapetiser both retail at RM7.80++ per bottle. Check it out at your nearest Secret Recipe shop.