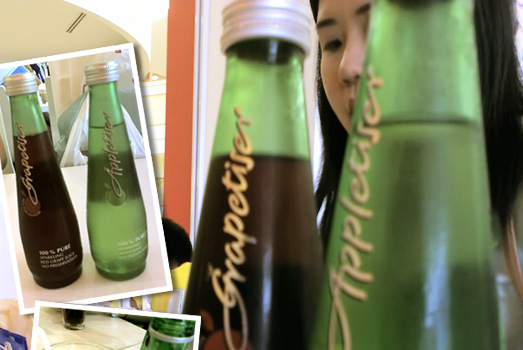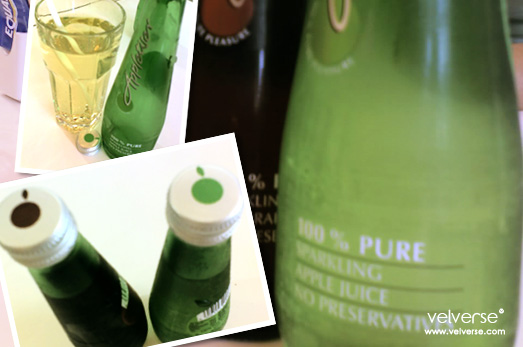 Taste Review: ⭐⭐⭐⭐⭐⭐⭐⭐⭐ (9/10)
Packaging Review: ⭐⭐⭐⭐⭐⭐⭐ (7/10)
Price: RM7.80
Website: https://www.appletiser.com/
I am back , after a long break from blogging something related to food .
This time, I am going to review my Appletiser and Grapetiser experience when I was exposed to it during my recent visit to Secret Recipe.
The restaurant were full of promotional material for this bottle drink, which in my guesstimation slightly bigger than a bottle of Tabasco sauce. Given it has quite a cute name, me and my sister decided to order some to try out what is this drink all about.
The drink  is a 275ml sparkling juice  that comes in a small semi transparent frosted green bottle.
I personally find the bottle of the shape very elegant and sleek, and quite easy to hold given it's tall yet sleek shape.
The bottle cap also comes with a cute icon, which quite resemble a simplified apple or grape .
The drink comes in 3 flavours – White Grape Juice, Red Grape Juice (Grapetiser) and Apple Juice (Appletiser)
Me and my sister decided to each order a different flavour to try.
We end up trying the Red Grape Juice and the signature Apple Juice to  review the difference.
Trying the drink chilled without ice, the drink won't fill up a full glass.
The Appletiser doesn't taste like any sparkling apple juice I have drank before. In fact, it tasted so much more like a sparkling white grape juice than an apple juice.
I had to re-examine the bottle a couple of times to make sure I wasn't serve another drink, but seems it was what it was.
While for the Grapetiser, it tasted exactly like a sparkling Ribena except is much less sweet in comparison.
One can tell both the drink has much less sugar added as the drink doesn't leave us with a sticky throat.
It is definitely refreshing and nice.