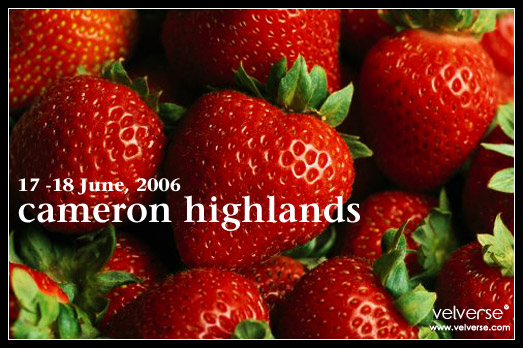 Backdated event. Actual Event took place at 17 June, 2006.
The long awaited cameron trip post is finally here. Here you go… there is loads and loads of pictures taken… so yeah… I'll do a step by step tour report. Hahaha…
It all started with a tiring morning. The night before, I attended angeline's birthday party at Breakers together with gigi. It was a fun night out… except the fact that the party ended late.. around 4ish and then we went mamak. We each reach home around 5ish. Me and gigi and angeline is busy packing our bags for the trip! Last minit as usual 😉
Brian is suppose to come around 6 something. Yeah.. he picked up gigi and angeline then come and pick me up. We all then drop meet up Jon and he drove all of us to breakfast at ss2. It was a nice morning. It's been a long time since I wake up before the day was bright and eat dim sum. I always love dim sum… and early mornings. I used to remember each time I go back Ipoh, my mum will ask me to sleep early the night before so that I can wake up and eat dim sum. Me being so excited over dim sum will jump to bed early and wish it was early morning in a blink of an eye.
So yeah… when we first reach the dim sum place, it as dark as if it was midnight. Not much people were there… only three other men were sitting next table to us. The blur and not enough sleep version of me forgets to note down where I had the dim sum that day. So yeah… just pictures for you to drool at.
To me the food was just okay… maybe actually it tasted much better but just what's on my mind is… get in the car and sleep…. BED…. BED…. BED….. sleep~
so yeah…. that spoils some eating mood. But I must say, the hot tea does serve some good to me.
We ate lots of stuff, like.. prawn spring roll (this is good), lo bak kou (white carrot cake), siew mai, fishball, har kau, fung jau (chicken feet), salad prawns and others.
We weren't there for quite some time, but the drastic changes of brightness on the sky makes me feel as if I have sat there for like 4-5 hours. Sun rise, dim sum, trip… ah…. exciting.. fun… yet tired.
Yes, I need to sleep in the car. Wake me up when we reach!