Ghost 👻 – is something we all are afraid of.
When I was a kid, my parents would use it to scare us.
When in school, my school friends always tell ghost stories to create a eerie atmosphere and to scare us.
While I am not too horrified by the idea of ghost, I would still hide and cover myself each time I watch  horror movies.
I think if I could draw out the ghosts in a cute way, it could help me overcome the fear.
Look at this cute Chinese vampire like sheep submitted by Brian.
While most of the interpretations are more western style, this is the odd one out.
Never expected Brian to send something that totally blown us away.
My version of ghost are pretty standard interpretation of ghost.
I always have the thought that ghost should be fair, wearing white dress and with an eerie red eyes and crazy long hair.
Yes, a scary long hair that covers the face is a must.
One where you can can hardly see the face but somehow can see the eerie and scary red eyes.
Having a sharp vampire like teeth is optional, but would be nice to have.
Let's add it on. Now, here you go.
Alan joined the Project Crossroad for the very first time.
He drew a cute Ghostbuster version theme that comes with a cute tagline – "NO 🚫 simple ghost drawings allowed".
Alan, your drawing ain't simple at all! Please keep sending in your drawings 🎨.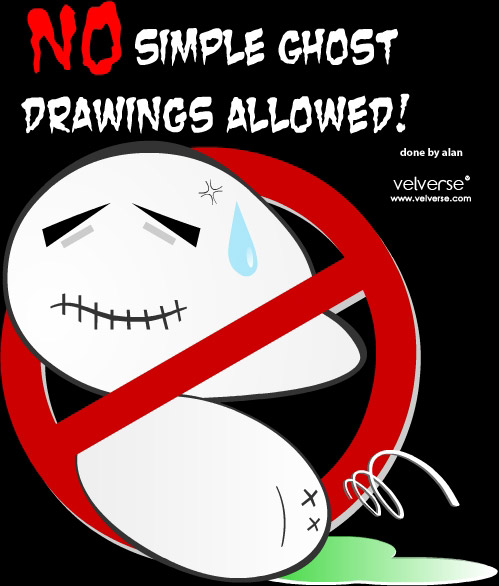 What is up next week?
Project theme: Boxer
Project description: You heard it right, I am sure you know what I meant. I'm  not going to describe it so let's box your way up!
Project deadline: 6 September 2006, Wednesday.
Submit to: mandy@velverse.com
We welcome anyone and everyone to join.
Let's create something fun, generate some cool ideas or fill up some of our boring time.

Click on the banner to visit our past project crossroad gallery.