Inspired from the movie Lady In The Water, we decided to draw something we have heard, some cartoon we watched over and over when we were kids, stories that has been told from generations to generations. Yes… the mermaid. Is said to be half human half fish. No one ever sees it… but then again.. if you want to see something similar.. the closest… the merlion!
Brian and his mersheep. I totally love the blue colour play.. giving it a very cool and calm look… somehow.. the eyes look like 2 fry eggs. But then again… hehehe it looks so much like those fighting fish. Ah… oh so pretty!
My mermaid loves to eat fish. Just like azli… fish that eat fish. Hahaha… right… seafood is the best food in the world. What is even better it swims pass this little mermaid everyday. And talk about seaweed hairstyle.. Haha… the IN thing man!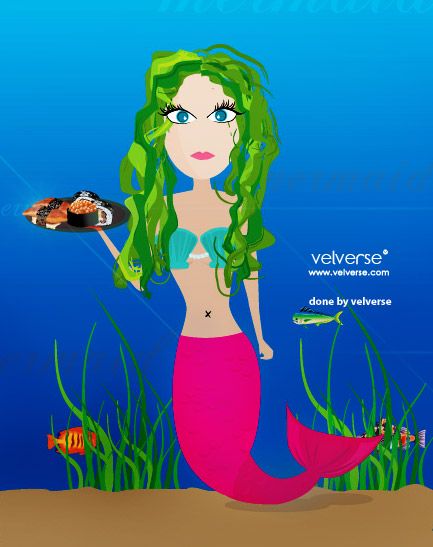 What is up next week?
Project theme: Mummy Project description: From the sea we travel to Egypt. This time around we would do fun characters. The mummies. Yes… more tissues please.

Project deadline: 16 August 2006, Wednesday.Submit to: mandy@velverse.com
Anyone and everyone is welcome to join. Be it good or bad… it's just something we do for fun! Generate some cool ideas and well.. surely fill up some of our boring times 😀
Click on the banner go link to the project crossroad gallery.