The mummies have been awaken. They finished rolls and rolls of tissue paper wrapping themselves up to impress people. Some obviously does a better wrapping job than others. Anyhow, let's see how they fully utilized the tissue papers given to them.
Brian's sheep has turned in to shummy this week. Totally wrapped up with tissues. I would award the best wrapping award to him :). Totally cute and cuddly. Hey brian… every consider to print these to t-shirts? I want I want!!!!
My mummy somehow got too busy dieting. Hence, it's left with bones and popping eyes. Right.. moral of the story… EAT…. EAT MORE!!! EAT SO MUCH MORE! As usual, my dollies just love to show their belly! But hemm… since it's left with bones… so er.. yeah… belly bones?
Takeru finally submits his stuff. Hehe.. he one shot submitted this week and last week stuff. So yup… first start up with his mummy. He said he was angry when he was drawing it. So yeah, It looks a little angry but yet, the angy mummy still manage to do the famous "peace" sign.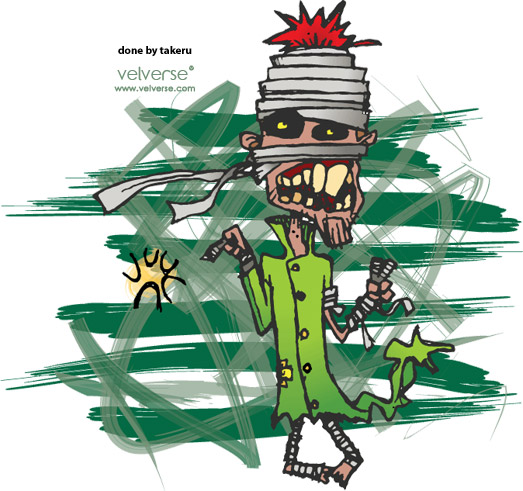 Hehehe… fashionably late with his mermaid work. Takeru submitted a "Oh So Kissable" mermaid. Totally lovely, cute and blonde.

To view other mermaids artwork, click here
What is up next week?
Project theme: Fairy Project description: This week, we go with a more fantasy and girlish theme. Fairies. Ooo.. I just love fairies as they are often cute and have magical powers. So.. MAGICAL people…. do some magic 😉

Project deadline: 23 August 2006, Wednesday.Submit to: mandy@velverse.com
Anyone and everyone is welcome to join. Be it good or bad… it's just something we do for fun! Generate some cool ideas and well.. surely fill up some of our boring times 😀
Click on the banner go link to the project crossroad gallery.