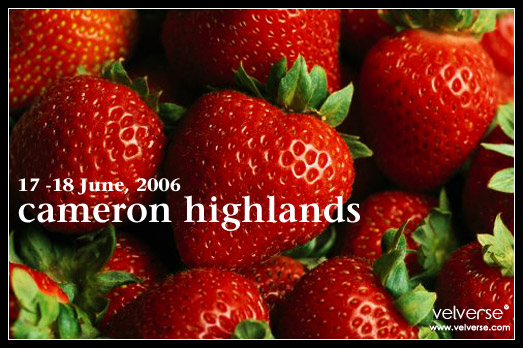 Backdated post. Actual event took place on 17 June 2006.
I guess this journey is far worst than malacca. I was never good with winding road. It makes me want to puke. I have headache… my heart beats so fast as if it's gonna explode any minute. Worst.. is I kept wanting to know.. how long more to reach.. counting the seconds as it ticks.
Let me off the car. Yes I know I should be sleeping. I am sleeping on the highway from KL to Tapah. But the moment we are 1/4 the journey up the hill… I start to be awaken. With the uncomfortable feeling.
I wasn't the only one. Angeline face the same problem. At that point… I was like thinking.." WAH… got KAKI!" Right… might sounds abit cruel to think so but well… at least there is someone in the car who understands how I felt.
The moment Brian says Tanah Rata is ahead. I was like…so damn happy as if god had answered my prayers and I will have to kill two chicken, one whole pig (roasted), some cakes and whatever things needed.
Me and angeline quickly jump out of the car to inhale some polluted air. Right.. many think it would be fresh air up there.. but seriously… loads of pesticide content in the air. But yeah.. we walked to the nearest gas station.
Jon, Brian and Gigi kept asking us to eat some sour plum. Which in this case actually is not of my interest. I like sour stuff like tom yam, asam laksa… but sour plum is just not my taste. But yeah… I whack a small packed which seriously does make me feel better that instant… but after that… nah… it didn't do any good.
We then continue our journey to… our dreamland… our nice little challet!
Other Cameron post:
Day01 – Cameron Highlands Trip: The Journey Begins…