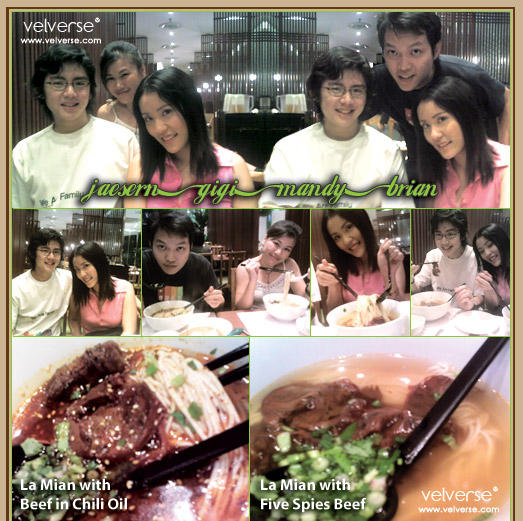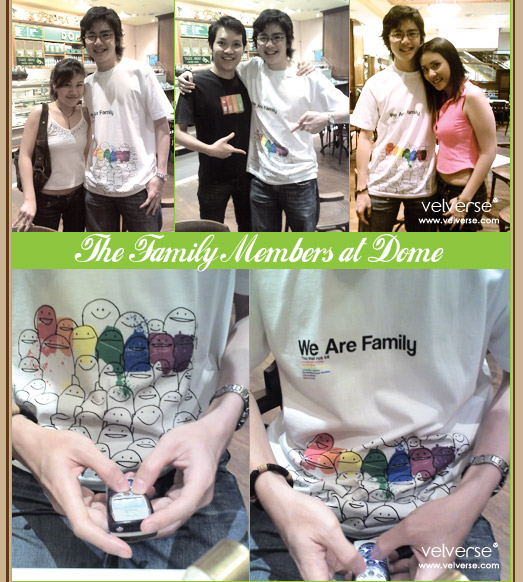 Backdated post. Actual event took place on 12 July 2006.
Yeah, like I say in my previous post, line up of birthdays and farewell just strike me. Right after having a sorta like farewell dinner and drinks with LKY. Now, Jae Sern is leaving town to go back to New Zealand after taking 2 weeks break to visit his nephew.
Hehe… obviously we did abit of catch up and went party together. One must wonder why no post or pictures telling that he came back. Actually, we did went clubbing the weekend he arrive but it was too dark inside and all pictures turn out COMPLETE BLACK.
Ah… yeah, back to the dinner before he left. We decided to go to back to the chinese place me and Gigi went the other time. Since we all wanted chinese. So yes, Crystal Jade La Mian Xiao Long Bao which is located in Lot 10. Previously we ordered dishes and rice. This time around, we decided to try their specialties which is obviously La Mian and Xiao Long Bao (Steamed Pork Dumpling).
We ordered a bowl of noodles each. Jae Sern have La Mian with Spice Spices Beef (RM12.00), I ordered La Mian with Beef in Chili Oil (RM12.00), Gigi ordered La Mian with Boneless Beef Tender (RM13.00) and Brian ordered La Mian in Hot & Sour Soup (RM10.00). We then ordered Spice Beef Shank (RM9.00) and Shanghai Steamed Pork Dumpling (RM7.00) to share around.
I personally think my bowl of noodles taste superb. Wasn't that spicy but it has this strong sesame fragrance. The beef is just so tender and absorbs the sesame and chili oil with beef… just simply amazing. I felt the Shanghai Steamed Pork Dumpling wasn't that impressive. I am not sure… probably it's their style. I felt it was lack of something and the meat somehow felt overcook.
After dinner, we then walked to Dome and have drinks and chit chatted abit. Yeah, the Crystal Jade shop was closing then. We hang out a bit and we all liked Jae Sern's T-Shirt so much with lots of colourful "family" member. Hahaha… wonder when will he be back to party with me 😐
Address:
Crystal Jade La Mian Xiao Long Bao
R2 Annexe Block
Lot 10 Shopping Centre
50 Jalan Sultan Ismail
50250 Kuala Lumpur
Telephone: 03. 2148 2338
Business hours: 11am to 10pm daily
Address:
Dome Café
Ground Floor
Lot 10 Shopping Centre
50 Jalan Sultan Ismail
50250 Kuala Lumpur