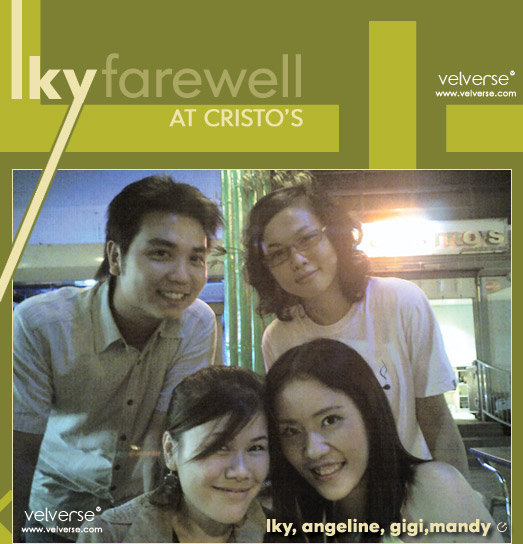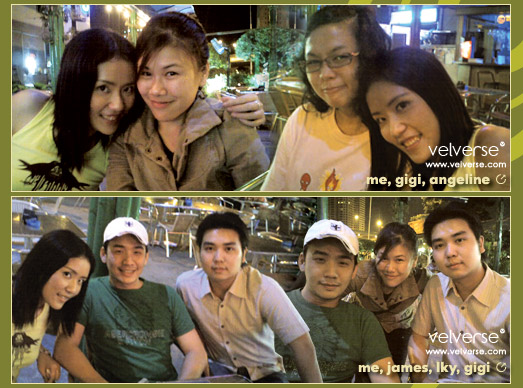 Backdated post. Actual event took place on 10 July 2006.
Busy busy busy… birthdays and farewells all in a week. I think too much to handle. Almost every night schedule of the week was fully slot. No room for last minute changes or alteration. LKY's tells me and Gigi that he is leaving to U.S to work.
We were quite shocked as he just return not long ago. Yes, he always go and come back in a surprise manner. Not many people know when he came back, when he is practically going somewhere else. I guess thanks to MSN we get to contact each other more often.
Yes, I think he didn't really tell many people he is leaving. He told me he hated to say goodbye thus, he hated farewell. So, we didn't actually call many people out to party around before he leave. We 3 just went to Chili's, have a simple dinner. We then decided to go to Hartamas and have a drink when one of LKY's friend call and say he wants to meet him too. Yes, James… meeting him for the first time. LKY kept promoting James saying he is a very nice and handsome guy.
Suddenly, Gigi receive a phone call from Angeline. Apparently she drive pass by and saw Gigi's car parked aside. She called and sounded furious saying that we did not invite her to join together (since she worked at Hartamas). She kept complaining… complaining.. from on the phone, till she arrive. But I think she miss out some facts, 1. LKY didn't want so many people to know, thus not many people were invited. 2. It was a last minute thing and the idea only came up when we were leaving Chili's at 10-ish. Who would have tot she is still in the office?
Well.. that aside, James ordered quite a number of drink for LKY. Yeah… treat before he leave. Haha… drink which includes Flaming Lamborgini. Woohooo.. that really got the guys to spin around for a while.
We all have a small chit chat while looking at the guys down their drinks. Sorta funny to see LKY's face turn red (he is fair). Come back soon KY and we all go out and party okay? 😉