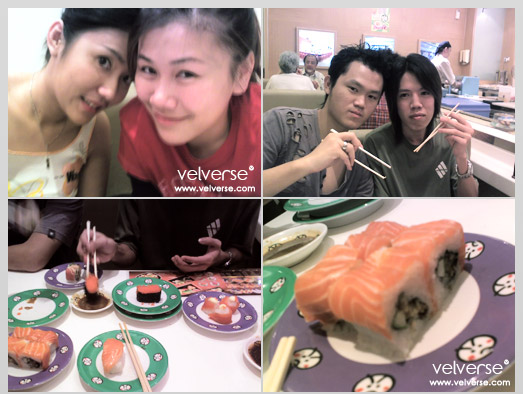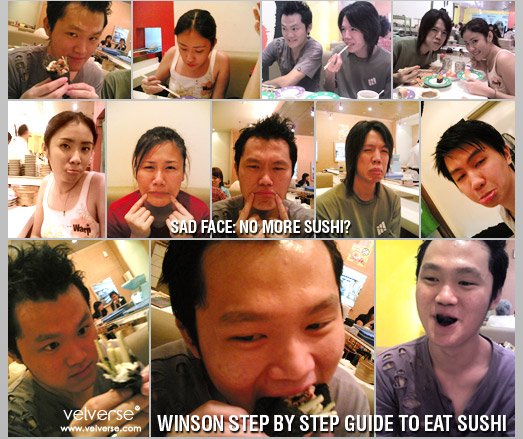 Backdated post. Actual event took place on 20 July 2006.
It's one of those before movie day… eating time. The part where we just do stuffs to humour one another. The part where we eat the eat, talk the talk and drink the drink.
It's one of the movie I have been dying to see ever since Sweet November. Yes, Keanu in a romance movie. That night, we decided to head to Genki Sushi as Winson wanted to eat japanese. He sorta like japanese food a lot. I guess everyone can really see it from his looks.
At first it was only me, Winson and Alan. Gigi had dinner at home then she came and join us. Yaow on the other hand went home to shower and show us his handsome side. By the time they come, we were making lots of noise and faces.
Since Gigi didn't eat, she took control of the camera phone and just snap all the way. Winson seating right opposite her was an easy target. He was forced to make many funny faces that keeps everyone in the table laughing.
Instead of comparing who have bigger eyes, this time, everyone have to do a sad face. So yes, the ever cute Gigi with her always forceful potrait. This time, Winson tag along with her. The others were just natural. Yeah, born talented to do faces 😀
It was fun, hehehe… lucky we didn't over spent time and miss the show.