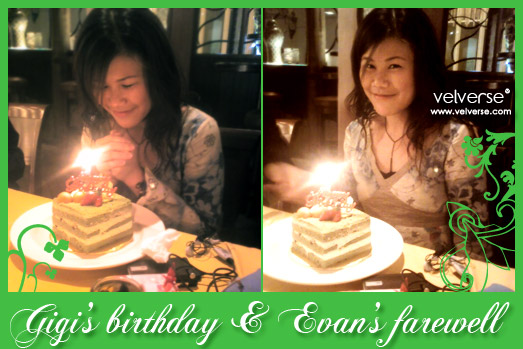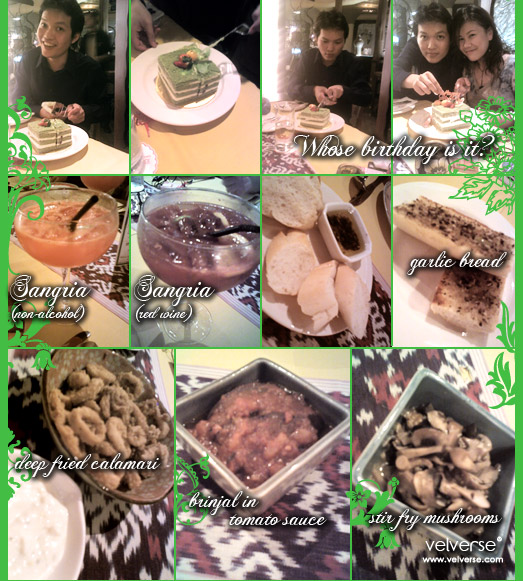 Backdated post. Actual event took place on 28 July 2006.
Yet another birthday. This time is a little different. It's my little twins, Gigi's birthday. Yeay~ Well.. it's sorta like a mixed emotion celebration. On the other corner, it's a happy birthday celebration. On the other side, it's sorta sad that Evan's gotta leave town again. I mean he came back for a week or so.. and this is the first time and the last time I saw him since he was back.
Brian obviously is the CEO (Chief Event Organizer) for this little birthday dinner thing. He in advance booked a table at Senditos Tapas. Jon picked me up from office while Brian picked gigi and Winson up. Me and Jon was first to arrive. Yes, birthday girl needs extra time to dress up 😀 It's a big day.
When arrive, the waitress seated us at a sorta cozy corner. She even introduced us to their signature drink, Sangria. Sangria is a delicious concoction of fruit juices, soda water, ice, fruit slices and either red or white wine. Non-alcoholic Sangria is also available for those who can't take alcohol.
When Brian, Gigi and Winson arrive, we started to order food as we were seriously hungry. Wooo.. since we have loads of people, we ordered many different type of tapas to share around. Some were so funky it was the first time I ever tried the dish.
But generally, tapas are small portions of hot as well as cold food served as part of the social scene in Spanish bars and tascas. So yes, it's rather small portion since it is like snacks that goes along with wine and drink in Spanish bars.
We ordered quite a number or stuffs with scallops since Gigi loves scallops to the max! We were quite full by the end of the dishes. Brian then bring out the birthday cake. Awwww… a cute and lovely square shape cake. Apparently, it's green tea cake with red bean.
I must say it is a weird combo. But well, I must say they did very well decorating the cake. Alan (can't join since he have to OT) called and asked what's out next plan. Since he just finish work can can join us for next round. We all then decided to go Brewball for some drinks and a few round of pool.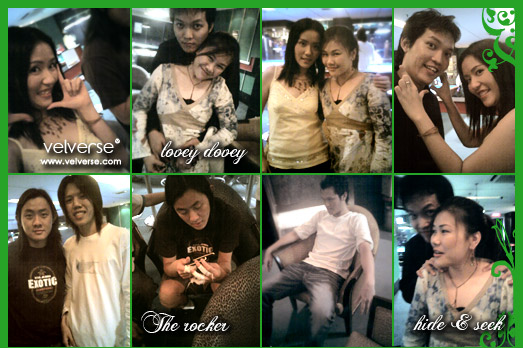 When arrive, me and Evan played like 2-3 rounds then the others take it from there. Me, Evan, Gigi and Brian sat down and chit chat a little since it's been a while since we saw Evan.
The rest were plain busy with pool and foosball. It was a great night. It's been a while since I took pictures together with Evan. Hemmm… I guess I will have to wait another 5-6 months till the next time I take picture with him again.
Adress:
Senditos Tapas
Feast Floor, Starhill Gallery,
181, Jalan Bukit Bintang,
55100 Kuala Lumpur.
Telephone No: 03. 2145 3385
Fax: 03. 2145 3387
Website: http://www.ytlcommunity.com/tapas/
Opening hours :
Sunday -Thursday : 12pm – 12am
Friday, Saturday & Public Holiday : 12pm – 1am