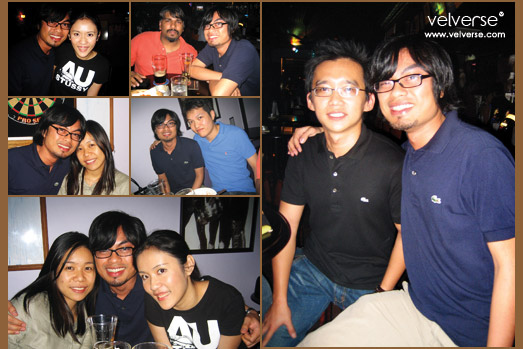 Backdated post. Actual event took place on 14 August 2006.
It's time to fine dine and eat again after such a filling oyster lunch. This is the first time I met Jimbo since he got back from Aussie. He's been busy with his workshop thing for like a week. And finally I saw him the first time before going to Thailand with him 🙂
Everybody misses Jimbo since he left Malaysia. So each time he comes back, everyone is ever excited to see him. We all supposed to meet up somewhere for dinner. So, everyone decided to stick around and hang out in Checker's a while before going somewhere for dinner. Me and ikan was first to arrive.
Soon, the crowd started to come. Vijay, jimbo, tony, may and brian. We all sat down and we found this note "Reserved for Ganesh and friends" still lying around the table (since 2 days ago). Azli (ikan) and Jimbo took the paper and pose around and took some cute pictures.
Now that the guys have settled down with their beers, they all would just wanna sit there, eat and continue to drink. So we all eat in Checker's. The food was a bomb! I mean I totally love it.. since the flavour is just right.. big portions and reasonable prices.
I ordered Curry Chicken (serves with bread/rice) but I manage to try a bit of everything else. May ordered Sambal Prawns (serves with bread/rice) which is totally spicy! Okay.. very much spicy. The sambal onions and prawns.. are just perfect. Both brings out sweet flavour that enhances each others flavour. Brian ordered the Roast Chili Beef (serves with bread/rice). Well, I tried this dish before. Like I say, I was amazed with how they are so creative to use fries to cook it with the beef. Totally spicy… yeah, the spicy rate I think should be almost the same as the Sambal Prawns may had.
Azli ordered the Jerks Chicken. It's more or less like chicken chop.. but the only difference is the sauce. Right… sauce plays a different role here. It makes the whole thing tasted a lot better. Better still.. it's not fried! Vijay ordered the Mixed Grill which have almost everything you can ever want in there. Chicken, sausage, eggs, lamb… woohoo…. perfecto! Jimbo ordered Nasi Goreng. I didn't ordered that but the colour looks so yummy.
To me, if the colour of the food I eat dun look convincing… I would have the first impression that it sucks!
We stayed on… chit chat a little.. take some pictures more, since it's really a rare chance to meet up with jimbo!
Address:
Checker's Pub
No. 42, Jalan 28/70A
Desa Sri Hartamas, 50480 Kuala Lumpur
Telephone: 03. 2300 4576
Opening Hours: 6pm till late
Website: http://www.checkerspub.com/