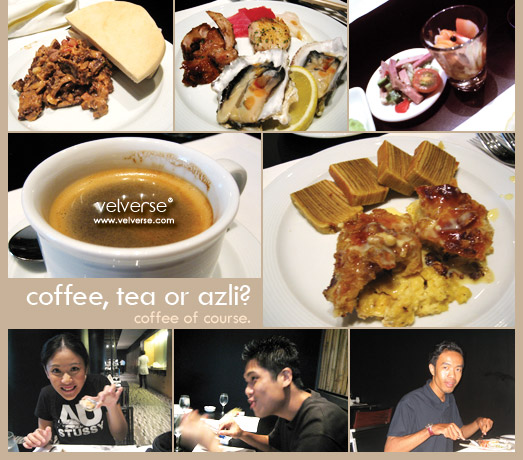 Backdated post. Actual event took place on 14 August 2006.
10 days after Azli's birthday (azli, more famously known as ikan), the office decided to go down and have buffet to celebrate. Although it's a little late.. but it's always better late than never. Better still when food is attached in the little invitation.
Well.. well.. ikan claimed that he had a few oysters only… which was some sorta lie. Yes… not a small one but… kinda big one! He actually at 7 oysters! As for me… you do the math! 🙂 I love sashimi so much that I kept going for more. At times I wonder why I wasn't born in Japan. Well.. come to think of it… many people say that too… why why why.
No worries people! I still love malaysia. I still love the nasi briyani, I still love the rendang! I still love the curry chicken! I know the pictures shows loads of Japanese food… but… I do.. I do still love malaysian food. THey even have Kebabs at the buffet! Oooo.. totally delicious!
Now.. everyone have their hot cuppa coffee after lunch except me. Well lack of sleep and coffee is not a good combo for me. I will feel terrible.. as in my heart will beat so fast it hurts! Badly!
*burp* Now I need to rub my tummy! Excuse me ladies and gentlemen~