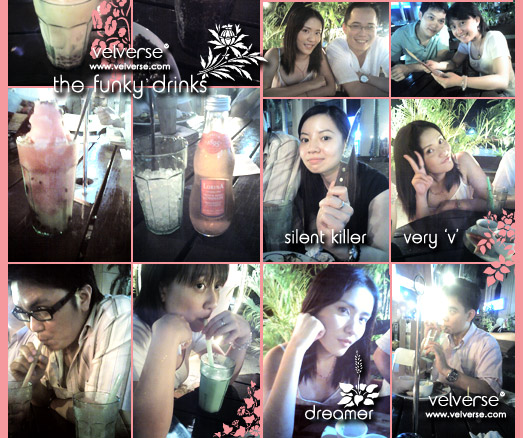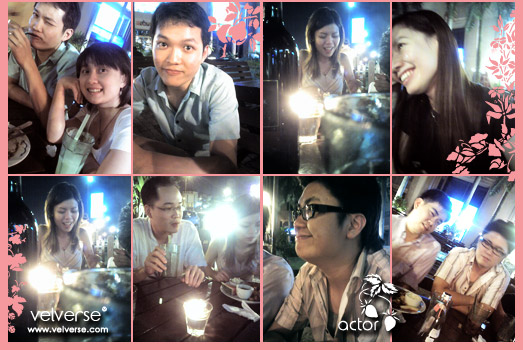 Backdated post. Actual event took place on 8 August 2006.
Shirley's birthday is one day after Azli's birthday. We have a sorta belated dinner with her since most people could not make it. More ever she have serious hang over from Azli's birthday.
How did I get to know about it? She called me the very next day telling me she was totally sick. Okay… I should partially be blamed as I make her down a few glasses. 😐 But well, that's what party and birthday is all about.
Wai Khiong (Shirley's boyfriend) was first to arrive. Me, Jerry and his girlfriend Caryn arrived shortly to join him. We ordered our food first since the rest would be a little late. Brian, Jessy and Jon is on their way. Shirley is on her way back to home to bring out some red wines (which Wai Khiong complain a lot about).
We celebrated Shirley's birthday at The Waterlily Cafe since we nicknamed Shirley, "lily". Brian suggested the place after reading some reviews online. The cafe is has this garden concept around it where one can choose to either sit inside our in the garden itself. Due to the air-con malfunction, we all decided to sit outside rather than suffocate till death inside. The garden sorta have a rather relaxed ambience and wooden furniture. The best part, the barbecue counter at a corner of the "garden". So near to our table, which means food served would be steaming hot!
The cafe is famous for it's different Bali style charbroiled barbecued meats. It also serves a lot of Malaysian favourites like Nasi Lemak, cendol and ABC with Western influences to the dishes in an attempt to create 'Malaysian fusion' recipes. Actually I was sorta amazed with how they serve food such as the brown gravy and salad in a dainty Chinese teacup.
Among food ordered were Bali's B.B.Q Beef, Bali's B.B.Q Lamb, Bali's B.B.Q Dory Fish, Bali's B.B.Q Salmon, Bali's B.B.Q Chicken, Nasi Lemak with Bali's B.B.Q Fish and Chicken.
I would say the food tasted very nice. The B.B.Q meat which actually looks more like steak tasted totally different from the ones we eat at Victoria Station or any other steakhouse. This have very strong herbs taste and I must say obvious lemongrass flavour and fragrance. I really love the lemongrass taste as it really enhances the meat.
It's really a must try place if you really love Balinese mix with Malaysian taste of food.
Address:
The Waterlily Cafe
GF12, Pusat Perdagangan IOI,
1 Persiaran Selatan, PDR/Puchong Jaya
Telephone No: 03. 8070 4623
Opening hours:
Monday – Saturday : 11am – 11pm
Sunday & Public Holidays : 4pm till late