Yeay… a brand new year. The first day of work~ Ah… I am all hyped up with imaginations of what I am gonna be.. what I am gonna do… what I plan to do, what I want to buy… la la la…. let's just hope everything goes accordingly.
A new year and a new me. I wish my hair could just grow extremely fast so it would be long enough. I still am in fantasy land. I really want a blue hair with purple-ish blue highlight. Hehehe… how cool if there are bright pink contact lens. Hem… hemm… blue hair… hemmm…. I wonder how will my parents shoo me out of the house.
Blushed face,striking colour eyebrow… wooo… sounds just so manga… but I seriously can't imagine.Iif I were to look like this.
Let's put imagination to some reality pictures… all thanks to photoshop… er… this is how I'm gonna look like in a darker tone blue. Haha… somehow a little weird amd funny. Yes, new year… a new me!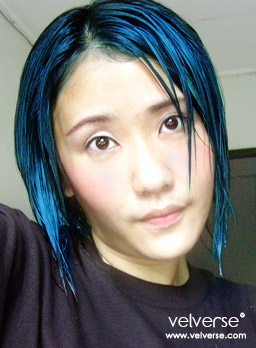 What is up next week?
Project theme: Painter
Project description: We paint and paint and paint. Mix the colours… toss the brush… feel the surrounding. Ah… a whole new canvas ready for you to splat your paint and emotions.
Project deadline: 10 January 2007, Wednesday.Submit to: mandy@velverse.com
Anyone and everyone is welcome to join. Be it good or bad… it's just something we do for fun! Generate some cool ideas and well.. surely fill up some of our boring times 😀
Click on the banner go link to the project crossroad gallery.