The mission is done. The countdown has ended. The show shall begin… and not any unsual scene that my mailbox is empty :). So yes, I will be the only one walking down the runway. Hehe… right, the only one who work and work where I was crowned the "no life" person by some people.
And guess what… the people who thinks they have a life (while I don't have one) tells me they are busy with work so they could not submit. Now… if you think I have no life except work, work and work… then take a look at yourself in the mirror. Then again… busy with work probably is just an excuse due to your "full of life" life. So stop saying someone else don't have a life as I don't see any in yours either.
Ah… okay.. leave the lifeless issue behind and start the show. I did up 3 lamps… yes.. so let the picture tells it all.
Ah… this is my first lamp design which follows the AirMail theme. I sorta like this retro looking envelope style, unlike the plain white or brown envelope we see these days. The best part, I sneak around the post office to take some stickers and have to run through my box of old mail to find a sorta old stamp to fit in the retro feel. Ah… now of course you can't fail to notice LB's name on the lamp. How come hor?
Well… I have a small competition, er.. not really competition… just a small guessing game (click here to view). Yes, I am dead serious when I say you will get something for being the first to give me a correct answer. So yeay…. here's a mail for you LB.
Ah… comes this second one I did for myself. I need a lamp badly. And I know I need to speak up for myself. Be more expressive at times when I need to be and felt like it. So yes… the theme was Speak Up.
Lots of bubble speech and in fact I think it turned up quite cool except for my hands were shaking when I was painting on it. I should have created a stencil and then spraypaint on it next time. Next time? Yes… next time 🙂 I still have around 20 sketches of lamp which I haven't put in to work. So yes, these are just 3 from the many brought to life.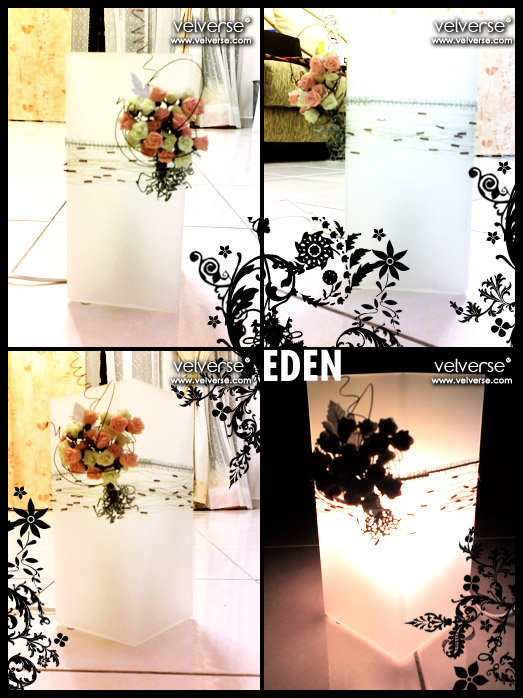 Now… my third and final lamp, a gift for my sister. I call this the Eden. Don't ask me why that name. I just think it is a nice name. Moreever she loves roses, white ones especially. I put in some pink ones to give it a little more colour. This was a little more difficult than in my sketches is. The wires and running them in between the beads was a hassle and yes, I get lots of cuts on my hand here and there.
Of course I gotta say this lamp wasn't what I imagine and expect it to turn out. Right… I was sorta disappointed tho as the flowers weren't suppose to be like this but well… I still haven't find a way to bring my imaginations to life yet so this is a little something I did which was different than what I drafted.
Probably a version 2.0 when I have the time to do it.
Ah… and the finale threesome picture :). *bows* Yeay… So much for lighting my passion 🙂 Now… what shall I do next? Hemm…