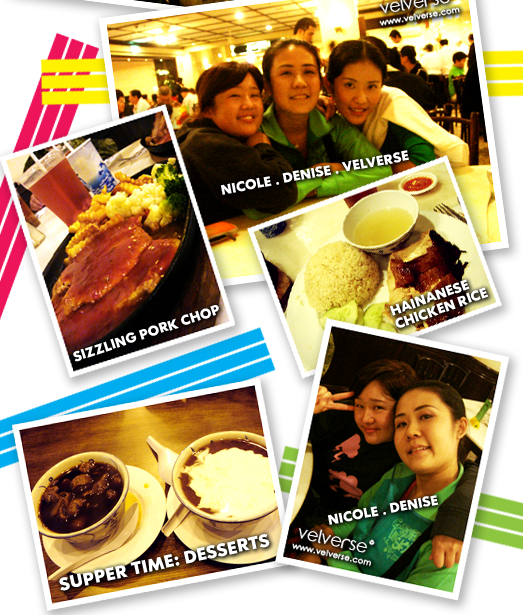 Backdated post. Actual event took place on 30 September 2006.
After enjoying my party night, I went up the hills with my parents, my sis, my godparents and Nicole. It was sort of a crazy day. My parents drop by kinda early so that we would reach Genting before the 12 o'clock check in time. As we reach there, we checked in Ria Apartments and lepak for a bit. I of course take the excuse to sleep more while waiting for Nicole to meet us up from her Bukit Tinggi trip.
Right… I was happily sleeping until my great cousin ran in to the room trying to steal my blanket. Ah… the Genting trip soon begins when we decided to walk up Genting instead of driving up. *brrrrr* It's really cool~ As we reach I suggested me drop by for a cup of hot coffee. Wooo… STARBUCKS… STARBUCKS… why? Coz it has this nice green logo and it's located like on a small island with some mechanical gondola boats passing by.
I was totally energized with I finish drinking the cup of coffee. The girls shopping spree mode was switch ON. I shop and shop non stop. I pretty much buy lots of stuff and then we decided to call my dad and my godparents for early dinner.
Restaurant Hainan Kitchen was the pick since my parents have some points to redeem some food. I don't really know how those stuff works. All I ever think of is food… give me food! Everywhere in Genting seems packed… this place was packed as well… but none of us really want to walk any further. This restaurant sorta serve.. I don't really know.. I felt it isn't Hainan food to begin with. Some of it is practically western food. Some are Cantonese food. I guess the only one who ordered Hainanese Chicken Rice felt it was a right thing to eat at this place… but that person is not me.
Pork chop like of course my eat Sizzling Pork Chop! Okay… I personally think it doesn't taste good. The sauce is rather sweet… which much to my dislike. The meat was rather over-cooked. So it's a little less juicy. The adults were busy with their casino experiences… hence the kids take some time off from listening and take some pictures.
My mum, my sis, Nicole and me went on shopping till we suddenly decided to go for a movie. Much to our disappointment.. Every show was fully booked. And I mean fully booked… even the super front rows. Well.. that makes me continue to shop shop and shop. One thing I like about Genting… the shops there open till like midnight. Right… imagine a whole day of shopping.. ah… and the amount of money flying away from my pocket :(.
We then felt a little tired and thirsty. We then stop by this stall at the hawker centre and a ordered some desserts. I felt cheated as it taste really bad. It's as if it has no other taste except sweet. I practically just have a few sip and just left it untouched. The other adults all came to meet up and we all walk back to the apartment together.