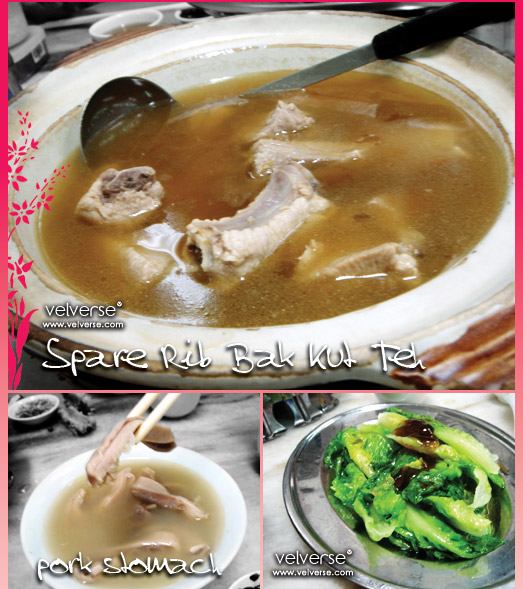 Backdated post. Actual event took place on 24 September 2006.
Right after the massive shopping, we head home, take a little rest. Get dressed up for Bak Kut Teh. Hehe… right… Denise (my sister) recommended this place. According to her, the bak kut there here is special. Different from what we normally have. So me and Nicole is like dying to see how different it is.
We went on and pick up Jason (my sister's bf) and vroom vroom… here we go. The girls of course have the luxury of sitting around doing nothing but chit chatting while Jason do the driving. Haha… well, girls have lots to talk about… especially when my this cousin comes back. Yeay~
We reach this Bak Kut Teh place. I was somehow lost since I pay most of my attention chit chatting and not looking around. Guess what, we were still chit chatting and talking when my sister say "reach already la". Me and Nicole just leave the ordering to my sis and Jason since they recommended the place. It was a good place. And trust me… thank god we reach early or else… we would have to wait for like god knows how long.
My sister ordered their signature Pork Ribs Bak Kut Teh. Which actually comes in a clearer soup. It really taste a little different. Unlike the Bak Kut Teh that I try, it's normally darker in colour and way thicker. This one is rather clear, not too thick and best of all, I somehow felt it's sweeter. Of course the best part is, it's pork ribs hence it's less fat, more meat. Yummy~ The only downside I could think of is this dish needs around 30 mins to prepare. So… if you are super hungry.. opt for other dishes.
Besides ordering their signature Pork Ribs Bak Kut Teh, we ordered other dishes like Pork Stomach in Black Pepper Soup, Steam Fish Head with Ginger Sauce and a plate of vege to balance out. The steam fish was rather disappointing that day. The owner came to us to appologize before we even make a complain. He noted that their fridge is having some problem hence it somewhat downgraded the quality of the steam fish. Guess what, he gave us a discount 😀 How kind sweet~