I have been tagged by Nicole (she started of this tag). Right, we have been talking about food and eating each time we chat. She asking where I will take her to when she comes over. I asked her what is good over at her place… and she then came up with the idea of making a tag listing up the top 5 places of food one would recommend. Hence with the gathering of this info, we could end up with a good bundle of only the best.
The rules are simple:
1. List out your top 5 favourite place to eat at your location.
2. Put down your link below together below the name/nick of the person who tag you and link directly to your post (e.g http://www.velverse.com/?p=545). Please include the state or country you're from.
Nicole (Sydney, Australia)
velverse (Kuala Lumpur, Malaysia)
3. Tag 5 other people (preferable from other countries/states)
Counting down to great food I would recommend.
Jogoya is one of the places I would recommend to anyone who come visit me. Well, yeah… it isn't exactly any local food. In fact it is a Japanese buffet spread owned by some Taiwanese corporate. However I still think it's one great joint to dine in.
Jogoya serves a large spread of buffet. Varities from sushi, sashimi, teppanyaki, teriyaki, steamed food, soups, tempuras, desserts, cakes, cookies and not to mention various variety of drinks. One could possibly get lots in this place as they were too mesmerized.
I remember the last time I went, I just go crazy over their sashimi and had like 4 plates of them with many other stuff like soft shell crabs, grilled mussels, steam fish, soup… ah.. countless. I hardly can believe (neither does my friends) when they see me eat non stop for like 3 hours while others were sitting there burping. Eyes rolled big and all they ever say was "Wah!! You really can eat hor?" Hem… I wonder~
I somewhat think their food is fresh and for the amount that I manage to it, it's really worth the price. So yes, I don't mind going all over again. Anyone?
Address:
Jogoya
T3, Relish Flr, Starhill Gallery,
181, Jalan Bukit Bintang,
55100 Kuala Lumpur,
Malaysia.
Telephone No.: 03. 2142 1268
Fax No. : 03. 2148 8171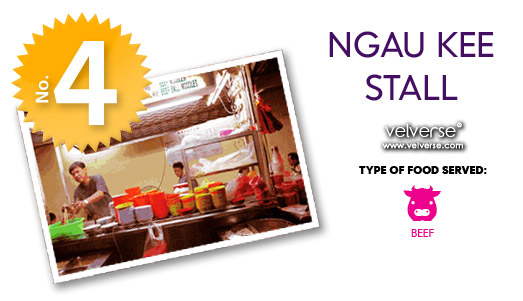 Ah… some local chinese stall to recommend. If you really love beef, Ngau Kee beef noodles is not to be missed. This stall has been there for decades. As far as I remember, many people brought me there and I must say, each time I went there… it never fails me.
As time goes by, they are pretty much more flexible. You could actually mix and match you stuffs. Can choose from dry or soup based beef noodles. One can also choose the type of noodles… not to mention you can actually mix them as well.
I prefer the dry type which comes with minced beef on top of the noodles. They then serve you a bowl of soup with beef balls, beef tendons, beef slices and even beef intestines. Well, one could actually even custom what they want in their bowl of soup. In which one of the reasons why I actually like this place.
Of course having a good bowl of noodles with great beef balls is not the only thing that catch my attention. Their pot of chili sauce plays a great big role too. It's simply out of this world and there are times I wish no one was looking so I could actually steal the entire claypot home for myself.
Address:
Ngau Kee Beef Ball Noodles
Tengkat Tong Shin,
50200 Kuala Lumpur
Business hours: 12.00noon to 3.00am
I always believe people who visited Malaysia must try out our specialty, nasi lemak. Nasi Lemak Antarabangsa serves one of the best nasi lemak in town. I still remember the first time I set foot at this place was when I work in my previous company. One of my colleague did a food review for clients and tag me along. The best part, we ordered and ordered. Eat and eat… and at the end of the day… we didn't have to pay a cent.
It isn't called Nasi Lemak Antarabangsa for nothing. At it's wall, one could see that many people around the world actually drop by tried and leave behind some comments. Not to mention stars and artists leaving their remarks and signature there.
Nasi lemak is almost the same everywhere, few slices of cucumber, peanuts, ikan bilis, coconut rice and sambal. Right… and the most important thing that distinguish one from the rest would be it's sambal. Here at Nasi Lemak Antarabangsa… they simply nailed it!
Besides the basic nasi lemak, they have lots of other variety of stuffs to add on. They had so many to choose from, friend chicken, curry chicken, beef rendang, sambal sotong, curried beef lungs and many more. When talk about nasi lemak… I somehow still think they serve one of the best nasi lemak in town.
Address:
Nasi Lemak Antarabangsa
7C, Jalan Raja Muda Musa,
Kampung Baru, 50200 Kuala Lumpur
Business hours: 6.00pm to 5.00am
Leong Ya is a place I really enjoy going when I stayed in Sri Kembangan during my uni days. Each time my parents came visit me, I can't help but wish they would want to go there. It is a typical chinese restaurant which serves lots of chinese dishes.
However, they are really famous for their Paper Wrapped Chicken. Right, one can never miss out their signature dish as it taste really good. The thick and sweet gravy covering the entire chicken. Mmmm… each time unwrapping the chicken is like unwrapping gifts. I each time prayed for chicken wings and much to my disappointments… I always failed to find it.
Besides their famous Paper Wrapped Chicken, their Yong Tau Fu is also highly recommended. I could just eat their Yong Tau Fu and their Paper Wrapped Chicken. Ah…. I really could… I really want to… I really did. Times like this, I wish I am back at my uni days where Leong Ya is just so near.. I could actually walk to that place.
Address:
Restoran Leong Ya
No 26-28, Jalan Dagang SB 4/1,
Taman Sg Besi Indah SK 4,
Balakong,
Sri Kembangan, Selangor
Telephone No. : 03. 8941 5942
Wong Poh Restaurant is the place me and my fellow uni mates had our Chinese New Year dinner last year. I find their food there was simply amazing. It's a common norm that during Chinese New Year, most restaurants' food quality would drop due to overwhelm response.. Wong Poh however didn't fail me.
Noted for it's Cheese Crabs in Claypot. Yes, Cheese Crabs in Claypot is simply amazing as the thick gravy wrapped around the crab meat. I am glad the crab meat was fresh and that contributed much to it being prefect. Besides that their Butter Crabs and Salted Egg Crabs were great too. No kidding.. A great place to just eat crabs when you have cravings for it.
Besides their crab dish. I kinda like their Fried Sotong and Pepper Salted Prawns. It's just delicious. Now… I felt like having crabs.. *slurp*
Address:
Wong Poh Restaurant
36 & 38, Jalan BM 1/2
Bukit Mayang Mas
47301 Petaling Jaya
Telephone No. : 03. 7803 3527
Five person I would like to tag…
1. Leonard (Singapore)
2. Simple American (United States of America)
3. L B (Italy)
4. FireElement.com (Sarawak, Malaysia)
5. Kenny Ng (Penang, Malaysia)
*Updated link on those who have done the meme.*
Yeay… great place to dine around the world is just a click away. Here are the updated links of people who have done the meme. Please update me if I forget or miss out any of yours our your friends link. 🙂



Austria
Melissa (Vienna)
Australia
Bubba Stuff (Melbourne)
WokandSpoon (Melbourne)
Dabido (Perth)
SiwwyPig (Perth)
Danielle (Brisbane, Queensland)
Me (Queensland)
Little Miss May (Sydney)
Little Miss May (Sydney) (part 2)
Nicole (Sydney)
Belgium
Gattina (Waterloo)
Bosnia and Herzegovina
Wu Wei (Sarajevo)
Canada
Deb (Richmond, British Columbia)
Barbara (Calgary, Alberta)
Craptastic (Calgary, Alberta)
swankola (Edmonton, Alberta)
Susanne (Alberta)
Gifted Typist (Halifax)
John (Iqaluit, Nunavut)
Tearfree aka Reject the Koolaid (Montreal)
Canadian_Sadie (Halifax, Nova Scotia)
Carrie (Ottawa)
Kathy (Prince Edward Island)
Emilie (Montreal, Quebec)
Boob Lady (Saint John)
Fracas (Saskatoon, Saskatchewan)
Geosomin (Saskatoon, Saskatchewan)
Bluepaintred (Saskatchewan)
Chrissy (Manitoulin Island, Ontario)
Angell (Toronto, Ontario)
Canadian Pie (Toronto, Ontario)
Dale (Toronto, Ontario)
Jacy (Toronto, Ontario)
Lotus (Toronto, Ontario)
Tanya Espanya (Toronto, Ontario)
Christy's Coffee Break (Ontario)
Farmer's Wife (Ontario)
Jake (Ontario)
Kat (Ontario)
Pink Internet Marketing (Ontario) *added recently*
Sassy (Ontario)
Where the Walls are Soft (Ontario)
Carly (Vancouver)
Courtney (Vancouver)
Jill (Vancouver)
Julia (Victoria)
Colombia
Bloghound (Bogota) *added recently*
Egypt
Pinksterz (Egypt)
France
lapetiteamericaine (Mouffetard, Paris)
JChevais (Paris)
WokandSpoon (Paris)
Germany
HeisseScheisse (Boweltown)
Sanni (All over Germany)
Greece
Irene (Athens)
Karma Canyon (Athens)
Tina (Athens)
Cathy (Athens, Attica)
Melusina (Thessaloniki)
Hong Kong
CuriosityKiller (Hong Kong, SAR)
India
Traveller's Tales (Pune)
ish (Ludhiana, Punjab)
Indonesia
Selba (Jakarta)
Ireland
Alan (Waterford)
Israel
tafka PP (Jerusalem)
Harry (Modi'in)
Liza ("Northern" Israel)
anglosaxy (Tel Aviv)
Italy
Caroline (Rome)
LB (San Giovanni in Marignano)
Japan
Pandabonium (Kashima City, Ibaraki)
The Moody Minstrel (Namegata, Ibaraki Prefecture)
tanabata (Saitama)
Danny (Tokyo)
Malaysia
Alice Teh (Kuala Lumpur)
MJ (Kuala Lumpur)
sulz (Kuala Lumpur)
velverse (Kuala Lumpur)
Chen (Penang)
Kenny Ng (Penang)
Alicialphh (Petaling Jaya, Selangor)
Bkworm (Petaling Jaya,Selangor)
The Eternal Wanderer (Petaling Jaya, Selangor)
cheepeeone (Around Malaysia) *added recently*
Macau
Pink Panther (Macau, SAR)
New Zealand
Tash (Auckland)
Kaf's Corner (Christchurch)
Jen (Hawkes Bay)
Norway
Keera Ann Fox (Bergen)
Karla the Texpatriate (Oslo)
Tor (Oslo)
NRG (unknown)
Philippines
Kimmie (Metro Manila)
Portugal
Laura (Central West)
Puerto Rico
Eslocura (Aguas Buenas)
Singapore
eastcoastlife (East Coast)
Diana (unknown)
Leonard (unknown)
South Africa
Mzungu (Cape Town)
Angel (Gauteng)
Mangaliso (Joburg)
Tom Cat (Joburg)
South Korea
Bybee (Gumi, South Korea)
Spain
Mar (Barcelona)
Sweden
Mark Base (Helsingborg)
Kikare (Scania)
BlueEyedCat (Uddevalla)
Switzerland
Sara (Geneva)
Thailand
Jane (Bangkok)
Cherry & SiamJai (Chiang Mai)
Turkey
Carpetblogger (Istanbul)
United Arab Emirates
Petty-change (Dubai)
United Kingdom
Ultra Toast Mosha God (Bristol)
TopChamp (Glasgow)
Shrink Wrapped Scream (Douglas, Isle Of Man)
livesbythewood (Bath, England)
Graham (Birmingham, England)
Sketti (Hertfordshire, England)
Sarah (Lancashire, England)
Al (Liverpool, England)
Cheezy (London, England)
Clarissa (London, England)
Jen's Den of Iniquity (London, England)
Krista in London/Londonelicious (London, England)
LondonGirl (London, England)
New Yorkshire Pudding (London, England)
Nicole In London (London, England)
Olivia (London, England)
PinkJellyBaby (London, England)
Ripe London (London, England)
TheBoy (London, England)
Vol Abroad (London, England)
Wennnn (London, England)
badgerdaddy (Ludlow, Shropshire, England)
Rullsenberg (Nottingham, England)
All Cobblers (The Sticks, England)
Dandelion (England, Great Britain)
Beth (Dublin, Ireland)
Queenie (Nottinghamshire)
EBEZP (Wirral, Merseyside)
Melinda June (Milton Keynes)
Ad (Yorkshire)
Ms Melancholy (Yorkshire)
United States of America
Lee Ann (Birmingham, Alabama)
Leigh (Birmingham, Alabama)
Sassy (North Alabama)
Mandalyn (Alabama)
Induced Homomorphism (Anonymous Location)
Yas (Ahwatukee, Arizona)
Anonymous Blogger (Cave Creek, Arizona)
The Phosgene Kid (El Mirage, Arizona)
Brianna (Phoenix, Arizona)
Ralphd00d (Phoenix, Arizona)
RSP (Scottsdale, Arizona)
Desert Songbird (Sonoran Valley, Arizona)
Heartless Lass (Sun City, Arizona)
gekko (Arizona)
CrazyWorkingMom (Arkansas)
Wander (Arkansas)
teczcape – an escape to food (California)
Jiggs Casey (Berkeley, California)
Foodette of Restaurant Review World (Los Angeles, California)
miss kendra (Los Angeles, California)
JP (Orange County, California)
Paula (Orange County, California)
Higgy's Mindnumbingly Boring Blog (Sacramento, California)
Valancy Jane (San Diego, California)
Emily (San Francisco, California)
Matt (San Francisco, California)
Spectre Collie (San Francisco, California)
the weirdgirl (San Francisco Bay Area, California)
Julie (San Jose, California)
Julie (Santa Cruz, California)
Paul (Santa Maria, California)
CP (West Hollyrock, California)
Amy (California)
J (California)
Laluna (California)
WriterChick (California)
Marilyn (Alamosa, Colorada)
Eternally Curious (Bennett, Colorado)
Jesser (Denver, Colorado)
Slave to the dogs (Denver, Colorado)
Diana (Longmont, Colorado)
Tug (Hell, Colorado)
Jeff (Colorado)
Regal (Connecticut)
That's Elbert With An (Laurel, Delaware)
Mike's Musings (Lewes, Delaware)
NPR Junky (Wilmington, Delaware)
Brooke (Fort Lauderdale, Florida)
Doyle (Jacksonville, Florida)
Monkee (Merritt Island, Florida)
SeaBird (Miami, Florida)
Doug (Orlando, Florida)
Sugar Queen's Dream (Palm Coast, Florida)
aprilbapryll (Palm Harbor, Florida)
SourPatchBaby (Tampa, Florida)
Madge (West Palm Beach, Florida)
Avitable (Florida)
Chickie (Florida)
ffbgirl (Florida)
Amber Rhea (Atlanta, Georgia)
Jersey Chick (Atlanta, Georgia)
Momsgoneloony (Brooklet, Georgia)
EvilScienceChick (Decatur, Georgia)
Rootietoot (Statesboro, Georgia)
Kailani (Honolulu, Hawaii)
Alicia (Idaho Falls, Idaho)
Kara (Idaho)
Sandra (Idaho)
Splotchy (Brookfield, Illinois)
Foodmomiac (Chicago, Illinois)
Johnny Yen (Chicago, Illinois)
Land-o-Lulu (Chicago, Illinois)
Ubermilf (Chicago, Illinois)
MrWriteNow (Chicago, Illinois)
Natalie (Chicago, Illinois)
CoffeeBetsy (Moline, Illinois)
Bubs (Mt Prospect, Illinois)
Deadspot (Urbana, Illinois)
Thescoundrel (Illinois)
Tom (Charlestown, Indiana)
Fleur De Lisa (Indianapolis, Indiana)
Lynda (Indiana)
Neila (Overland Park, Kansas City, Kansas)
Nick (Wichita, Kansas)
Lorie (Hyden, Kentucky)
Todd (Louisville, Kentucky)
Noladawn (New Orleans, Louisiana)
Ruby (New Orleans, Louisiana)
TravelingMermaid (New Orleans, Louisiana)
Stewie (Naptown, Maryland)
Daphne (Annapolis, Maryland)
Gorillaboy (Annapolis, Maryland)
johnny dollar's vault (Baltimore, Maryland)
Daffodil Lane (Maryland)
Gilly (Maryland)
Evey (Boston, Massachusetts)
Michael (Boston, Massachusetts)
Mikey Mud (Brookline, Massachusetts)
Slappy (Cambridge, Massachusetts)
Sonny Morningstar (Cambridge/Boston, Massachusetts)
Kate (David Square, Massachusetts)
MizMouthy (Leominster, Massachusetts)
Motormouth (New England, Massachusetts)
Monstro D. Whale (Northampton, Massachusetts)
Frankie (Massachusetts)
Robin (Massachusetts)
Stephanie (Massachusetts)
Tammy (Ann Arbor, Michigan)
Some Guy's Blog (Boyne City, Michigan)
wreckless (Grand Rapids, Michigan)
Dmarks (Grand Rapids, Michigan)
MomCooks (Lansing, Michigan)
Scooter (Ypsilanti, Michigan)
Morgen (Michigan)
Not That Desperate (Minneapolis, Minnesota)
Jess Poskozim (Minnesota)
Katie (Minnesota)
Shelli (Minnesota)
Suzi (Minnesota) Note: Can't get to link directly. Post is on 09 May, 2007.
The Mutt Princess (Minnesota)
Eric (George County, Mississippi)
Becky (Grenada, Mississippi)
bookfool (Mississippi)
Jenna (Mississippi)
Tense Teacher (Mississippi)
FlyingFlo (Kansas City, Missouri)
Ruhi (Springfield, Missouri)
Kathy (St. Louis, Missouri)
Blogarita (Missouri)
Jessica (Missouri)
Osbasso (Helena, Montana)
Mopfog (Montana)
JoeInVegas (Las Vegas, Nevada)
LVGurl (Las Vegas, Nevada)
Vegas Princess (Las Vegas, Nevada)
Tits McGee (New England)
Ace (Hillsborough, New Jersey)
Marisa (South Plainfield, New Jersey)
Sue (New Jersey)
Joe the Troll (Albuquerque, New Mexico)
Michelle (New Mexico)
Ordinary Folk (Nowheresville, New York) *added recently*
Robin (Poughkeepsie, New York)
A Million Paths (Queens, New York)
CuriosityKiller (New York)
heather (New York)
Luin (New York)
Raquel (New York)
Steven (New York)
Jean (Chapel Hill, North Carolina)
Christi (Concord, North Carolina)
Heather (Greensboro, North Carolina)
Kang (Raleigh, North Carolina)
Erin (North Carolina)
Jonathan Zero (North Carolina)
The Exception (North Virginia)
Janeen (Cleveland, Ohio)
Nina (Cleveland Area, Ohio)
jenomena (Columbus, Ohio)
Julie (New Philadephia, Ohio)
Heather (Ohio)
Jennyjinx (Ohio)
Mom Tu-Tu (Ohio)
Tera (Ohio)
Annie (Oklahoma)
Squirrel (Oklahoma)
Mr Cherry (Roseburg, Oregon)
Sebastian (Langhorne, Pennsylvania)
Jennifer (Pennsylvania)
Webmiztris (Pennsylvania)
Doggy Mama (Rhode Island)
Dana (Greenwood, South Carolina)
Carrie (South Carolina)
Jennisa (South Dakota)
dame (South East)
DW (South East)
woo-woo (Southeast Virginia)
Jenileigh (Southwest Virginia)
Big Stupid Tommy (Athens, Tennessee)
R. Neal/KnoxViews (Blount Co., Tennessee)
SayUncle (Blount Co., Tennessee)
10K Monkeys (Chattanooga, Tennessee)
Amber (Henderson, Tennessee)
Inn of the Last Home (Knoxville, Tennessee)
Mark Steel blogitude.com (Knoxville, Tennessee)
Russ McBee (Knoxville, Tennessee)
Swanky The Swank Pad (Knoxville, Tennessee)
Tish (Knoxville, Tennessee)
Shots Across The Bow (Kodak, Tennessee)
LeBlanc (Lewisburg, Tennessee)
Bond (Memphis, Tennessee)
Lean Left (tgirsch) (Memphis, Tennessee)
Lynnster (Memphis, Tennessee)
Sadie (Memphis, Tennessee)
Joe Powell (Morristown, Tennessee)
Chris (Nashville, Tennessee)
I Am DisHeartened by My Jetta (Nashville, Tennessee)
John Hutcheson (Nashville, Tennessee)
Roadchick (Nashville, Tennessee)
Slartibartfast (Nashville, Tennessee)
The Biscuit Blog (Nashville, Tennessee)
Tiny Cat Pants (Nashville, Tennessee)
Atomictumor (Oak Ridge, Tennessee)
CitizenNetmom (Oak Ridge, Tennessee)
Oh Really? LissaKay (Oak Ridge, Tennessee)
Finnspace (Springfield, Tennessee)
Newscoma (Weakley County, Tennessee)
Scout (Weakley County, Tennessee)
Jillbe (Tennessee)
Sonya (Tennessee)
Sara (Austin, Texas)
Stef (Austin, Texas)
Christine (Dallas, Texas)
Dagromm (Dallas, Texas)
Estella's Revenge (Dallas, Texas)
insidious truth (Dallas, Texas)
Iliana (Dallas, Texas)
Baboon Pirates (Houston, Texas)
Diamond Mair (Houston, Texas)
Fringes (Houston, Texas)
Mamacita (Houston, Texas)
Mob (Midland, Texas)
Anton Olsen (New Braunfels, Texas)
HollyB (North Central, Texas)
Fuzz (Spur, Texas)
Simple American (Sugar Land, Texas)
Anne (Texas)
Jaye (Texas)
Jennifer (Texas)
ML (Utah)
Leetie (Fairfax, Virginia)
Dino aka Katy (Newport News, Virginia)
Gem (Norfolk, Virginia)
Travis (Pacific Northwest, Washington)
Amera Hearts (Seattle, Washington)
Amy of Nook and Pantry (Seattle, Washington)
Fray (Seattle, Washington)
Humuhumu (Seattle, Washington)
Sig of Live to Eat (Seattle, Washington)
Sizzle (Seattle, Washington)
Steve (Seattle, Washington)
Alasdair (Walla Walla, Washington)
Candy Sandwich (Washington)
Leah (Washington)
Mommy de Gallo (Washington)
Shari (Washington)
Sonadora (Washington)
Susan (West Virginia)
Eye of the Goof (Eau Claire, Wisconsin)
Carrie (Land O'Lakes, Wisconsin)
jintrinsique (Manitowoc, Wisconsin)
Kim (Wisconsin)
From all over
Killer rants