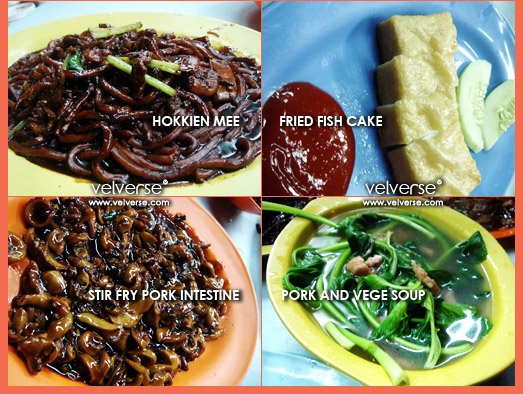 Backdated post. Actual event took place on 12 October 2006.
Now… no more Buka Puasa Buffet. Shhh…. Nicole can't know about it. Hahaha… She is back from Korea… and tada… she is way much cuter. Really… probably I din see her for 12 days and with all those good Korean food, she just seems cuter. Doesn't she?
I head of rather early cause I promise to dine with my cute cuz once she get back. Of course I was a little hooked up with work hence my sister entertain Nicole first. Bring her to go have a cup of tea while waiting for me.
When I finish my work, my sis's bf (Jason) join in too. We then decide to head to a road side stall behind Hospital Tawakal. That stall is kinda famous. I went there once with another friend but wasn't eating that much since it was a super late night. So yes, today I guess it would be the first time I actually try so many different stuff from this stall.
Like they always say, good place to eat and good food must be shared with people who treasure and enjoys it. There were only four of us, but we ordered like there were 6 of us. The table was packed and we hard have space to put our own bowl.
My sister keep telling me and Nicole, this shop serves a special dish called, Stir Fry "Bak Gwo"… which literally means Stir Fry Cake Rice. However.. the first thing that cross my mind was Stir Fry Glinko. Chinese call glinko , Bak Gwo too. Hemmm… well… it tasted a little different. It's a little starchy… er… let's see… It tasted like "tong yuen" pastry being steamed then cut into thin slices and then stir fry it with meat and vegetables. No idea if this is how it was produced.. but it surely taste like that.
It's really an interesting dish and definately my first encounter. Besides the Stir Fry "Bak Gwo", we ordered a plate of Hokkien Mee too. Wooo… I just love Hokkien Mee… and this stall… lovely… the cook it using charcoal. Ah… now no wonder it taste so good.
The Kam Heong La La and the Fried Sotong was an instant hit. The moment it landed on our table… everything disappeared in less than 10 minutes. Great… now we have more place for other stuff. The Fried Fish Cake is also one of their specialty. Almost every table ordered a plate of this as snacks. Really.. they are tasty and bouncy. Muahaha… okay.. probably not the right word. Er.. but really… it's perfecto.
Stir Fry Pork Intestine surely is anot a dish Nicole would enjoy as she hardly eats pork organs. We ordered a small one which ended up amost the same size of any other dish. The best part, only me and my sister is taking it. So right.. talk about filling up my tummy with pork intestine. I think I would rate this dish the lowest among all. Seriously… it's a little too sweet to begin with and I really dislike sweet stuff where it doesn't belong.
The pork and vege soup is great. Not really for Nicole since she is a living proof of humans need no vege to survive or have good and healthy skin. However she really did enjoy the pork meat in the soup. They really put a lot of starch and that really make the meat so smooth and tender. Lovely… ah.. brilliant~
Now… *burp* I need to rub my tummy.