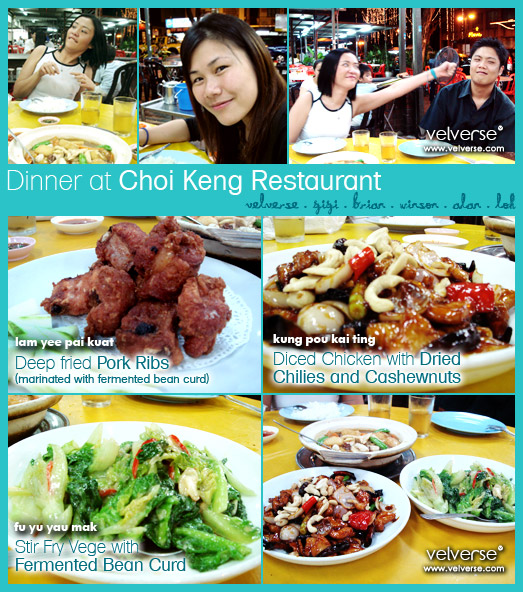 Backdated post. Actual event took place on 10 November 2006.
Indeed everyone have cravings of their own. Like me, it's different most of the time. What is worst is when everyone around me talk about food a lot. I know this doesn't only happen to me. Yes, everyone loves to eat. Everyone.. by hook or by crook have to eat (whether you like it or not).
So.. yes… I was chatting with gigi that day and was telling her my cravings and how much I wanted to eat "Kung Pou Kai Ting" and "Lam Yee Pai Kuat". Haha… I wonder why too. Yes, as you can really see… I am a carnivore. I love mean. I love pork! Yummie!
So before heading to a midnight show, we stop by at Choi Keng Restaurant along Jalan Alor and have our dinner. According Gigi, they serve one of the best stir fry stuff in town.So yes, lot's of food that I crave for… a vege and a tofu to ceomplete the well balance food group.
I was personally disappointed with the Lam Yee Pai Kuat. I think it wasn't seasoned and marinated long enough. The fermented bean curd taste wasn't really strong. And when the pork rib fails to absorb the taste… one can say… the dish fails terribly.
*ting ting ting* The Kung Pou Kai Ting was alright except the fact that it was a little too sweet for my taste. Nothing wrong with the dish.. just that when it comes to main course… I prefer nothing too sweet. The vege and the tofu was pretty standard. I personally believe nothing can actually go wrong with safe dishes like this.
Only people like me could screw up vege and tofu dish. No kidding~ So yes, if any restaurant does screw up on dishes like this. Be sure not to return! Well, Gigi agreed too that their standard dropped a little from her previous visit. Who knows… probably the cook is in a bad mood.