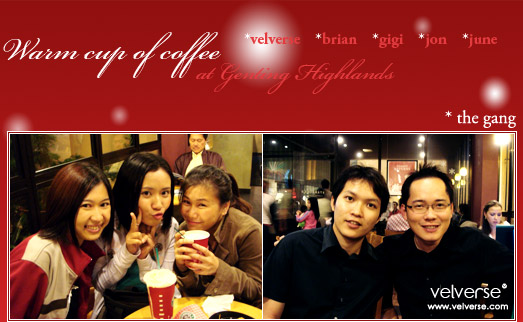 Backdated post. Actual event took place on 18 November 2006.
After a great Evening Hoursâ"¢, we all decided to go Genting. Vroom.. vroom. Yippie… we drive all the way from Kota Kemuning to Genting. Hehe.. of course a pit stop at my house since it's nearby to Genting to grab my jacket. Yeah, I guess I would have freeze to death if I didn't get my jacket along.
Everyone parked their car outside my place and we got in to Jon's car. Yippie… car pool is fun. As usual, Starbucks seems to be the pick. Well, much more quiet and warm. I must really say I kinda like their Christmas version of stuff. From the paper cups to the posters, redeem cards. It's all just so nicely and tactically done.
Did I just say I love Christmas stuff. Yes, as usual… Haha.. so yeah, the guys help us get our stuff while we, the girls… of course take some pictures first. Gigi require everyone of us to do a cute face which all of us gladly do. It isn't that hard rite?
We did a lot of chit chatting, but mostly asking question about how Jon and June got together. Haha.. poor Jon. Well, what to do.. he question us a lot… especially Brian and Gigi when they got together.. so yes, one can say revenge is sweet… one can also say we are concerned friends and some could even say we are just creating a topic for the long night.
But yeah, they both are cool and sporting people. So it was pretty much fun and laughter the whole night. Now… yes, the question is… if I have a boyfriend… what would my luck and chances of escaping the questioning? Hemm… muahahhaha… it looks ugly!