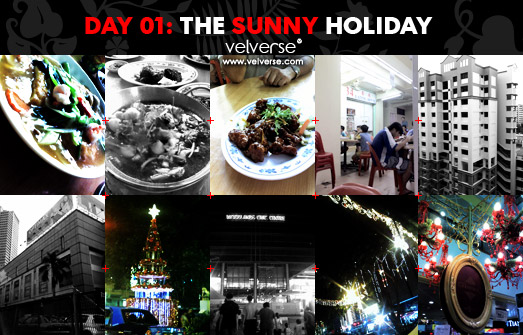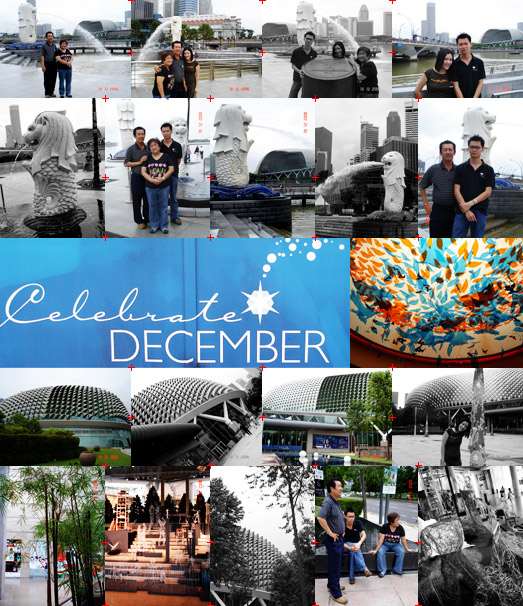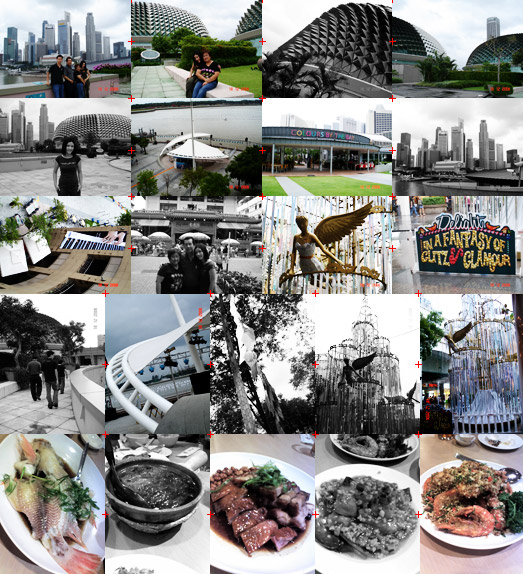 Backdated post. Actual event took place on 16 – 18Â December 2006.
It has been some time since I last visited Singapore. In my honest opinion, it didn't really change much from the last time I went visiting… and that would be like 3 – 4 years ago. This time, I decided to follow my parents down and see the Christmas light up.
I remember when I was young, the light up was really beautiful. Everywhere looks as if bulbs are on cheap sale. Santa Claus popping out from anywhere and everywhere, people with those santa hats giving out candies. Oh.. how I love Christmas. So yes, my parents and their friends have been inviting me to visit them for a long time. So here I go.
The first day was a tiring day. We woke up and my dad drove us all to Johor Bahru to meet up his friends. There we had lunch while waiting for my parent's godson, Wilson to come pick us up. Yeah, driving in Singapore is a hassle. Hence, dad is not driving.
The moment we reach Singapore and unload our luggage, we rested and had a long chit chat. Yup, my dad has lots of catching up to do with his friends. As for me, I sit there… and just listen to what they have to chat about :).
We then went out for dinner at a nearby place. I seriously have no idea where it was. All I know is the place is at some flat nearby. Seriously, flat everywhere looks identical. I guess I will seriously get lost if I ever wander around. Dinner was heavenly, I tried something new. This is the first time I tried frog meat cooked with Brand's essence of chicken. It tasted really good and the taste sorta blends in very well together!
Later on, we went went sight seeing in Orchard Road. We just drive pass it and headed to  Woodlands as we know day 02 would be a full shopping day in Orchard. While driving pass Orchard, I was disappointed. Badly disappointed. It used to be a busy street full of lights and beautiful decorations… now, sigh… honestly, even the decorations in KL looks better than that! Bah… probably I am too tired, I need to sleep! I wonder why I feel so sleepy.
For the second day, it was purely shopping day. Orchard road here I come. My parents made arrangement to meet more friends. Ah… and best of all, we went to a Korean Restaurant. I sorta think the adults over ordered, then again… I am pretty much happy coz I get to try a little of everything. From Kimchi Soup to Bulgogi to Bibimbap to loads and loads of Kimchi and pancakes. Burp~ Nothing beats eating all of those in one go.
The shopping spree begins… but nothing seems to catch my attention. I somewhat felt what they had is similar to what we had… of course more expensive due to the currency exchange. The fact that I am broke also explains everything. Yeah, that is why tagging along parents for trips like this are good. 😉
Dinner was great. This time, we manage to try some traditional chinese food. Er… according to my dad's friend, the owner of the restaurant came from China. So… we get to try something cool. I don't know what they call that… it's some dough being cooked with vege and meat. It's a little sticky but nice… and the dumplings. Slurp~ My dad's godson love it so much. We had to re-order that. Yummy~
Day three was the best part! I get to see the big durian. Okay I mean the Esplanade. Hehe… not to mention, I manage to visit the Merlion Park. Ah… I love the look and the texture of the Merlion. But I still wonder how a Mermaid and the Lion merge together? We spend loads of time taking pictures there and my dad spend loads of time figuring out which building is which. Not to mention he have been telling me histories and stuff about Singapore (yeah, long long time ago… my dad used to work in Singapore. Well, I probably would have been a PR in Singapore… if they allowed my dad to buy a house there back then).
So yeah… DURIAN~~~~~~ I saw 2 big DURIAN. Hehe… It really looks beautiful. I still can never imagine how a fruit can give such wonderful inspiration to the designers. Despite the disappointment I had with the Christmas light up, the Esplanade visit sorta cheer me up.
Did I not mention, it rained non-stop while I was in Singapore? And I guess everyone from Malaysia would remember the massive flood in Johor. Yes, I got stuck in the jam for 8 hours from Singapore to come back to Johor Bahru. A trip that normally only takes 40 mins, took me 8 hours. Not forgetting to add another 3 hours or more to reach PD. So yes, a good half day gone. My butt is aching!
Sigh… so yes, this hasn't been one of my joyful trip. I hope I will have better luck the next time I visit Singapore.