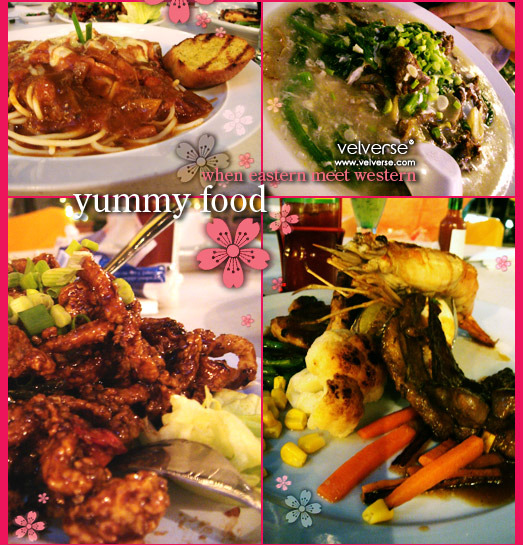 Backdated post. Actual event took place on 11 December 2006.
After a wonderful curry lunch, my best buddies arranged to meet up and have dinner with me. Hehe… since Gigi will have to work a little later, dinner was slightly delayed. Hehe… our initial 9pm meet up was changed to later. Hehe..
At first, we decided to try the fondue place in Sri Hartamas. Since they are closing when we arrived, I suggested that we dine in Kiwi Express. Hehe… I tried to have dinner with my other friends before. Hence, I would say they serve quite good food.
We had a simple dinner, I had this Cantonese Style Kuey Teow with Deer Meat while Gigi had the Kiwi Express Mix Grill Set and Brian trying out their spagetthi (I sorta forgot what he actually ordered). We also ordered Fried Sotong with some honey sauce. Ah… I must say… the Fried Sotong was SUPERB.
It's so crunchy and yet coated with sweet honey taste. Oh… I think we finish the Fried Sotong faster than our main course. I totally love the food here. Nothing grand but it's nice. Oh yeah, their kiwi juice is a MUST have. Well, they aren't called the Kiwi Express for nothing. The kiwi juice is made of 100% kiwi fruit. One can actually taste the texture of the fruit still.
We then take loads of picture around with the flower. Oh yeah, hehehe… Gigi wanted to take a look on the bouquet to see if it turns out right :). Aww it's really a beautiful night… the restaurant have this huge tree where they hang lots of lights, beautiful bouquet of flower and my best buddies around me. Just a perfect night 🙂
Thanks for everything my friends 🙂 Thank you~
Address:
Kiwi Express Bakery & Cafe
44, Jalan 20/70A,
Desa Sri Hartamas,
50480, Kuala Lumpur,
Malaysia.
Telephone: 03. 2300 3326