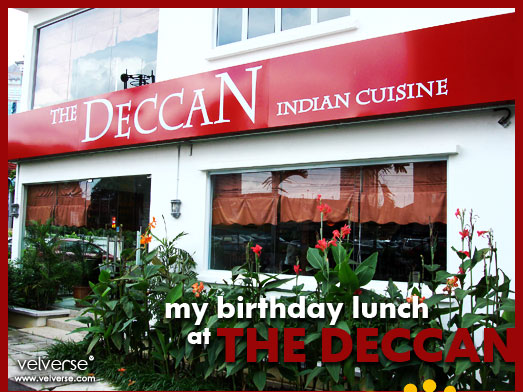 Backdated post. Actual event took place on 11 December 2006.
Yippie yippie yeay… the little princess just came back from a relaxing Kuantan trip and yup, wake up to my big day! Haha… yup, the princess is one year wiser! Time pass by so fast… sigh, at times it is pretty much scary. But then again… it's a happy thing.
Work is as usual, but lunch is different. Hehe… the office decided that we should celebrate my birthday somewhere else instead of in Hotel Maya (again). Hence we decided to try something different. Something really near yet we never try before.
Prem made a reservation at The Deccan Indian Cuisine. Woo.. of course I have no objection since I love Indian Cuisine. I love spicy food… but nothing too spicy. For a building nearby such a busy road, it's really pretty much empty. We were practically the second customer in the entire place.
Since Prem suggested to dine here, we pass the task of ordering food to him. Seriously, I have much problem trying to pronounce what I would love to order. In cases like this… I would just point to the menu if I have to.
Okay… I always loved Palak Paneer. It's actually cubes of cottage cheese cooked in spinach puree. I tried those before else where but I never know what it's called. Most of the time I would refer to it as the spinach dish. I can really say, the ones served here is pretty much thicker than what I usually have. Ah… with cottage cheese… HEAVENLY~
Other food we had includes Murgh Lababdar (Chicken cooked in tandoor and simmered in rich tomato butter gravy flavoured with dried fenugreek), Machchi Ghulabi Handi (Fresh fish pieces simmered in a spiced tomato and brown onion gravy), Tadka Moong Dal (A rich preparation of yellow dal), Deccan Special Surf & Turf Platter (Assorted barbecued platter of chicken, mutton and fish delicacies), Roganjosh (Tender pieces of mutton cooked in spicy indian gravy).
Everything looks like they come in small portion but mind you, they are seriously filling. Believe or not… with all the macho knights surrounding me, we can't finish what we ordered. I guessed we ordered too much carbs. But… the Naan, Roti Prata and the rice is a must to go along with the dishes.
I really enjoyed all the dishes. They are just so yummy. Probably it's been a while since I had proper indian food. But seriously… I want more! Sigh… if only my tummy listens to me and make space for more food!
While I was happily dining like a princess, Prem's phone rang. It seems someone was suppose to deliver something to our office. Since they can't wait for us to finish our lunch, they asked for our lunch location and decided to send here instead.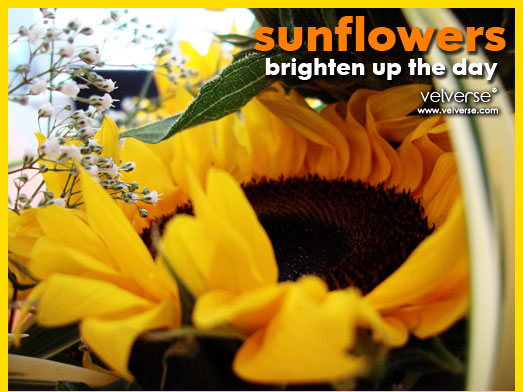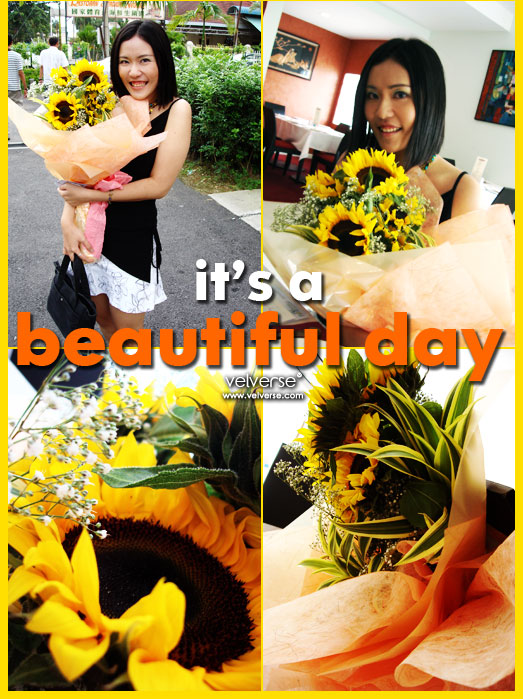 When I was chewing… I saw this delivery guy holding a bouquet of flowers walking towards the restaurant. Then the manager came and asked if I am Mandy and said there is a delivery for me.
The first thing that strike my mind, "SHIT!!! Don't tell me that is for me". Don't get me wrong, not that I don't like flowers… just delivered to my lunch place is a little… dramatic la. Worst is everyone on my table looks at me one kind… asking me who send me flowers. I sorta thank god, that we didn't actually dine at a packed place.
Then again… before even looking at the card, I already knew. How come? Not much people know I like sunflowers. Hehe yup, sunflower is one of the three flowers I like.
So yup, bingo… it's from Gigi and Brian. Hehe… yup, they look beautiful don't day? Yeah, sunflowers always give me this feeling that hope is always there. Probably it's cheerful colour… I am not sure… but it surely make me happy.
Thanks for the flowers and for such a lovely lunch. *burp* It's a really beautiful day. Then again, I still won't make a wish 🙂
Address:
The Deccan Indian Cuisine
15A, Jalan yap Kwan Seng,
50450, Kuala Lumpur,
Malaysia.
Telephone: 03. 2171 1077