Holmer Simpson likes it. Jimbo have been talking about it. Nicole is all set to promote it. So yes, I should give it a try. I have always been wondering what is thie Krisy Kreme craze is all about.
No… you can't actually get Krispy Kreme Doughnuts in Malaysia. Er… and I wonder why. So… how exactly I get to try them? Yeay… my sweet cousin is sweet enough to buy and delivers it personally to my doorstep when she came back for a visit… er… 3 months ago. (Yeah… I know, backdated. But then… I must really appreciate her effort, right?)
So yeay… I've got a box of 6 Original Glazed doughnuts. I like the taste of it being not too sweet and ya… it does look shiny~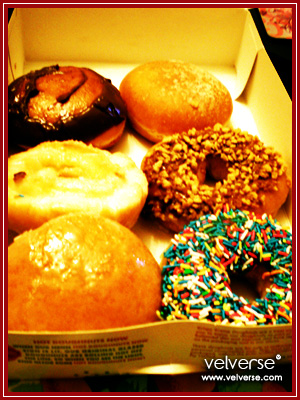 Yeay… A box of assorted doughnuts to try out too. See how my cuz is spoiling me with choices. Hemm… I wonder how many kg I would gain from all this doughnuts.
I think the doughnuts are pretty much standard, then again maybe it's not served warm. I wouldn't say it's bad  but for sure I wouldn't go Goo Goo Ga Ga over it.
So yeah, look out for more backdated post. Er… well, it is a must do post since my cousin demand I write about her visit when she came back. And yes… by popular demand… the Bangkok/Hong Kong/Macau trip. I know… it might make you feel a little sleepy~