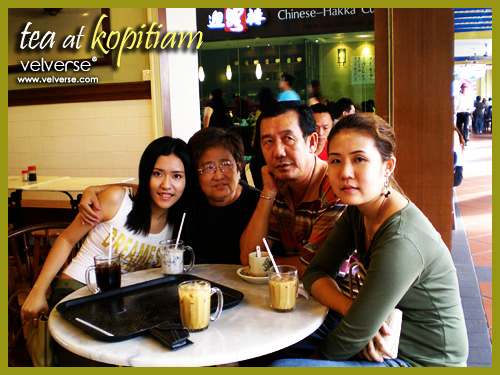 Okay… back to my long long time ago post when Nicole just came back to Malaysia for a visit. After the filling Kim Gary lunch, we all went shopping. Shop… show and more shop. Yes, I gotta tempt Nicole into buying some stuffs. Yes, she complains she can't get anything nice back in Australia. As for me, I never believe in there is nothing nice to shop for… the only problem I face… MONEY and at times the companion.
I personally didn't get anything cause I am saving up my money to go shop like a mad woman in Bangkok and Hong Kong. So yes, everything is just in K.I.V mode.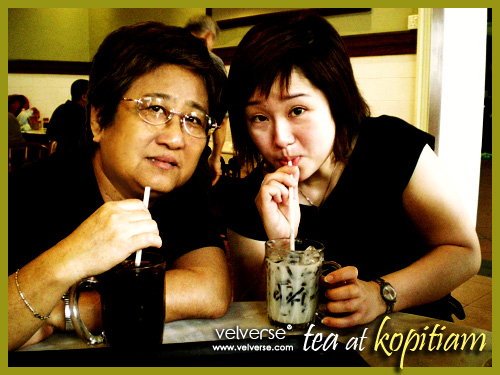 Besides getting some capsule toys and a cute phone dangling. I think I didn't really get anything. Since everyone is saving their money to shop overseas… we decided to just sit down, relax… have some coffee/tea and just enjoy the environment.
Ah.. it's really quite a nice family photo… better still if my parents is looking at the camera. See, I told you they both know what each other is thinking.
So… right after a nice tea break and more window shopping, we head down to T.G.I Friday's to celebrate Father's Day. Yup, we made some advance booking so that no crap things will happen (e.g. they are fully booked, only smoking areas available or maybe the you will have to wait 1 hour to dine).
Hehe…. awwww… my dad is just so cute. I think he is happy that we remembered to celebrate Father's Day with him. I think if we did not… hell breaks loose. So… we then scroll thru their menu and had a hard time thinking what we all want to eat. Since we all just had tea break not long ago, we opt to share. Yes, now the phrase "sharing means caring" finally fits appropriately.
Me and Nicole decided to go for something meaty (er… yes, my cuz is a carnivore). I picked the Garlic Lamb Chops (RM42.90). Which is quite yummy. I think it was a little over cooked… yes… just a little~ I think it would be better if it's served with a little more sauce too. Slurp~ I like garlic sauce!!! And need I say, I need to eat up all the greens 🙂
My dad ordered the Jack Daniel's Grilled Chicken (RM29.90). My dad totally loved it. Especially it's sauce. He kept saying it's very filling but yet, he manage to finish it 🙂 So that's how good it is. But then… his little princess (me) find the sauce a little too sweet. So yes, I finally know why they throw in a slice of grilled pineapple to the dish… coz it really compliment the sweet taste.
I once again proved my parent's think alike. So yes, my mum ordered the Jack Daniel's Grilled Salmon (RM39.90). See… they both are lovey dovey huh? Compared both Salmon and Chicken, I think the Jack Daniel sauce goes along better with the Chicken. Well, then again… it's my personal preferences. My parents seems to think otherwise.
My sister eats lesser than I expect her to. Er… yeah, she normally eat quite a lot but today… she told us she is too full. So we ordered a Three For All (RM33.90) so that everyone could share. I always love this sorta starters. You have everything in one. This dish comes with Spicy Buffalo Wings, Loaded Potato Skin and Fried Mozzarella served with Sour Cream with Spring Onions, Bleu Cheese Dressing and Marinara Sauce. So there isn't much hassle to think of what everyone wants. Among all… I loved the Fried Mozzarella the most. YUMMY~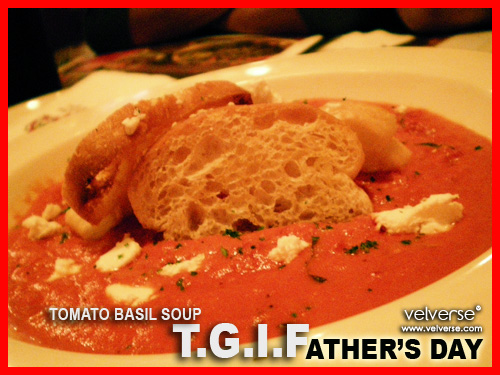 Besides sharing the Three For All, my sister only grab the Tomato Basil Soup (RM11.50). Now, this really thick soup is really cool. It's really as thick as some pasta sauce. So yes, it's really rich. Slurp… now typing this makes me really hungry.
Everyone left T.G.I.F a happily. Yeah… everyone went home rubbing our tummy and burping. Haha… then again… not long after we reach home, we stuff some Krispy Kreme into our tummies. Which makes me wonder… how FULL is FULL?
Address:
T.G.I Friday's
Lot G77, G78 & G82 Ground Floor,
The Curve, Mutiara Damansara,
6 Jalan PJU 7/3,
47800 Petaling Jaya,
Selangor Darul Ehsan
Telephone No: 03. 7726 6899
Fax: 03. 7726 4899