Day01 – 20th June 2007
What can I say… if someone ask me what word sounds the best, I would not hesitate to answer "holiday". This is practically my first trip with my cousin. No kidding… we have known each other since she was born… been to god know how many times family dinners but yes… this is our very first trip together… without all the adult's supervision.
I thought it would be a free and relaxing day… I could wake up late… rest and relax, take my own sweet time in doing everything and anything. Sad to say, I am wrong. Since I slept like 4 in the morning… I thought I could sleep a little later… but I end up waking around 11 in the morning to continue packing and re-checking my luggage. By the time I am done, I heated up the dumplings my mum made. Ooo lala… I must say they are simply the best. And yes, we must have some specialty food before we leave. What happen to the others… DEEP FREEZE.

After eating and cleaning up… me and Nicole is ready to embark our little trip to Bangkok. It was rather exciting. My heart starts to beat a little faster when I started to pull my little luggage… er okay… it's not that little after all. We took a cab from my place to the nearest LRT station. The journey from my house to the LRT station is enough to make Nicole know me more. At least now she knows her cousin (me) speaks Mandarin. Okay… and all this while, I thought she knew I could speak fluent Mandarin. But right… she was like :o. No kidding… eyes rolled so big, mouth wide open with a total shocked look. So yes, cuz… I can speak fluent Mandarin.
When we reach the station, we got tickets and travel to KL Sentral. It's pretty much fun. Everyone around us is busy going to work or to college.. but me and Nicole… we are just pulling our little luggage and is taking our own sweet time going to the airport. Now this is so close to my so-called perfect life.
We got to KL Sentral, go to the money changer, change some Thai Baht and then hop on to the SkyBus. Yeap… we are one step nearer to our Cuz Power Holiday. It was quite a long journey. We talked and talked and talked our way to the LCCT Airport (official site). Er… yes, I have a lot of story to tell. I guess one would have guessed it from my long-winded writing style.
I guess the RM9 fare was pretty much worth it… considering the bus stop us at the entrance of the airport. No hassle to change bus or any form of transportation media. Seriously, I have been all practically all the public transport in order to get to the airport. So yes, enough is enough.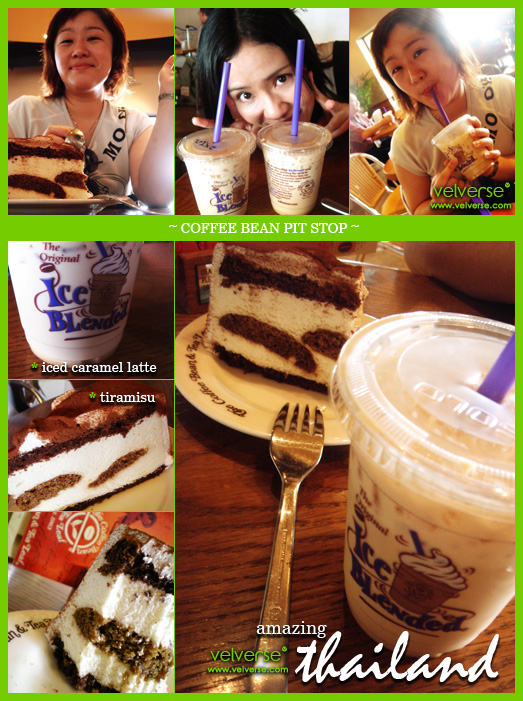 We were practically very much early. We arrive way before our check in time. Since there isn't much thing we could do in the airport, we decided to just sit down and Coffee Bean and have a cup of coffee. Yeah… Both of us ordered a small Iced Caramel Latte (RM11.00) and a slice of Tiramisu (RM11.00) to share. I must say, I still prefer Starbuck's Iced Caramel Latte. It somehow taste richer. As for the tiramisu, it was alright but surely not the best I ever tasted in my life. Well, the normal tradition before the eating and drinking begins would be the picture snapping session. Of course a little self portrait wouldn't hurt in fact, it would seems weird if there aren't any self portraits.
When we finish, we headed to the check in counter to check in our luggage. We still have lots of time to walk around. Hence, we walk around the stores tried god knows how many type of perfume… looking at chocolates but end up buying nothing.
We have to go through a few rounds of checking. Nicole was pretty much pissed of when the security wants her to put her lip gloss in a bag. Which labels and treats her lip gloss as a dangerous item. Yes… chill my cuz… chill. Well, what can I say… you should be thankful they didn't confiscate your lip gloss man.
And we finally get to board the plane at 6.15pm. Woo… it's one of those new planes. I can smell it! The strong leather smell…  the strong air-con, it manages to confirms it all. I guess it was a late evening flight. There weren't much other passenger on board. I am glad though. Yes, that means less people pushing me while queuing up, nobody to kick my chair from behind, less auntie to talk out loud and yes, less people to actually fight nasi lemak with.
Ah… my holiday finally began. Our flight reach much earlier than expected.  The airport seems a little different from the other time I came. Which reminds me, the previous time I came, we stopped over at the old airport. When reach, we saw many people at the visa section and it got me and Nicole panic for a moment. As far as we remember, we do not need any visa. But well, who knows what have change.
We then walk to the nearest information counter to clarify matters. Phew… lucky to know, we do not need any visa. We then carry on to the arrival area to get a cab to our hotel. Wooohooo…. We took the airport cab to our hotel. It was slightly costly, but well… I just wanna get to the hotel as soon as possible and eat tom yam. No kidding, tom yam can't wait any longer.

Nicole and me decided to stay back at the hotel I previously stayed. Why? Well, supposingly we have other options but I am very much happy with Khao San area and wanted to shop more around there. Must I say that it is a very friendly and happening place. Yes, really really happening. It's like a town that never sleeps.
The street looks just so different. I still remember the last time I came, it was somewhere in the afternoon. Must I say the night view is really different. But guess what, I pretty much still remember my way around. Especially the few routes nearby Khao San.
We then arrive at our hotel, Viengtai Hotel. We checked in, and I must say the people are so friendly. They chit chat with us, give us some small tips. It's really amazing, they even told us to not trust the tuktuk who offer us trip to the Grand Palace or the ones going to the Lucky Buddha. One of the guy even told us to just walk around as places to visit is quite nearby.
It's amazing, most of them thought of us as Japanese or Korean. Hehe… Nicole is very much happy when she heard that comment. However to our surprise, when we said we are Malaysian Chinese, they talk to us in Mandarin. Their Mandarin is quite accurate. At least I could catch what they are trying to tell to me.
We then throw our luggage and happily roll on the bed. We rested, watch some Thai series and plan on our outing tomorrow. Yes, you have no idea how important planning is. I don't really want to waste my holiday getting lost here, there and everywhere.
Address:
Viengtai Hotel
42 Tanee Road, Banglampu,
Bangkok 10200, Thailand
Telephone Number: (662) 280 5434 45
Fax: (662) 281 8153
Website: http://www.viengtai.co.th/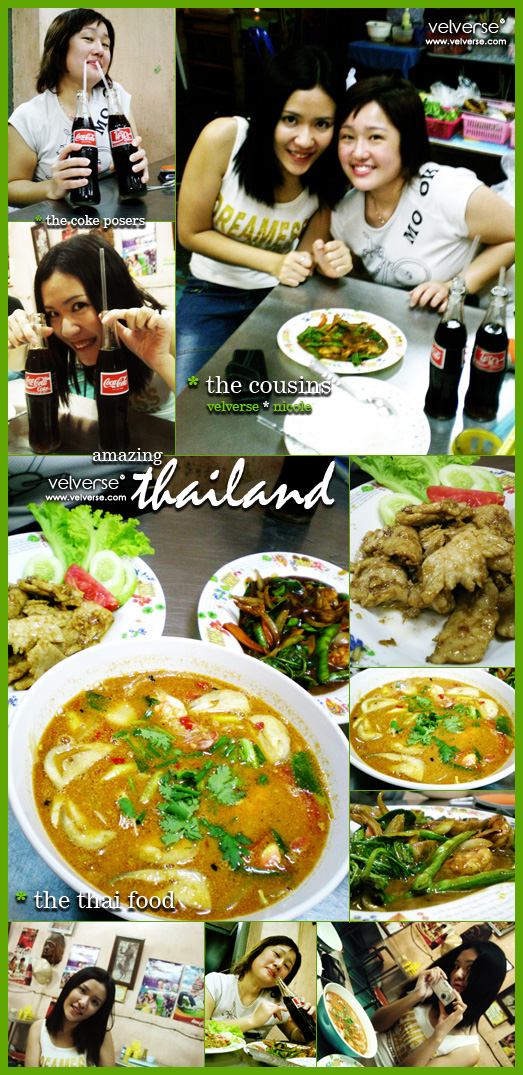 After we have rested enough, we decided to venture around Khao San since it's quite late. This is what I label as "The Look, See… Look, See" night. So what exactly I do? Look around and see what is interesting, sold and things I could get here. It's really interesting and cool, coz I know I can afford to do last minute shopping if I waste too much time at any other place.
We decided to fill up our tummy with some local dishes before we look around. For me and nicole, searching for food and place to drink at night is really not any problem at all. There were loads of stalls we can choose from, pubs is everywhere… spas, tattoo places even discos.
We decided to just hop on at one of the roadside stalls nearby our hotel. Why? Er… coz I see quite a number of locals dine there. Khao San really is the centre of backpacker's place. Believe it or not, even the roadside stall's menu comes in English version :). So yes, it isn't much drama ordering food. Then again, one can always pick and point.
If you ask me, I would say food is SUPER cheap. Seriously, me and Nicole decided to pamper ourselves and go on ordering Seafood Tom Yam Soup(30 baht), Fried Garlic Pepper Shrimp(50 baht) and Fried Crispy Pork(40 baht) plus coke (10 baht) and plain rice (5 baht). So yes, dinner for two for 150 baht… and I already felt like burping out loud.
And… Khao San is really backpacker's place. People from all around gather and one can really meet many new people. We met a group of backpackers from Austria and they were so friendly. They offered share their IQ toy and even offer to help us take pictures.
We have to walk the extra food off at Khao Shan road. It's really a paradise. Stalls selling cloths, keychains, dolls, lamps, decorations, food, alcohol and etc. Seriously, it's really a lot to see and buy. It's really a busy street with many friendly people. Everyone busy with their own agenda… either busy partying, bargining… eating or even just sightseeing.
After walking around and looking at things, we decided to just drop by a bar opposite our hotel before going back and have a nice shower and then jumping to our beds. Yes, me and Nicole have make a deal that we will go and drink together when we are in Thailand.
So this is it! We stopped by at 100 Pipers. I ordered my favourite Kahlua Milk (50 baht) and Nicole ordered Pink Lady (50 baht). It's really a different feel, drinking by the roadside. Best of all, the bar counter is outside by the roadside.

I espcially love the writing on the glass whereby they serve the alcohol. I think it's really thoughtful, simple but neat. The bartender is a friendly guy and I guess he really loves the camera. Whenever me and Nicole is trying out our camera, he would try his best to make himself appear in our pictures.
Haha… I guess the cool part of this whole experience of drinking by the roadside is… they serve us fruit platter.