Rating:
Get Smart official site: http://getsmartmovie.warnerbros.com/
Haha… I can't stop laughing when watching this show. Yup, a pure comedy, which I am really in need of.  Steve Carell definately step up to the role as geeky like analyist who dreams of be coming a secret agent. Anne Hathaway… hemm… something's not really right about her. Just doesn't think she fits the profile no matter how the storyline tells it. But seriously, that Japanese guy from the series "Heroes" definately steal the limelight of the show.
Rating:
The Happening official site: http://www.thehappeningmovie.com/
M. Night Shyamalan and Mark Wahlberg, what can I say… I love both M's. The best part, the poster is good enough to get me curious and wondering what this is all about. But I must admit, it really does have a cheesy tagline which they sorta compile from all M. night Shyamalan movies. I love M. Night Shyamalan movies because he really does tell a weird version of stories. Some we might not even think of and of course, most his movie carries this subtle message of everything happens for a reason. Best of all, there are scientific explanations to the supernatural activites and yet, there are room for you to wonder and think otherwise. Yes, of course you will see M. Night Shyamalan in the movie. He is after all the person who writes, directs and produces the movie.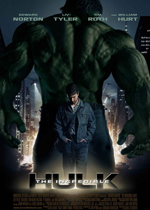 Rating:
The Incredible Hulk official site: http://incrediblehulk.marvel.com/
I didn't actually see the first part cause I just never have faith in Ang Lee. Not that he is a bad director… but Marvel Comic and Ang Lee, they just don't click at all. So yes, it proves my thinking right and it was a flop. Hence this time the new Incredible Hulk movie. The trailer sorta impress me but well, the movie. Haha… it really reminds me a lot about King Kong. How the Hulk swing around… how Liv Tyler actually tries to talk and calm the Hulk, how the Hulk tries to protect the girl. Yawn…. it's almost like a remake of King Kong too… just replacing the main characters. Yes, it was action packed enough to wow everyone but for me… something just isn't right and of course the storyline is quite bad. Now I understand why the movie promo uses Tony Stark (Iron Man) cameo appearance in the movie as a highlight.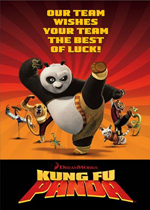 Rating:
Kung Fu Panda official site: http://www.kungfupanda.com/
Awww… my favourite panda! How can I actually miss this out. Yes, welcome to the Chinese martial art world. The skills, the techniques… ah, I am really impressed with their research. Really! From the smallest details of how to hold a chopstick to the chinese cultures. Of course shows like this have a predictable ending, nevertheless… I think it is a movie that can make you laugh while appreciating the chinese culture. Hip Hip Panda!
Rating:
Indiana Jones and the Kingdom of the Crytal Skull official site: http://www.indianajones.com/
When I was young, I used to think Dr. Jones is cool! Seriously, it is one of the movie I enjoyed the most cause it is really adventerous and fun. The latest fourth installment of the Indiana Jones adventure proves that good things should just be left it at it's best. I have no idea what has gotten in to Steven Spielberg in this recent 10 years. And I could never believe how he have the heart to kill the Adventure King by ending it and mixing it all up with some UFO or alien stuff. It really is a big disappointment for me cause I really hate movies that when they are in the midst of not knowing to end the movie, they just bring in the aliens and it really is just an easy way out. But one thing, I really admire how they could still maintain the old and grainy feel from the past.
Rating:
Elizabeth: The Golden Age official site: http://www.elizabeththegoldenage.net/
Cate Blanchet… Clive Oven… ah… both powerful actors and definately my favourite actors. Not to mention acting in one of my favourite movie genre. I love to see movies that is based on real history. This time around, a movie about Queen Elizbeth I. The powerful trailer, the gorgeous costumes… ah nice settings. It is really interesting in how everyone have to be just very careful in their strategy planning. One can never know who will win in the end. It is definately interesting but yeap, one could also snore if history isn't their favourite subject.
Rating:
We Own the Night official site: http://www.sonypictures.com/homevideo/weownthenight/
Mark Wahlberg, Joaquin Phoenix and the sexy Eva Mendes in an interesting cop and smuggler world. Yes, it is really interesting to see especially when one family where you have the cop and the other family member which is in the opposite side. When both comes face to face, what will happen? It's ironic how things could turn up and what humans could sacrifice to protect their own family.
Rating:
Playboy Cops official site: –
Wow… yet another Hong Kong movie which stars Shawn Yue. Yes, of course he is the main attraction, taking up a role of an un-popular  handsome and rich cop. He hates loosing and when he finds out his girlfriend broke up with him and was with another new cop… he goes crazy and tries to get her back. Of course in between, there is a serious case.. which wakes him up and teaches him a lesson he could never forget.
Rating:
Simply Actor official site: –
Okay… another one of those Hong Kong comedy which hem…. bores me. Maybe because I didn't like the male lead actor. He annoys me at times. Okay… to be honest, most of the time in this movie. It is somewhat funny, especially knowing the fact that the Hong Kong Police force wants their undercover police to have a better acting skills so that their identity is safer. As for Charlene.. hemm…. I don't know, I just think the character doesn't really fit her. She trying hard to be like a girl from China… I don't know, she is just trying too hard… I think.
Rating:
P2 official site: http://www.p2themovie.com/
For a while, I am scared to go to the carpark alone. It is really scary… knowing that psycho can be employed as security guards. Not to mention, they just spy and peek and just stare at you. When the suddenly decides to attack… it's like the biggest nightmare ever! I think it is a little B grade but hell, it does give me a good scare especially the part where the psycho actually beat the crap out of the guy who previously harrested the girl. Definately not a good watch if you are alone.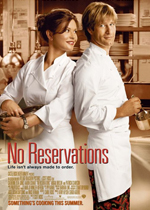 Rating:
No Reservations official site: http://noreservationsmovie.warnerbros.com/
Romantic comedy that happens in the kitchen. Haha… lovely! Love and food seriously a great combination. It's like watching Ratatoulie… of course the lead is now the hot Catherine Zeta Jones. Watching this shows makes me hungry and yes, think about career vs. relationship. Which one weigh more? Both maybe?
Rating:
Forest of Death official site: http://movie.sina.com.hk/movie/forestofdeath/
What interest me to watch this movie? My friend Gigi told me it is based on some true stories. So yes, I can tell her now that the things she told me is not right and no… it is not even similar. In fact, this movie tells tale about how a reporter trying to resolve the mystery of the forest and what people who tries to commit suicide in the forest sees. Yes, many claim that they saw ghost. Ekin Cheng plays the role as the reporter's boyfriend who thinks otherwise. He is a biologist who believes plants have their own feeling and thinking too… and he have been trying to communicate with them. So will his research ever help to uncover the forest mystery?
Rating:
C+ Detective official site: http://hk.promo.yahoo.com/movie/detective/
A detective movie lead by Aaron Kwok that was shot in Thailand. I think it is really cool movie. I must say, it really is one of Aaron Kwok movies (based on what I have seen). A series of unfortune events happen after one drunk guy mysteriously asked Aaron Kwok to investigate on a missing woman. It seems everyone close to her died in a tragic yet mysterious ways. I like the cinematography and the treatment of the movie. It really does help enriched the movie.