Last weekend, Brian and Gigi invited me and Deon to eat Dim Sum. I, of course agreed since I am a big fan of dim sum. Gigi pre-tempt me when she sent me a blog review from KampungboyCitygal. I looked forward even more to try the dim sum there. Yes, the cute Hedgehog Bun does a pretty good inviting job.
Me and Deon arrived at the Oriental Spoon at 12.45 noon only to notice it was packed with loads of people. I actually am very grateful that Brian actually called up the day before to make reservation. We were seated and the waitress pass us 2 piece of paper with a list of dim sum available for the Weekend Ala-Carte Buffet. A total of 28 different type of dim sum is up for grabs.
The nightmare soon began. As soon as we are seated, the waiter placed a plate of peanut on the table. It was being left there while me and Deon is busy looking through the list. Since Brian and Gigi has yet to arrive, we decided to just order something to drink. We waved and waved at the waitresses yet none answered to us. To make matters worst, some waitress actually saw us waving at them but look away. Some would signal for us to wait yet they attend to people who comes in after us.
Yes, finally someone attended to us… she asked is we wanted any juices . Being angry and frustrated with the waving… we decided we wanted to cool ourselves down with orange juice which 5 minutes later, they came back to us and told us that it's a SOLD OUT. So we opt for watermelon and pineapple juice. Just a light note, the juices is not part of the RM18.80++ Weekend Ala-Carte Buffet. So yes, you have to pay RM7.50 for that.
Figuring it took us so long to order our drinks, I decided to call up Gigi to ask where are they now and we would order the food first. Then yes, back to waving again and again and again… we even went to the counter to ask but I don't understand how they kept entertaining people who came in later than us. All the waiters kept asking us to wait and wait and wait… or they just divert to another waiter and another and another.
When Gigi and Brian arrived, I did straight away mentioned to them the service is pathethic. Of course now, we have 2 extra person to help us wave and stop any waiter to take our orders. And so, we only get to order our food after 40 minutes. That also we have to keep complaining to one of the captain.
I can never understand what is going on wrong. While waiting, I calculated they roughtly have 20 – 25 tables and around 10-12 staff which in a ratio of 1 staff to 2 tables. So I still can't figure how come there just isn't ANY… and I seriously mean ANY staff taking our orders.
We got so frustrated and to save their time, we just mark our orders on the paper so that they do not need to write it down. And yes, after that… they asked if we wanted tea… thinking the juices I ordered before would never come, we ordered King Tea. Tea is also not included in the buffet. They will bill you RM3.50 per pax.

(Nope, I didn't mistype… they actually repeated the Steamed Chicken Paste Buns twice)
After 10 minutes of passing the list of stuff we ordered, the captain came back to us. The captain asked if we are serious in ordering so many food at one go. Which in her opinion is a lot and mentioned that they will charge us if we cannot finish the food. She mentioned that she only took our orders until the Steamed Dim Sum section.
She explained that if we could not finish the dish, they will charge us according to the normal price menu. We told her to continue with the order cause we are seriously hungry and yes we noted the fine print at the bottom of the menu which stated PRICES SUBJECT TO 10% SERVICE CHARGE and WASTAGE OF FOOD IS CHARGEABLE. I practically read through the list so many times while waiting. And I keep asking myself… 10% service charge for this kinda service?We also asked if there are extention in time since they make us wait for an hour but she said they can't do so.
She then re-confirm for the third time. We gave her the green light and she mentioned to us Egg Tart was SOLD OUT. So yes, my first disappointment. Cause I practically judge the standard of a restaurant's dim sum by their Siew Mai, Har Gau, Radish Cake and Egg Tart. Of course, Dim Sum without Egg Tart is incomplete.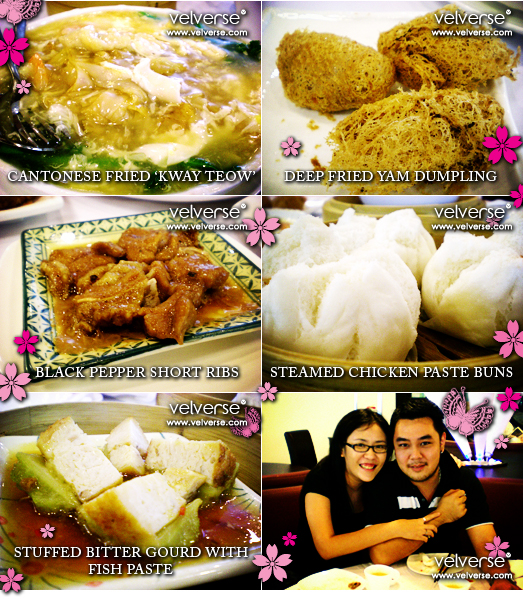 After waiting for around 10 mins, our food started to arrive. The first dish that arrive on the table is Deep Fried Spring Rolls with Chicken Floss. The skin for the spring roll is pretty thick. Hence it reduces a lot of the crunchy feeling. Next, the Chilled Strawberry Pudding that Gigi ordered and Double Boiled Water Chestnut with White Fungus that Brian ordered arrived.
All four of us is pretty amazed with the strawberry pudding. Why? Cause we still can't figure how come ONE tiny strawberry pudding on such a big plate. Most of the dishes we know serves in a set of 3 or 4… but haha, we all just laugh as we remembered how the captain warned us about the amount of plates of food we order. Two bites is all a person need to finish it.
The Potsticker Dumpling and Steamed Radish Cake with Bonito Flakes arrived. I must admit their Potsticker Dumpling taste pretty good. The skin in thin and the filling is quite a lot compared to other places. As for the radish cake, I personally think it really have this nice aroma. Have a great texture, a mixture of the shredded radish and the dough. But I think it would have been better if it's not that thick and soft. Then again, it looks more like pan fried rather than steamed and hem…. where exactly are the Bonito Flakes?
I much prefer the Pan Fried Yam Cake that arrive next. I think the texture is much more hard. It is much more yummy~. The Hot and Sour Wanton isn't really as hot or as sour as I thought it would be. It is really a good munch and very appetizing. The Poached Lotus Root with 'Gui Hua' Syrup that Brian ordered arrived. It is really a weird combo and definately is not to my liking. It's a sweet dish but what I didn't like about it is the sourish after taste. Kinda taste like it's spoilt.
Yeay… the Cantonese Fried 'Kway Teow' is finally here. I must admit… I seriously have some Cantonese Fried addiction these days. Mmmm… it is quite good. I love how they used the thick type of kway teow to cook this dish. Most of the places I go don't really use this thick type of kway teow. Of course, with much more egg in the sauce.. I think it would be much better.
As for the Deep Fried Yam Dumpling. Yummy… the outer layer is really very crunchy while the center is soft and filled with minced chicken meat. I enjoyed the Black Pepper Short Ribs more. It is seriously quite pepperish and yes… I love ribs! The Steamed Chicken Paste Bun is really very fluffy. It tasted good but I prefer the pork version more. Then again, Oriental Spoon is a "halal" restaurant.
The Stuffed Bitter Gourd with Fish Paste is next to arrive. We were a little shocked. Before the captain warn us about the wastage of food, we said we don't know how many pieces are there in each plate. The captain then replied 3-4 piece per dish. Obviously when we saw the bitter gourd dish, we expected 3 pieces of a full bitter gourd instead of one piece that is being cut to four piece.
Just when we thought the nightmare is over, but no… suddenly… the consistant arrival of food stopped. There isn't exactly any food on our table for more than 20 mins. I notice loads of food is coming out from the kitchen (we sit quite near to the kitchen) but none arrived at our table. Yes, I saw a few waiter bringing bowls of congee to other tables but not ours. We then asked the captain to check why it take so long for the rest of the order to arrive. Of course, the standard answer "It's coming".
I think we kinda asked a few times before the Steamed 'Siew Mai' with Fresh Scallops arrived. We ordered 2 of these. Yuppie… I love Siew Mai a lot. Hehe… okay, I love the presentation but the scallops is too thin hence, I think it is overly cooked. It is pretty hard and it has this weird after taste as well. I personally think the Siew Mai itself is great and would be better without the scallops on top.
As for the Steamed Prawns Dumpling – 'Har Gau'… wooo hooo… seriously 2 thumbs up! I think this is the best dish of the day. The prawns is so fresh and crunchy. Even more crunchier with the addition of diced celery. Awww… the combination is just so perfect. I'm glad we ordered 2 of these as well.
Of course, we continue to wait for our food…. it's like 15 minutes to 3pm and yet the 2 bowls of Steamed 'Shanghainese' Sharks' Fin Dumpling and 2 bowls of Shredded Chicken, Century Eggs Congee and another plate of Deep Fried Spring Rolls with Chicken Floss is nowhere to be seen.
We waited and waited and we decided to ask the captain again. Her answer is much to what we expected. We predicted that they would come and say it's SOLD OUT and true enough, she said the exact thing. We can't understand why the food can be SOLD OUT since they sell dim sum till 5pm (while the buffet ends at 3pm). What made us angry is… they never take the intiative to tell us the food is SOLD OUT earlier. They should have told us earlier. If we continue to sit down and just wait and wait… I think they will only tell us when they have last order.
Worst is, we ordered the food to a near 2 hours ago! How come they can tell us the Egg Tart is SOLD OUT in the early stage but can't tell us the shark fins' dumpling and the congee is SOLD OUT. Seriously, I have high hopes that I would get to try what I ordered since they never mentioned anything earlier. When we ask the same captain "WHY you didn't tell us earlier?" She only replied with a short SORRY and asked if we want anything else. Of course a few others of what we want were SOLD OUT as well. So, Deon ordered the Steamed Rice Rolls with Minced Chicken and Sweet Corn.
As for the other plate of Deep Fried Spring Rolls with Chicken Floss, when asked why it hasn't arrived… the captain said that she only ordered 1 out of 2 dishes. Probably worrying we could not finish our food. Seriously… I am pretty pissed off cause we already say… WE WILL PAY THE EXTRA if we could not finish the food. Deon is pretty angry too and told the captain… it's not that we can't finish our food… but the fact that the food is not arriving!
Now.. the final disappointment… after 20 minutes, the Steamed Rice Rolls that we ordered did not surface. I don't really understand cause there practically only have 3 other tables in the restaurant to serve as others have left. Yet, the service is still so slow. Another captain came to our table and asked if any of our food still hasn't arrived. We were seriously too angry to answer any questions and just asked her to go check it herself.
The Steamed Rice Rolls arrived. Okay… I didn't exactly like this dish. I think the combination is a little weird. Sweet corn and minced chicken and corriander leaves definately doesn't mix well. Not to mention the steamed ric rolls skin definately is too think and chewy.
Bah… we just couldn't take it anymore. When asked if we want anything else. We just couldn't put ourselves through the waiting and stress and the service. Sigh… I still can't believe it, we have to pay RM10.72 (10%) for the service charge. More likely I payed RM10.72 to make my stress level higher.
Address:
Oriental Spoon
1-2, Sooka Sentral,
Jalan Stesen Sentral 5,
50470 Kuala Lumpur.
Telephone: 03. 2261 3222
Fax: 03. 2780 2055