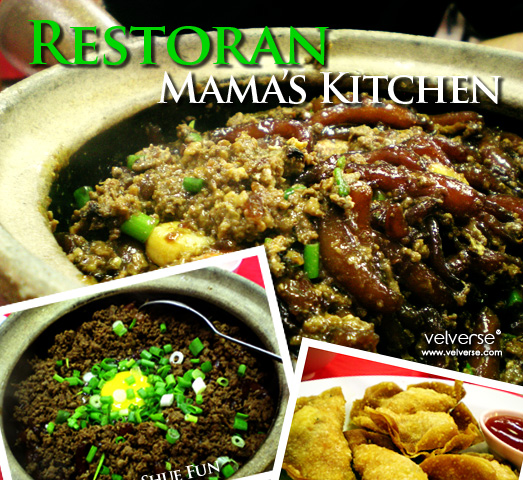 It has been a while since I crave for a nice pot of Claypot Loh Shue Fun.
And so the adventure to look for a place that serves good Claypot Loh Shue Fun begins.
Our hunt ended at  Restoran Mama's Kitchen where according to reviews, are famous for their Claypot Loh Shue Fun.
I must agree with the reviews. Their Claypot Loh Shue Fun (RM10.00) is really good .
The sauce is just nice, rich and eggy but super smooth and soft.
Completely love the taste. The only comment I had – I wish they were less generous with the pork livers in the noodles.
Yup, I don't really enjoy pork liver and should have asked for no liver.
I've also ordered other side dishes – Stir Fry Chicken with Cashew Nuts (RM12.00) and Fried Sui Kow (RM5.00) .
While the chicken is really tender and juicy, it is rather salty and oily.
And this comment is coming from someone who usually doesn't mind oil and salt.
As for the Fried Sui Kow, nothing to shout about.
It is decent, nothing over the top.
The highlight dish is definitely the yummy Claypot Loh Shue Fun.
Address:
Restoran Mama's Kitchen
No. 48, Jalan Datuk Sulaiman,
Taman Tun Dr. Ismail,
60000 Kuala Lumpur
Telephone: 03. 7729 3030