Rating:
Death Race official site: http://www.deathracemovie.net/
Death Race, hemm… how would I exactly catergorize the movie. It's a little "Fast and Furious" and a little "Battle Royale" mixed together. Of course, the fast cars and Tyrese does reminded all of us about Fast and Furious. But I must say this is a little better, you get to see the violence and blood and haha… you get to hear chinese foul language. Now, this movie does create a little goosebumps for me cause I am kinda scared when it comes to movies that shows you brain cells flying everywhere, body pieces and blood splats everywhere. But hey, it does gets the blood pumping fast. Go for the action, ignore the storyline and the character development.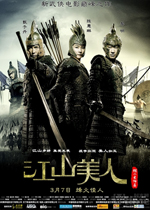 Rating:
An Empress and the Warriors official site: http://www.anempressandthewarriors.com/
I kept telling myself "No, I won't get it. I won't get it." but well, in the end… I still think it deserves a try. Yes, a movie with 3 lead actors who seriously needs to learn how to smile. Simple American says my sis don't smile. Wait till he sees this 3 combos together. The title of the movie is pretty self explainatory. The empress, who else since there is only one lead actress. The warriors… hahaha.. of course the others who tries to protect her. From my understanding of this movie… there is nothing to understand. The whole show seems dull and boring.