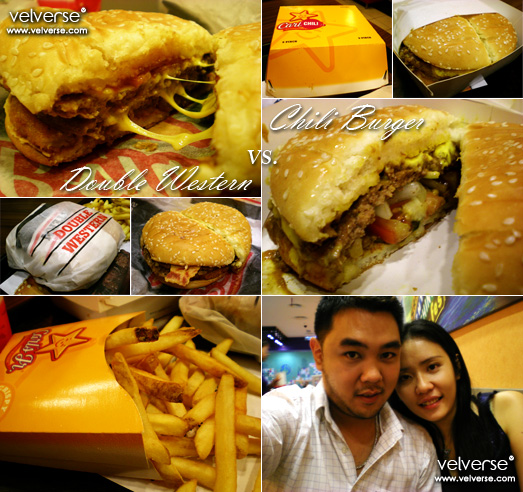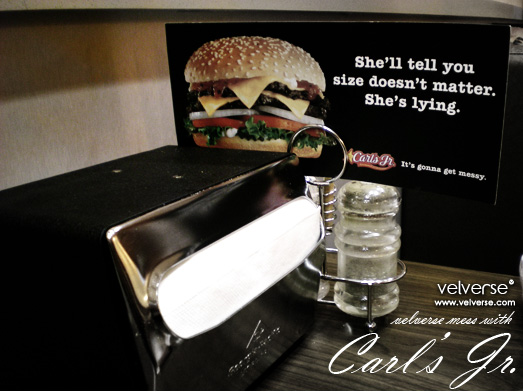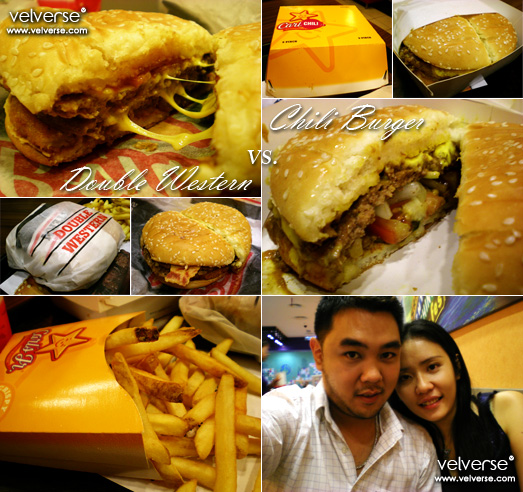 Recently went to Carl's Jr, but this post is much inspired by the "She'll tell you size doesn't matter. She's lying" card that my colleague conveniently used as a barrier between our tables.
Everyone I know who went to Carl's Jr. told me their burgers are like gigantically huge.
Quite a lot of them mentioned it was quite pricy but some say it was reasonably priced.
If you ask my honest opinion, it is big but not gigantically huge.
Well, if you ask someone who only eats a little then probably it is.
It is really not as huge as I imagined it to be (as I was typing, the burgers probably shrank in size).
Pricy? Hmmm..  I would have to agree with them.
I think it is quite expensive for a fast food chain.
Now, my orders:  Double Western Combo which consist of Double Western Burger + Medium French Fries + Medium Coke (RM23.00) while Deon ordered the Chili Burger (RM14.00).
Am glad the drinks are refillable, coke and burgers are a good match.
The Double Western Burger comes with 2 beef patties in it, loads of cheese and bacon.
The patties were juicy, but what I like most are the crispy bacon. I'm sure by now, you all know my love for bacons.
Too bad it's a non-halal shop, cause I think it will taste better with pork bacon.
As for the Chili Burger, it comes with a beef patty with loads of special Carl's Jr. chili sauce and cheese.
Not too bad, but it's really too saucy and messy.
In comparison to both the burgers, I personally still prefer the Double Western burger.
My final thoughts?
I seriously think the size doesn't really matter but the price do, especially to poor souls like me.
I think it is priced on the expensive side.
I would equate it's taste to quite similar to Burger King but at almost double the price.
Doubt I will be back anytime soon cause "If I tell you the price doesn't matter. I'm lying."
Address:
Carl's Jr.
Lot 210C, Ground Floor,
1 Utama Shopping Centre,
No.1, Bandar Utama,
47800 Petaling Jaya,
Selangor DE.
Telephone: 03. 7729 6718