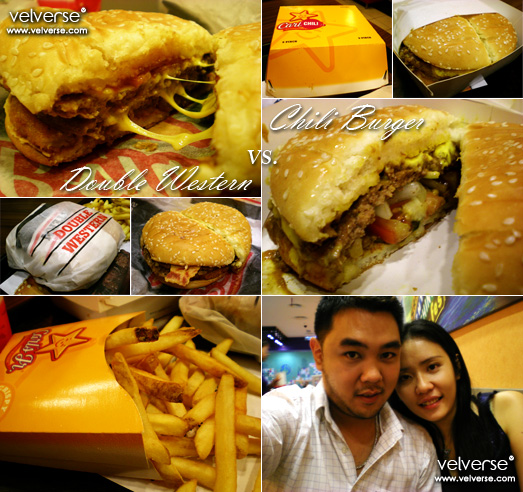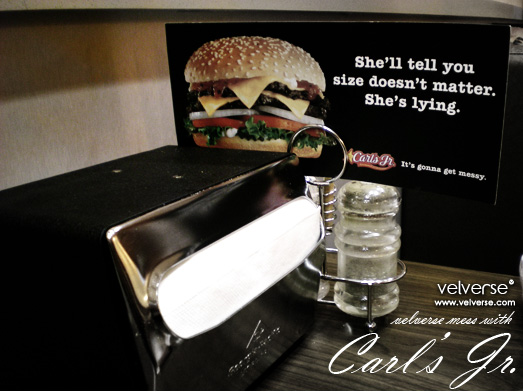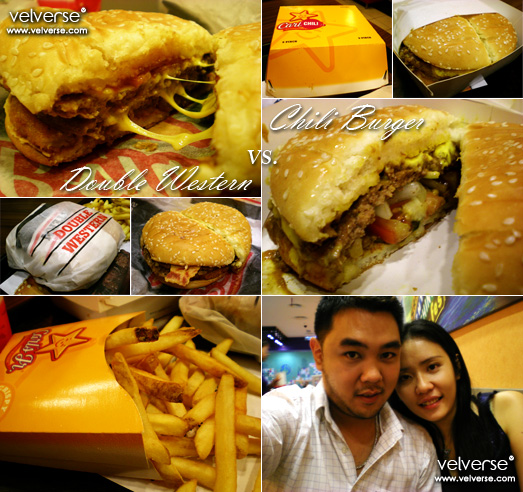 Carl's Jr… mmm, I probably went there somewhere last year… but yeah.. this post is very much inspired by the "She'll tell you size doesn't matter. She's lying" card that my colleague conveniently used as a barrier between our tables and yup as I go through my search list, I noticed I forgot to add this in.
Where to start, hemm… everyone told me the burgers are like giaganticly huge. Many told me it was expensive… some say it was reasonably priced.
If you ask me, to be honest… I think the burgers were only huge. Not as huge as I would imagine it to be (not to mention as I am typing, the burgers probably shrank in size). Expensive… hemmm… I would have to agree that it's kinda expensive for a fast food chain restaurant.
Okay… in details, I ordered the Double Western Combo which includes a Double Western Burger + Medium French Fries + Medium Coke (RM23.00) while my dear ordered the Chili Burger (RM14.00). For the drinks… weeee… we could refill it as many times as we want, so we actually shared… since I don't really drink much water and as for the fries, seriously nothing much to hype about.
The Double Western Burger has 2 beef patties in it.. with loads of cheese and bacon. The patties were juicy and ah… not to mention the crispy bacon to top. I just love bacons 🙂 Too bad it's a non-halal shop… or else I think it would be better if it's a pork bacon.
As for the Chili Burger,  beef patty.. with loads of special Carl's Jr. chili sauce and cheese. Yummie…. but I still prefer the Double Western compare to the Chili Burger.
But if you really ask me… seriously, the size doesn't really matter, but the price does matter. I think the price is expensive. I mean, this tasted not much difference from Burger King.. but it's almost double the price of it.
So yup, to date… I've yet to re-visit Carl's Jr. cause "If I tell you the price doesn't matter. I'm lying."
Address:
Carl's Jr.
Lot 210C, Ground Floor,
1 Utama Shopping Centre,
No.1, Bandar Utama,
47800 Petaling Jaya,
Selangor DE.
Telephone: 03. 7729 6718