Phew.. finally lunch after the hectic "bridesmaid chore".. yes, choosing flowers for the bouquet.
It is not as easy as thought, cause the names of flower just doesn't stop at just rose, lily or so.
And the different types and species with their scientific names doesn't help!
Now… yes, I need food.. loads of it after killing so many brain cells.
And I was brought to this awesome looking place, Shanghai Stories 1938.
The moment I reach the front door and saw the "yum cha" word, I'm already loving it!

Now the best part of the day started the moment the food arrive one by one on the table.
I always thought I've tried most of the variety of dim sum… until today. Yes, when they landed two dishes which I've never tried before, the pan fried pork bun with sesame and sticky rice siu mai with pork and mushroom.
Woo la la… the pan fried pork bun is a pan friend version of the xiao long bao. I'm totally falling in love with this.
Who would have thought the pan fried version is so much more yummy and juicy. *yum yum*.. 1 is definately not enough!
The sticky rice siu mai, comes as a surprise to me as well. Yes, I've never tried anything like this before. A dish that basically combines the chinese sticky rice dish wrapped with siu mai skin. The fragrant of the sticky rice with pork and mushroom is just amazing.

Oh yeah, not forgetting the baked bbq pork bun pastry as well. *slurp slurp* ooo… the pastry is simply too flaky.
I simply adore this to the max! Ah… how how how?? I should diet to fit in my bridesmaid dress! But ah… who cares, food is too yummy to resist.
And I don't think I need to go on and on to tell you how well every other thing tasted all just so yummy.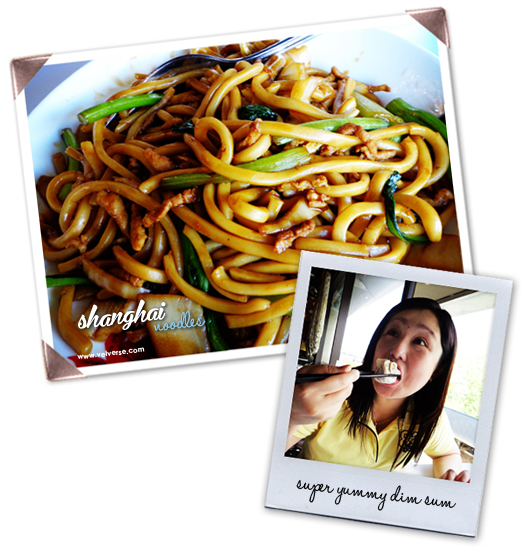 See.. now my cousin also enjoys the food to the max. Super yummy teatime.
Thanks cuzzie.. what's next? I wonder 😀
Address:
Shanghai Stories 1938
Shop 4 & 6 The Concourse,
409 Victoria Ave Chatswood,
New South Wales, 2068, Australia
Telephone: 02 9412 3880
Business Hours: 11:00am – 4:00pm and 5:30 – 10:00pm daily
Telephone: http://www.shanghaistories1938.com.au/