Archive for the 'I'm a MOVIE-ho-lic!' Category
Rocky Balboa
Rocky Balboa official site: http://www.rocky.com/
Now talk about being nostalgic. Talk about a new Rocky movie after 16 years. Not to mention the first rocky was produced years before I was born.
After disappearing from the screen from some time, Sylvester Stallone is back… looking way older than the last time I see him in Driven. When he still have smooth face. Somewhat, somehow… I wonder if it's the make up in this movie or is he really getting that old. I mean yes, he is aging but it's like only 4 years. I guess the changes are sorta drastic for me.
After 30 years from the original Rocky, Rocky (Sylvester Stallone) is back. At his 60′s age, Rocky now owns a small restaurant at Philledalphia. His life was kinda like a routine. What's worst is when his wife Adrian (Talia Shire) passed away a few years back. His life seems so empty and boring.
Intimidated and constantly felt over-shadowed by his father's popularity, Rocky Jr. (Milo Ventimiglia) tries his very best to avoid / not to be seen with his father. Rocky starts to wonder if he did anything wrong to make things seems so akward.
On Adrian's anniversary, Rocky pull along Paulie (Burt Young) to go walk around and goes back to places where he first met Adrian, their dating place, her old house. Lots of past clips and memories arise. As he walks around, he ends up at a bar where Marie (Geraldine Hughes) is working. Rocky used to walk Marie home when she was young.
While catching up with Marie, a young girl walks up to Rocky and asked him to buy them some beer. When refused, she started insulting Rocky. The insult never stops even when Rocky tries to send Marie home. At one point, Rocky just couldn't take it anymore and walked up to the group of youngsters.
Marie then introduce her son, Steps (James Francis Kelly III) to Rocky. Rocky was somehow surprised that Steps is actually mixed. Rocky then invited Marie and Steps to dine at his restaurant which they actually did turn up.
Being an ever famous boxer, Rocky would always tells his boxing stories to his customers. Somethings which they like to listen to while dining at his restaurant. When one of his staff is due to deliver a baby, Rocky quickly persuade Marie to work for him. Wondering why Rocky treat her so good, she refused Rocky's request at first. She later on agreed when Rocky manage to convince her that he is just being him and just trying to help as a friend and nothing else.
Opposite of Rocky, Mason Dixon (Antonio Traver) is the current famous and top boxer. His undefeated record put him from a love to hate position. Everyone thinks he wins to easily. Easy knock-outs, no competitor and everyone is just angry as boxing seems to lost it's spark.
Everything turns exciting when a computer generated match between Rocky and Mason is being aired. Everyone got curious who would actually be better. When the results sided on Rocky, Mason was furious. His managers on the other hand look at this as an opportunity to grab more money out of it. While Rocky was just plain curious about his own capabilites and got him thinking to be a boxer again.
Now… you can hear the Rocky tune.. you can see him run the stairs.. sounds familiar? Well.. yeah it happens on all Rocky movies. A trademark sorta thing. Rocky accepted the challange against Mason. Rocky Jr. was angry when he heard that Rocky accepted the challange. He went up to Rocky and demanded him to stop it. However, after listening to Rocky's words.. not only did he support his decision, he quit his job cause he thinks it doesn't suit him but he also accompany Rocky through his difficult training times. With the upbeat music, the not overly done training and keep it realistic exercise finally gives the movie a little uplift.
The fight of the century finally arrive. With Spider Rico (Pedro Lovell) blessing Rocky and the funny part comes is when Paulie chose a Frank Sinatra song to play as a background song when Rocky is walking out. When the bell rings, Mason and Rocky starts fighting. A punch here and there… and there… and here. Ouch! Lots of blood… saliva flying everywhere.
Okay… I wouldn't wanna spoil it all for everyone… but somehow the ending was rather… how do I put it in words. It sorts of put me in the "Duh… that's it?" position. I thought the ending could be stronger and more emotional but it didn't show.
It is an interesting movie but the paste was rather slow and it makes it really hard for me to concentrate. I could understand how they would wanna bring the clips, touch the heart, bring some emotions in but it was just a little too much. The peak of the movie was when the training starts to the competition… which I somehow feel it wasn't enough to attract or bring audiences to another level.
I felt it could have been better despite it being a legendary movie. But well, at least it is way better than what it's trailer potray.

Posted by by velverse at Monday, March 5th, 2007
(versemark I'm a MOVIE-ho-lic!)
4 Comments » | Link to post
Protege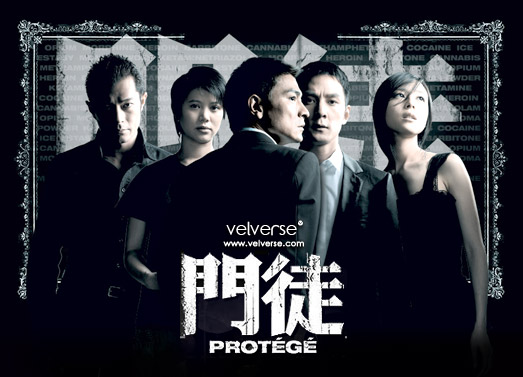 Protege official site: http://www.protegethemovie.com/
Protege, a movie that has taken up 3 years to research and prepare was finally released to the screens a few days before chinese new year. From the director of Lost in Time and One Night in Mongkok, Derek Yee is back to stunt us again with a drug awareness movie. Yes, a pretty much overly discussed "say no to drugs" topic is being digged out from the grave, open up and just display. It was to that extreme of detailness which I admire most.
Of course this explains the 3 years of detail research and preperation. Inclusive of the actors and actress taking the initiative to visit and interview drug addicts, former drug lords and junkies. What adds up to the hype of the whole movie was the casting. Bringing in Hong Kong top notch actors and actress just gives more flavour to the movie.
As an Andy Lau fans… I would do anything to just see the first screening. Which thank god, I really manage to make it there. No kidding, regardless of how much work and how tired I am that day, I just bring myself there to see it and believe me, it's all worth it when the movie starts.
Protégé starts of with a cat and mouse chase between Nick (Daniel Wu) and the police. Right at first glance, if you have never ever read the sypnosis and whatever not and just walk in to see the movie, the first 15 minutes will get you thinking Nick is one of the best drug dealers in Hong Kong. No doubt, his planning to execution to distribution is just amazing. Old school tricks where we practically see in many Hong Kong TV series and every other drug dealing movie still works. Like the elders said, "it doesn't matter if it's a old trick, as long as it works". The level of detailness and carefulness just manage to blow one away. Yes, the cool looks and the confidence just shine's in Nick's face. The best part is when he settled his job, he just throws his phone in to the lake and the next minute, you see him buying second hand phones from small stalls in bulks for a cheap price, get another prepaid card number and calls his mentor/boss Kwan (Andy Lau).
Kwan is Hong Kong's top drug lord hidding behind an identity of a businessman that owns a big electrical shop. Born diabetic, Kwan's helth soon worsen when his kidneys is failing badly. Due to his health issue, he would have to pass over his drugs business to someone. Kwan trust no one except for Nick as Nick seems to be just the perfect candidate. Capable, careful, efficient and practically flawless.
Little does Kwan know, Nick is actually an undercover sent by the police force to expose the drug trade and capture Kwan. In the eight years, Nick has also grown close to Kwan with the protégé and mentor relationship. What puts Nick on a dilemma is when Kwan is all out to protect and help him knowing that Kwan treat him like his own brother.
Being a careful person, Kwan always believe the drug trade should be done carefully as one mistake could be a point of no return. Kwan breaks and seperates everyone from gathering together. The multi layered system is what kept him and his partners safe. Of course there are people handling everything from storing to producing to distributing. However, Kwan do not get involve in everything. Everyone have their own role and Kwan job is just to oversee everything.
Nick finally got his chance to learn and know about the processes when Kwan was admitted to the hospital. Kwan taught him things he needs to know to survive in the trade, how the business works. Kwan even brought Nick to his storage factory.
On the other side of the story, Fan (Zhang Jing Chu) and her daughter stays right opposite of Nick's place. One day, Fan came knocking on Nick's door asking him to spare her some instant noodles. Eating the last bowl of it, Nick offers bread and jam instead. When Nick saw Fan and her daughter ate as if they have not eaten for days, he starts to care and concern for them. He brings them supplies and even pays them a regular visit. The concern and care blooms in to a quick relationship. However Fan quickly disappoint Nick when he found out she is a drug addict. What is worst is when Nick thinks that Fan drugged him as well.
Fan promised Nick that she would quit and asked Nick to help her. Of course the kind hearted Nick is all set to help her when she explained how she goten herself into being a drug addict. Apparently his husband (Louis Koo) is a musician who take drugs. She tries to convince her husband to quit but his husband keep saying it is impossible. She then starts to take drugs to prove to his husband it is all in the mind. She then admits it was impossible and continue on and ended up where she is now. With Nick's help Fan was getting better and is persistant to quit drugs. Everything was ruin when his husband shows up in her life once again.
Back to more drug dealing story, problem soon arise when one of the supplier from the factory could not deliver the drugs to Nick as they are lack of manpower when one of the staff is sick. Nick would have to go to the store to collect it while giving away location to the police. Unknown to him, the imigration officers were there trying to bust the pirated vcd operation a floor below Kwan's drug factory. When Nick went in and leaves a trail at the toilet, the imigration team thought they finally get a lead to the pirated vcd factory location and caught Nick.
They then notice it was a mistake which turns out to be a golden opportunity to get a raise and increament. The imigration officers (lead by Liu Kai Chi) soon tries to bust the place. Nick manage to run away with the store owner. Kwan was furious when he saw the news. Upset and angry over his lost, he started to suspect Nick. Kwan then ask Nick to follow him and his family to go Thailand where he wants to go for prayers.
Just as Nick left, Fan's husband came looking for her and screw up her entire plan to quit drugs. In Thailand, Kwan as a devoted father brings along his wife (Anita Yuen) and his 2 children for a holiday as well. Showing bits and pieces of information how caring he was as a husband and father, he actually wants the best for his family. Food, accomodation and everything is just luxury.
Early next morning, Kwan brought Nick along and went rounding around while blind-folding Nick. They then drive around, cross the river riding on elephants and all, which ended up with both of them in a camp. There, Kwan questioned Nick as he suspects he is a traitor. However Nick manage to escape the suspicion. One could actually see how relieve Kwan was when Nick manages to prove his innocence, not knowing what the future is installed for him.
Kwan then introduce him to his supplier, a jeneral at the Golden Triangle. There, he explained a lot about life and what drugs are worth to them? What is it worth to the farmers? The best part is how the research and statistics done by the government about drugs info help them to learn about the current trend.
Back in Hong Kong, Nick was totally disppointed with Fan and refuses to care for her and her daughter anymore. Fan was totally upset and felt guilty. Things went downhill when her husband won't allow her daughter to go to school, instead help him distribute drugs. Not willing to take things anymore, Fan slipped a note at Nick's postbox.
One day, Fan's daughter come knocking on Nick's door claiming she is very hungry. Nick then cook some food for her and then try to send her home only to notice Fan is dead with her body rotting and being eaten by mouse. Nick screaming and in the verge of breaking down act was somewhat funny.
Kwan then decides to leave Hong Kong and goes to USA to do a kidney transplant and plans to retire there. He officially pass his position to Nick and even transfer his 8 million dollar deposit with the jeneral's to Nick. At the very moment Kwan and family decides to leave, the police stopped him and caught him.
At the police station, the head officer (acted by Derek Yee himself) throws evidence of Kwan's activity since 1998 and asked Kwan to disclose his other partners. Having no choice and wanted his family to lead a better life, Kwan commited suicide by slitting of his throat. Nick was there to appologize for betraying Kwan. Seeing Kwan soaking in blood, he wanted to asked for help. However, Kwan begged him to keep quiet for the sake of his family which actually is the last and only thing Nick could do to compensate to Kwan.
I must say, the attention to details, terms used was simply amazing. I learn quite a bit of stuffs from the movie. Of course I wasn't happy with the obvious censored scenes where I hope to get a DVD later on to see.
Now… I would have given the movie a 9 if there were more attention being added to the characterization and if they make Louis Koo looks a little more better than what he looks in the show. Seriously I am disappointed with the fact of how the characters were under developed. Everything was pretty much just a brief. Not to mention everyone else except Andy and Daniel have less than 30 minutes of appearances.
I could forsee Protégé bagging a lot of awards. But somehow I think it could be better. I think the story is way too big for a 1 hour and 40 minutes movie to support. Even the big cast could not cover everything. I was even some part disappointed with the loopholes of the plot like… Nick's soft spot for drug addicts and constant questioning and diapproval of Kwans way in business… and yet he still gets Kwan's trust without rising any suspicion until the raid? Nick… as Kwan's top man stays at such a junk house? Come on.. I am not talking about big bungalows and not.. at least a decent flat or apartment.
I was troubled witht he fact that it was overly done anti-drugs messages. Through out the movie we all know how bad it was and I think they could actually just skip the whole ending part with Fan's daughter throwing away Nick's drugs. But then again, probably it's needed in order for them to pass the censorship boards.
I liked the idea of how Derek Yee connects the drug lords who thinks nothing but themselves as businessman. They felt they should not be blamed for corrupting the people. In their mind, when there is a demand, there are supply. It's all up to the end user to decide as he or any other drug lords never actually force them to take drugs. It then brings it a level down to the drug addicts which pretty much was potrayed by Fan and her husband. Then the families, be it the drug lord family or the drug addicts family. The suffering, the burden they all have to take up.
I said this because I truely think and believe Andy Lau really did a great job with his acting in this movie. Yes, something different from what he has done from his previous 115 movies. I must say his acting skills have gone to a new level where you can really see how much hard work he have put in to research, details and even facial expressions. Daniel Wu was doing great as well given a lead role however his screaming and ending scene spoils all the hard work he has done for the show. Being a 6 months pregnant mother, Anita's performace was simply amazing and stunning. All I could wish for is for her to have more screen time to show more chemistry and bonding with Andy.
And what can I say, I was just disappointed with Louis. Not that it was his fault. I think his role was simple under developed.. raw… and ugly. I just didn't understand why they want to do this. IF it's for a change and breakthrough thing… it really did work out well.. otherwise, I think this is one of the key element that fails the movie.
It's surely worth the time watching during the Chinese New Year (if you just bear with Louis Koo).

Posted by by velverse at Monday, February 26th, 2007
(versemark I'm a MOVIE-ho-lic!)
8 Comments » | Link to post
Death Note: The Last Name
Death Note: The Last Name official site: http://wwws.warnerbros.co.jp/deathnote/
I still remember the first time I saw the first Death Note trailer which noted it was the year's best movie.. currently a big hit in Hong Kong… highest grossing movie and I told myself it is just some normal and standard gimmic to get people going. When I saw the first installment… I was totally blown away. I am then a Death Note fans.
For the first time, I have no complaints with the acting. I like watching Japanese movies but at times the acting was kinda weak and loads of over-acting scenes. This is the very first time I am anticipating so badly for the second installment of a Japanese movie to show.
Being someone who loves watching movie, I just gotta warn anyone out there.. if you haven't see the first installment of the movie.. please grab and watch the first part before watching this one. The movie started of where the first part ended. No kidding.. there isn't any brief summary or any form of montages which tells tales of the previous movie. They however manager to insert some quick flick of the Death Note rules. When I say quick flick… I seriously mean it. That practically means one have not much time and probably no time to finish reading what's on the screen. (Click here to read review of the first movie)
As mentioned, Death Note: The Last Name started of by picking up what is left behind in the first installment. This is when Misa Amane (Erika Toda) found the second Death Note right next to the dead body of the person who tries to kill her. Upon touching the Death Note, she is now connected and can see Rem (a female Shinigami). It was explained that Jealous (another Shinigami) always keeps and eye for Misa and as time goes by, Jealous grew fond of Misa. Jealous is all out to protect Misa at any cost. When the man tries to kill Misa, Jealous have no choice but to write his name in his Death Note and this action turned Jealous to dust.
Right.. a Shinigami's duty is to take other's life but not help pro-long others life. If that action is done, the Shinigami will turn to dust. Rem who always watch Jealous looking over Misa felt that she have now takes over Jealous interest and look after Misa. Hence, she finds it right to pass Jealous's Death Note to Misa.
On the other hand, L (Ken'ichi Matsuyama) and his fellow team member attended Light's girlfriend, Shiori Kashino (Yu Kashii) funeral. Although everyone else just think L is being cruel and unsensible, L still strongly believes that Light is Kira. Failed to prove his theory, L agrees to let Light join force with him trying and hoping Light makes a mistake and so he could catch him.
Upon knowing how the Death Note works, Misa is all set to find Kira/Light (Tatsuya Fujiwara). She then send a tape to the television station she is working at.. claiming she is taking everyone in the station as hostage until Kira goes and meet her. At the Sakura festival life broadcast, she openly goes on a killing-spree. People who criticize Kira were all killed. Claiming herself as Kira II and wanted to team up with Kira to build a better world… this matter make L more worried. What is worst is when L guessed that Misa can actually just kill someone by looking at their face (unlike Light who needed to know one's name since he turned down the "Eye of a Shinigami" offer).
Light quickly head over to the tv station when he knows his sister and father was there and he was quickly spotted by Misa. Misa then quickly reveal herself to Light and promise she will listen to whatever Light says as long as Light agree to make her his girlfriend.
Knowing how serious matters would be if Kira and Kira II teamed up, L follows Light to everywhere wearing a cute looking mask. Coincidently, Misa drop by to visit Light. Light then introduced L to Misa (hoping that she could get his name). L sensed something fishy going on and quickly pick-pocket Misa's phone when she is being surrounded by other students. As suspected, Light immediately calls Misa right after he sees her off. Light was totally shocked when he hears Misa's ringtone.
Misa was then captured and locked up for investigation. Misa then gave up her Death Note (once a person give up their Death Note, they will not remember anything about the Death Note until they touch a Death Note again) in order to protect Light. Rem then went up to Light and asked him to safe Misa. Rem warned Light to not try to fool her as she will protect Misa at any cost.
The plan soon start. Light ordered Rem to drop Misa's Death Note to Kiyomi Takada (Nana Katse) someone in the TV station that Misa recommends. Light on the other hand hide his Death Note and then asked L to lock him up as well to prove his innocence. As planned Kiyomi soon gets obsessed over the Death Note and start killing people whom she felt is not worthy of living. While in the cell, Light gave up his Death Note as well. L manages to notice the difference in personality in Misa and Light but couldn't prove anything. He was then forced to set them both free.
As L is at the corner of the investigation not knowing where to head, Light quickly jumps in and help L with the case. He manages to find leads to the case which soon lead them all to Kiyomi. The whole team spied and focus on Kiyomi and finally they all know what is actually is going on when they manage to lure Kiyomi to killed someone. Everyone of them then touch the Death Note and saw Rem. They finally know Kira kills. When everyone including Light touch the Death Note, they all saw Rem… how ever for Light, his past memories about the Death Note re-surfaced. He then secretly took out a piece of Death Note and wrote Kiyomi's name on it.
Upon knowing how the killing was done, Misa was released. Light then asked Misa to read a letter he wrote before he give up his Death Note and asked Misa to go find his Death Note that he hide. When she touches the Death Note, she remembered everything again. Light then told Misa to write down L's name on the Death Note to finish him off. Surprisingly… Misa forgot what L's name was as she see so many names everyday. In a desperate mode, she asked Ryuuk to grant her "Eyes of Shinigami" which of course will cost her half her remaining life-span.
After further investigating, L finds out that one of the Death Note rule not working as what he thinks is and started to suspect it is a fake rule. He is being suspicious about Misa and asked Soichiro Yagami (Takeshi Kaga) to bring the Death Note away. As L invites Misa over and tries to prove she is Kira II, Rem starts to worry. She soon know she has fallen in to Light's trap as Light already know Rem would risk her life to save Misa.
Rem then wrote down Watari and L's name on her death note to protect Misa. When L died from heart attack and pulled Light's leg, Light was laughing with an evil grin as he admits that he is Kira. He then plans to kill his father as well giving description of his death in order to get his Death Note back.
Light was in great shock as his father didn't die as planned. And what is even better, he didn't bring back the Death Note. Light was stonned as he knows it is not possible. Everything that is being written int he Death Note will happen. L then walks out with his whole team member surrounding Light and Misa.
L then reveals to Light that Misa's Death Note have been swapped when she least notice it. Which means whatever Light wrote in… was just to a piece of blank paper. And why L didn't die? He actually wrote his name in Light's Death Note that he would die 23 days later while he was seating down eating chocolate. Hence, whatever Rem writes in the Death Note later on does not take effect. Knowing and seeing Light in a great defeat, Ryuuk then write down "the last name".
Although lots of people think the first one was way better than this one, I would say it very much different. I think the first movie was very much exciting as it is the first time movie of death god and it seems like a new and different type of genre. Hence everyone got so excited over it. I think this was as good as the first as it focus more on character development and emotions. Not to mention the more comlex issue about the Death Note and the relationships between the Death Note holder and the Shinigami's.
What is even much better is L is the main character here which means I get to see more of him… which is the best thing ever! Of course I am a little disappointed as he is talking faster than he used to be which makes him less L than in the first movie. I think the CG's of the Shinigami's were great as they mimic the looks of the original Shinigami from the manga to the dot.
Of course the ending was somewhat different… but somewhat same. I think it is a good twist. They manage to change the plot yet stay original. Hahaha… however I was pretty upset as they ended the movie without giving it a room for the third movie which would actually show the battle of wits between Light with Mello and Near. But yeah, I love it… no matter what.

Posted by by velverse at Friday, February 23rd, 2007
(versemark I'm a MOVIE-ho-lic!)
32 Comments » | Link to post
Pathfinder
Pathfinder official site: http://www.pathfinderthemovie.com/
Just when you felt like watching some sword fighting movies after so many battle of the mind and romantic comedy movies… Pathfinder seems to be the best choice. Then again, I learn it the hard way that things that you see might not be what it seems.
Looking and looking and looking at the trailer… the only thing that convince me to watch this movie was the Viking's outfit and somewhat brutal scenes the trailer has made up. Lot's of hasitation in the process of getting myself to watch it as I know no one in the movie. Er… okay, maybe I did see them act before.. but none was people I could name.
The Pathfinder movie is one movie I would describe as breath-taking scenery but quickly blanded with bad acting and scripts. As much as they plan to make this a big epic movie and all… it just fails terribly. I blame it all on the casting person as they really pick the wrong person to do the jobs.
The movie started of with when a Native American woman (Michelle Thrush) stumble upon a Viking boy living in a wrecked Viking ship while she was chasing after a white horse. She then brought the little boy back to the village and decides to keep him. They held a village meeting and everyone thinks the keeping the little boy in the tribe would bring bad luck as he is not one of them.
Having strong believe in fate, the woman and her husband insisted to raise the little boy as one of their own. The boy was soon nicknamed Ghost (Karl Urban) by the tribe.The movie then quickly fast forward to 15 years later when Ghost is now a grown up man.
The village got so crowded when Pathfinder (Russell Means), his daughter StarFire (Moon Bloodgood) and other villagers drop by this village before proceeding back to their own village. Ghost quickly fel in love with Starfire.
One day, Ghost decides to go hunting in the forest. While he was busy hunting, his village was attacked by those who left him behind, the Vikings. His entire village was completely whiped out. When he return to the village, all he ever sees is dead bodies everywhere while his father was being killed by the group of Vikings. Thinking he was just a weird Native American guy, they quickly challange him to a sword fight which Ghost ended up hurting the general.
The whole group of Viking is then determined to hunt him down. In the process of running away, Ghost was shot. He was then saved by the Pathfinder and his villagers. Not wanting them to get hurt, Ghost quicly warn them and ask them to leave the village and hide at a safe place while he go and seek revenge on the Vikings for killing his family.
The fighting scenes soon began. Lots of blood splashing here and there. And like most of the typical movies, the girl would just go back and find the guy only to cause more trouble for the guy… then got caught and the guy would try whatever he may to safe the girl. Now this is what exectly happened. However I am pretty much amazed with the fact that the Pathfinder came to the rescue only to get himself caught together with her daughter. And predictably… Ghost is entrusted by the Pathfinder to take over his postion as the chief of the village after his death.
The Vikings then force Ghost to lead them to the villagers. Ghost initally refused but quickly agree when the Pathfinder's body was tore into half and the Vikings threathen to chop StarFire's hands. StarFire felt betrayed when Ghost lead the Vikings to the abandoned village, thinking he is also going to lead them to the other villagers.
Not knowing they they were being brought far away from the villagers, the Vikings followed Ghost to the mountains which Ghost manage to trick them and killed everyone of them.
Now… seriously, I don't know how to elaborate the ending as I think it was totally pathethic and unreal. I really very much want to like the movie but I just couldn't. The scripts were plain lame. The worst is the the actors didn't put in extra effort to make the script less lame… which of course make everything lamer than lame. It is as if they were just plain reading the lines out.
Karl was such a big disappointment. I just think he didn't do his very best in the movie. He doesn't have the charisma. He can't potray they anger in him. How much his past haunt him down. And he surely can't potray how difficult it is to grow in a totally strange environment.
Sigh… if it wasn't for the beautiful scenes… I probably would have given it a one star movie. Oh god! I need to see something better. Yes… desperately need to.

Posted by by velverse at Thursday, February 15th, 2007
(versemark I'm a MOVIE-ho-lic!)
7 Comments » | Link to post
2007 velentine's edition: Just Gotta Be Goong (Princess Hours)


Now… one would wonder… how come I go all out in flooding my blog with Goong's pictures and post. It's simple. I really like it. LOVE it to be exact. Why? I've got so many reasons to tell.
Firstly…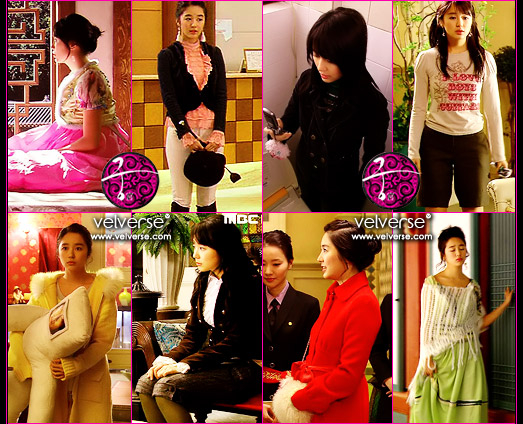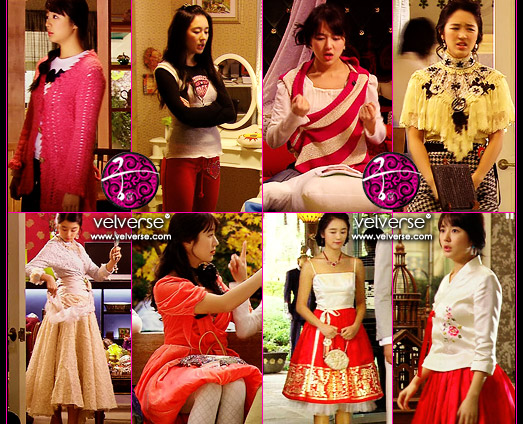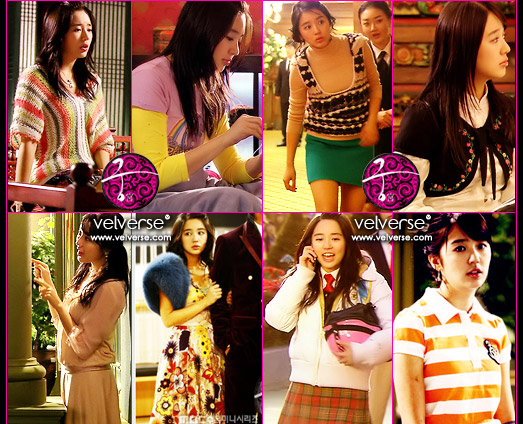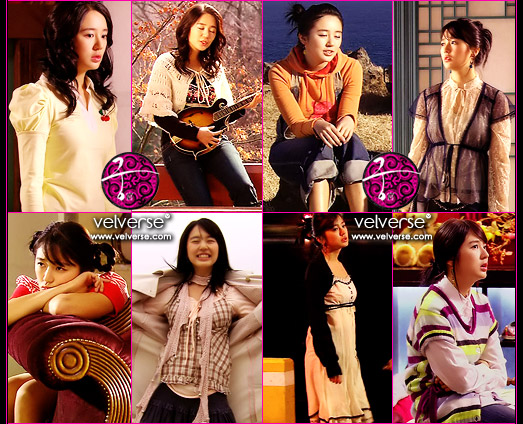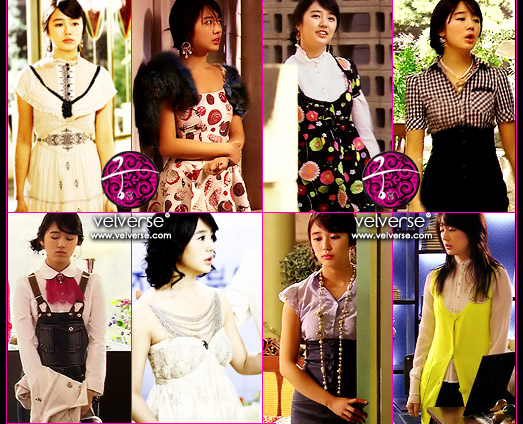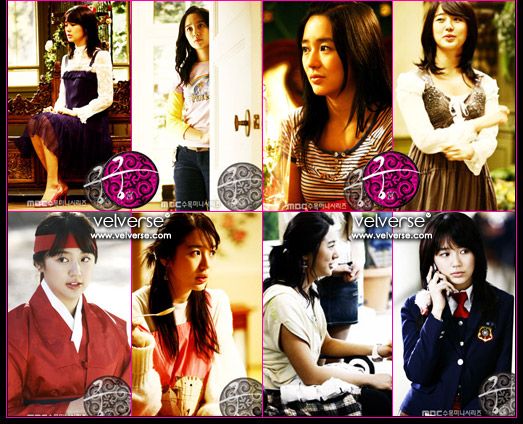 I love the beautiful cloths!!!
Yes, at every point of time… I wish I was her. She just have so much cloths to wear. Trust me, none of the top she wears in each episode was ever repeated. This is how much budget this drama has allocated for her tops. Okay… er… she did repeatedly wear her school uniform.. but hey that is what uniform is suppose to mean rite. Ah… not enough of having all the guys going crazy over her… she have all the nice dress, shoes, accessories and not to mention be a princess. Oh god! I so wish I was her *dreams*.
Secondly…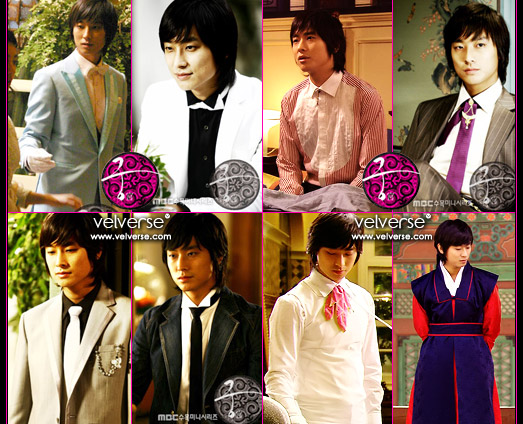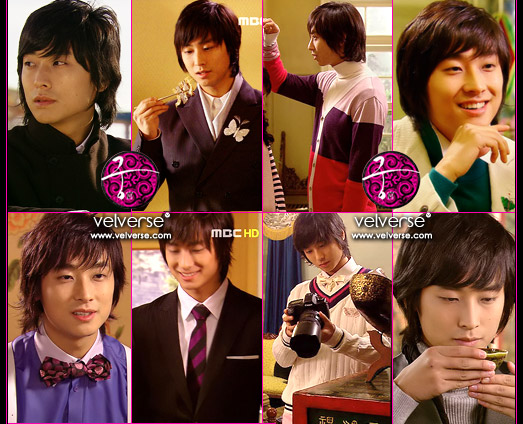 Even he is so fashionable.
Besides Chae Kyeong, Shin also have a massive wardrobe. I don't blame them, he is taking up the role as a prince… and if a prince have to wear the same top over and over again.. that is bad. But what I really love is how they daringly mix and match his top and his accesorries. Seriously… for the first time I can see how it is not boring looking at guys wear tie and shirts. They cleverly add accesorries to it to make a normal attire become more interesting. If only more guys I see on the street knows how to decorate themselves. A scarf, a different way of wearing ur tie, a necklace, a pin… something… just do something and not be boring!
Thirdly…
Men who adore soft toys.
Yes… exectly. I just hate it when men pretend to be so manly and saying dollies are girl thing. Just chuck your ego aside for god's sake. I think guys that plays and adore soft toys are attractive. At least they show and potray their inner self. Awww… doesn't he looks cute?
Fourth…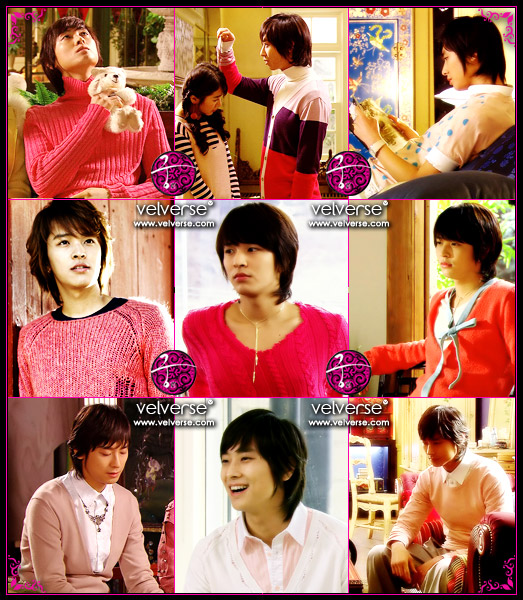 Men in PINK.
Don't ask me why. I love to see men wear pink top. Haha… right, I have a soft spot for men that wears pink. Much to many guys dislike. Well.. some think pink is just plain girly colour and makes them look sissy. But most of the time, I just felt they just weren't brave enough to wear it. So I really salute those who is brave enough to wear it and is confident in wearing it. Haha.. men in PINK is just so SEXY!!! *drool*
Fifth…

Pink and soft toy! PERFECT COMBO
Pink!!! Soft toy!!! Tell me… how can I not be addicted to this show. Great looks, great top, great colour… and a teddy bear. My my… if only some guy like this appear right before me. HOT HOT HOT!!!
Sixth…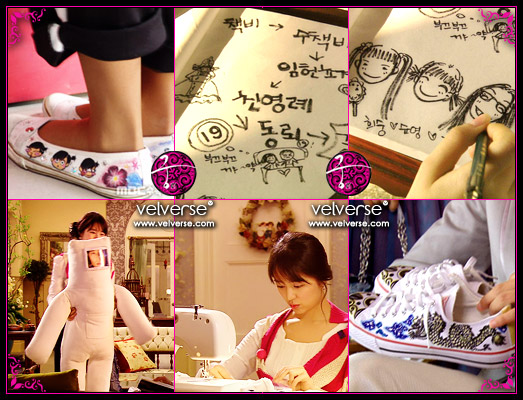 Artistic.
Woohoo… this artistic touch make me love the show more and more. The way she paint her school shoe, sketch, make a doll of her husband.. and even painted a shoe for her husband as birthday present. Now… you ask me how come I am so motivated with my "passion project"? I can tell you now… this is one of the reason.
Seventh…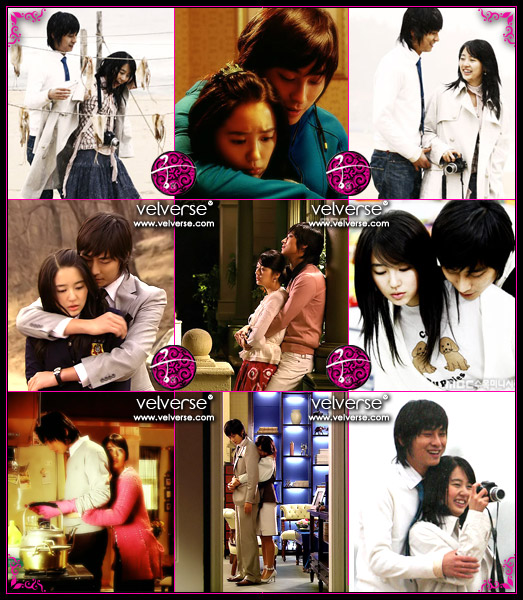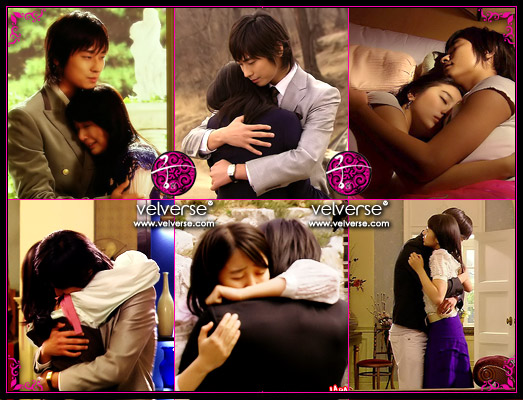 Hugs~
Awww… hugging was so romantic especially when it's cold. Where you can just steal some warmth from another person. It's a great feeling. But well… I personally prefers a hug from behind. Well.. no specific reasons. Just a personal preference. I somehow just think it is way more romantic.
Eight…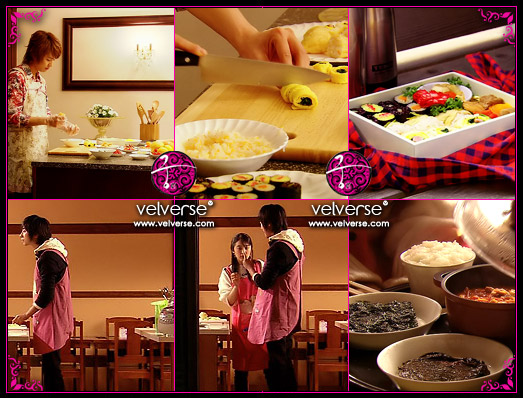 A guy that knows how to cook.
A guy that knows how to cook is like a super combo power. You gain instant bonus points for that. No kidding. I think a guy that knows how to cook makes a great husband. Hahaha… will you cook for me?
Ninth…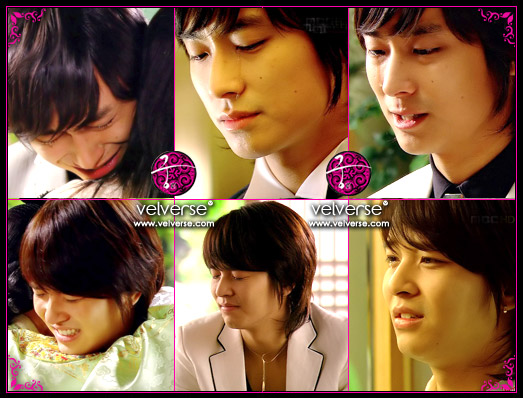 The golden tears.
Someone once told me, if a guy shed a tear for you… he really really loves you. If he shed a tear for you in front of you… you know what it means. Now… go practice!
Tenth…
Caring.
Okay… this show just gotta potray that much romantic elements in it. The best part.. all of them have to look so visually good. Now… in my life, people kept ask me to find someone to take care of me. Which 99% of the people would only force me to go see doctor or just ask me to see the doctor. Now I am not complaining that is not a form of caring… but any guy that appears before me say the same thing. Now if you are talking about taking care of me… look at the pics above. Don't just ask me see doc, drink more water and eat medicine. Action speaks louder than words.
Eleventh…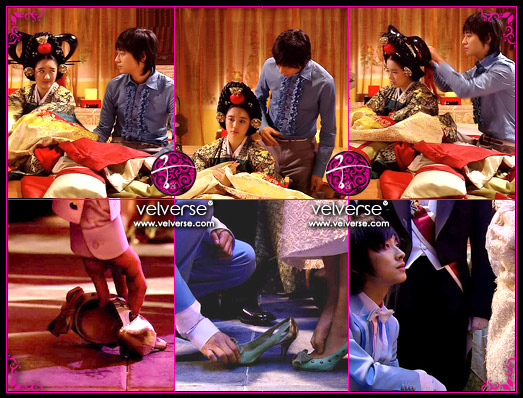 How low will you go?
To what extreme you would put yourself before the one you love? Will you do it for me? Will you?
Twelve…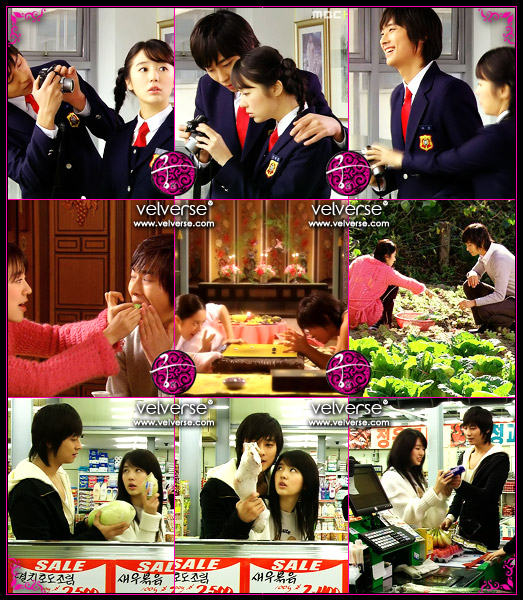 Togetherness.
I think small small stuff is enough to make a relationship spark. Doing some childish stuff at times is cool. Stop being so matured and adult! Yes, play some games, do some gardening and even go grocery shopping togther. Fun fun fun!
Thirteen…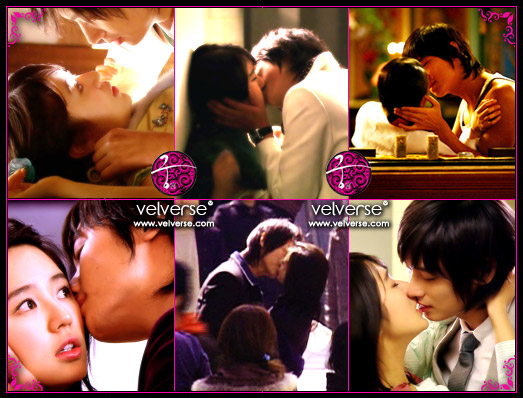 Kissie kiss kiss.
Yes…. romantic comedy without kissing scene… is like a jigsaw puzzle with a missing piece. Are you a good kisser? Know when and how to kiss? Now… that is important!
Lastly…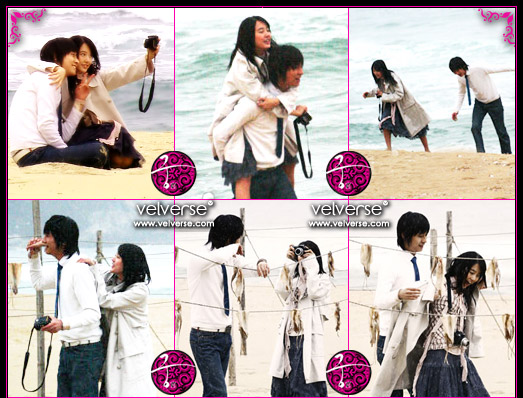 A day at the beach.
I exectly love this scene. Why? Seriously… before I even see this show or have a boyfriend, this is what I ever imagine. I always think in a relationship… a couple should spend a day by the beach. Have fun.. hold hands, run around like little kids, play with sea water and sand. But sad to say… I never went to the beach with any of my boyfriends before. Hem…
So yes, with this reasons… I conclude my Goong (Princess Hour) post. Now… don't ask me what I'm gonna do on Valentine's day or who I am celebrating it with. You know I ain't gonna answer. So don't ask a question you know you won't find the answer.

Posted by by velverse at Wednesday, February 14th, 2007
(versemark I'm a MOVIE-ho-lic!)
12 Comments » | Link to post
2007 velentine's edition: Sound of Goong (Princess Hours)
Okay… being a Goong/Princess hours pourist fans… I of course must bring you to the songs in the series which got me crazy over it. I just gotta say… the songs were just great and I can't help repeating the song over and over again. Listing by my preference, I present you the songs that hit me hard.
Ah… the song I like most from this movie, 당신은 나는 바보 입니다 (Dangshineun… naneun baboimnida) which practically means I'm a fool. A song which pretty much appear when the sad scenes were shown. I somehow think this is a prefectly nice song. It's such a pity that I can't find out who the artist is. Probably not that famous as most of the MTV's were snippets from the movie. I think it's really lovely. With the rate of me repeating it… I can safely say I can memorize up to 80% of the lyrics and get my pronounciation rite

Note: Link will be taken out at the end of the month. No complaints man, I'm just sharing you know.
Translations for songs are available at the comment section.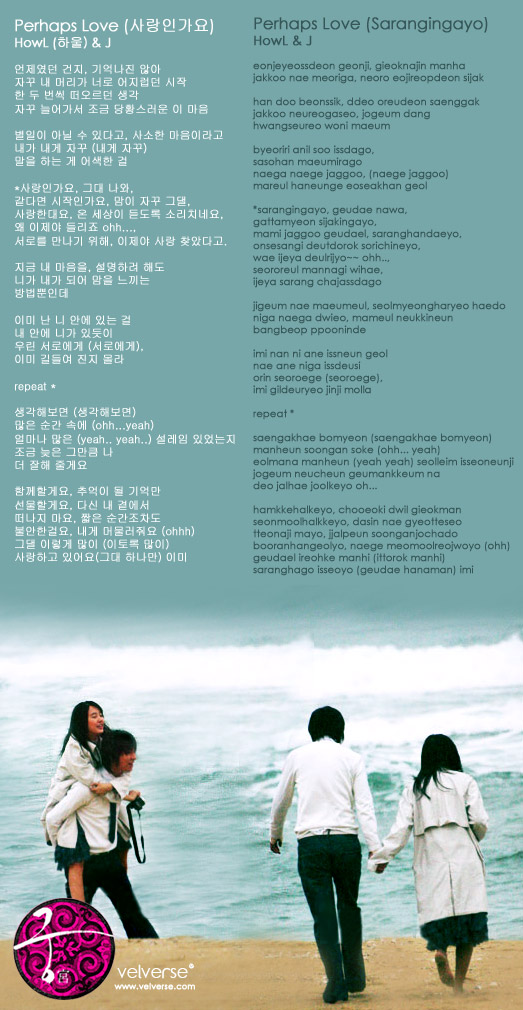 Awww.. Perhaps Love (Sarangingayo) by HowL & J is lovey dovey song which is currently a big hit. I tend to hear this song playing on the streets, at the night market, over the radio.. not often but at least I got to hear it. I think it is a very soothing song which brings out a happy mood better still a lovey dovey mood :). Each time I hear this song, the happy times Shin and Chae Kyeong have by the beach keep appearing right in front of me… la la la… I want to go to the beach now!!
Translations for songs are available at the comment section.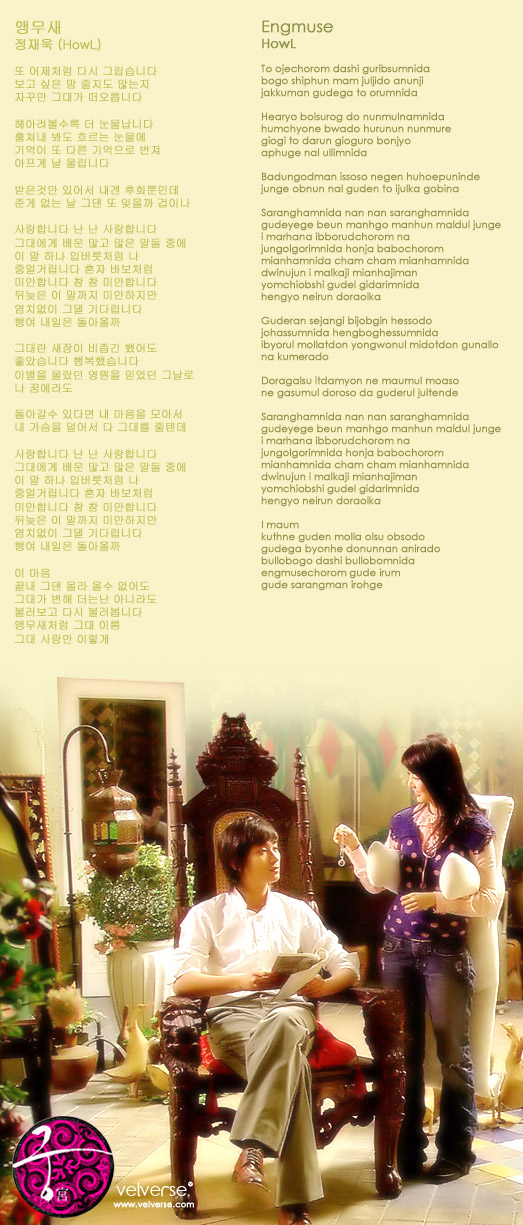 Engmuse (Parrot), another song by HowL, unlike the others.. this is a bonus track. It sorta appear in the series for a few times. The most memorable time was at episode 23 where Shin was about to go on a trial when Chae Kyeong chase after his car and eventually they end up hugging each other. Well… lovely songs like this just can't help but to make this series so much better.
Translations for songs are available at the comment section.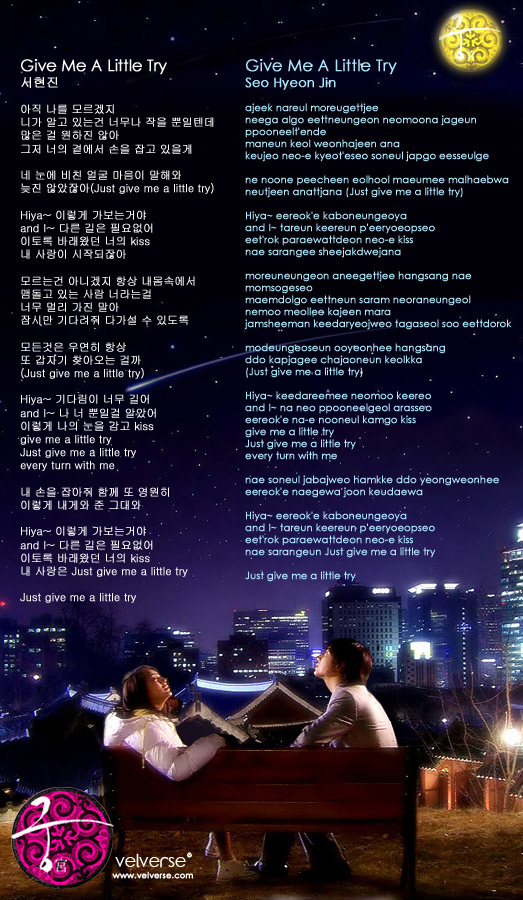 Okay… a little fast track from the soundtrack. Give Me A Little Try by Seo Hyeon Jin is a cool song. Well, I like what the lyrics means and of course… I sorta relate to this song in a way. Most people I know is sorta disturbed over the fact that I am still single. Don't ask me why. They kept asking me to look for one and give people who approach me "a little try".
Will the person I love give me a little try? I wish he would. I wish he will. Just give me a little try

Translations for songs are available at the comment section.
Last but not least, the song 두가지 말 Doo Gaji mal by Jeong Jae Wok & The One. I sorta like this song as well compare to the rest of the songs. A little more relaxing song. Yes, of course it's a lovey dovey song. Awww.. everything under this season is lovey dovey.
Translations for songs are available at the comment section.

Posted by by velverse at Wednesday, February 14th, 2007
(versemark I'm a MOVIE-ho-lic!)
15 Comments » | Link to post
2007 velentine's edition: The Art of Goong (Princess Hours)
Okay… now that you have heard a little here and there about Goong (Princess Hours). Now, let me show you the effort that differentiate this drama from the rest.
The movie was great. They have a great site, great promotional photos and not to mention, they take the initiative to colour correct and treat their images. My greatest salute to their effort. Now.. even their opening montages were beautifully done *bows*.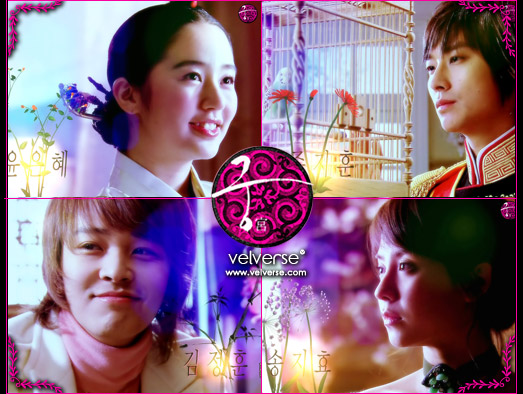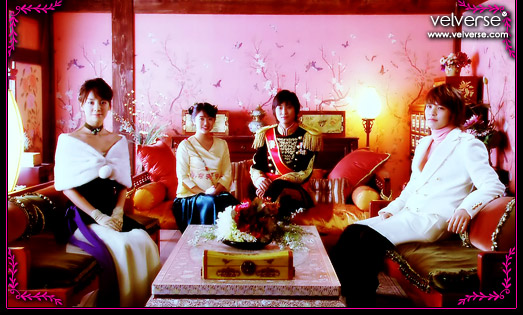 Look at the colour correction and the setting. I was simply wowed the first 30 seconds of watching the drama and the best is yet to come. They even have amazing and colourful breakers before and after commercials. Which of course most drama only stick to a few while here, they have dozens.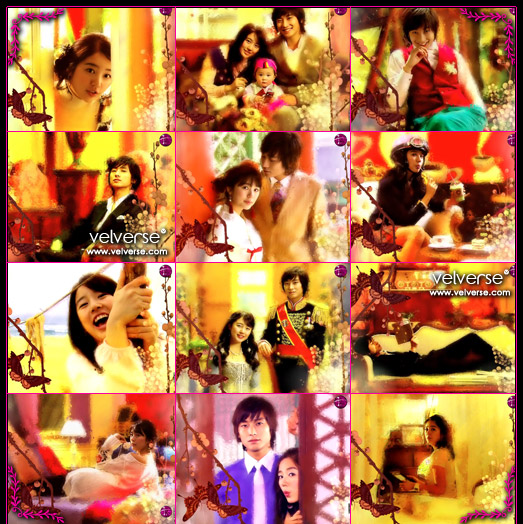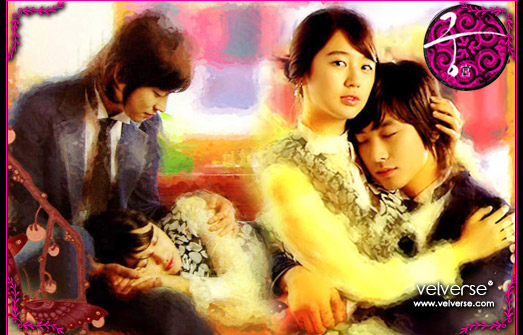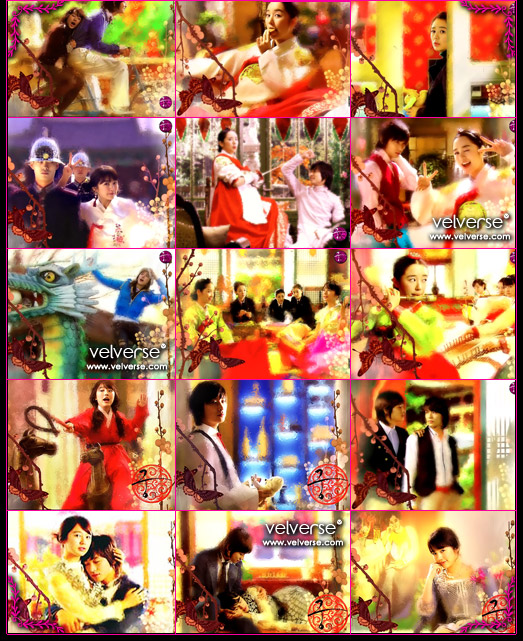 The series didn't just stop there to impress me. They continue and this time, they even use this cute teddy bears to potray memorable scenes from each episodes. Yes, teddy bears. If not mistaken, 6 teddy bear scenes were being placed at the Teddy Bear Museum in Korea for display. I didn't really know which 6 but.. well.. I think it's just cute. And the effort to make it look like the characters was amazing.
The level of details… which includes the cloths on the teddy matching the characters was amazing. I don't know what I am talking about now. Just take a look…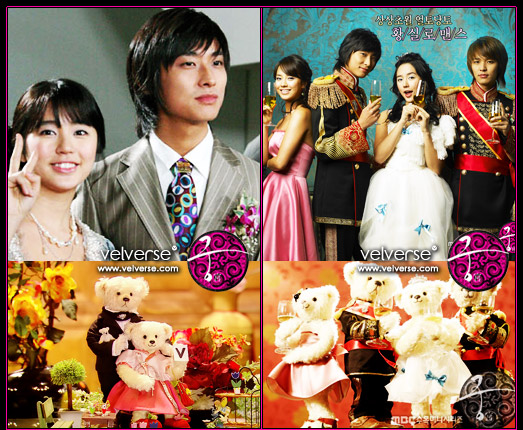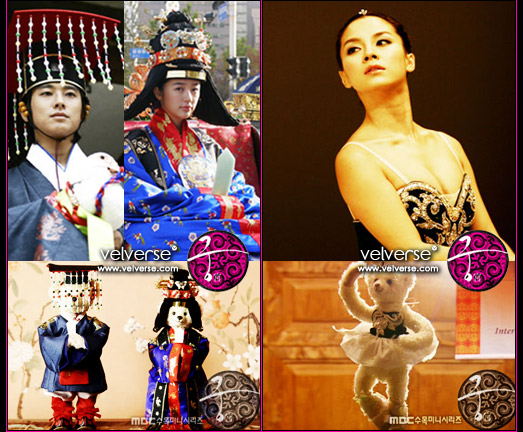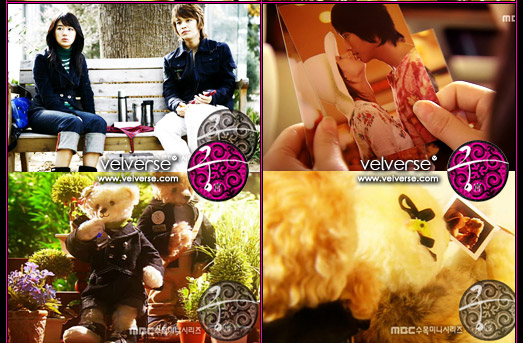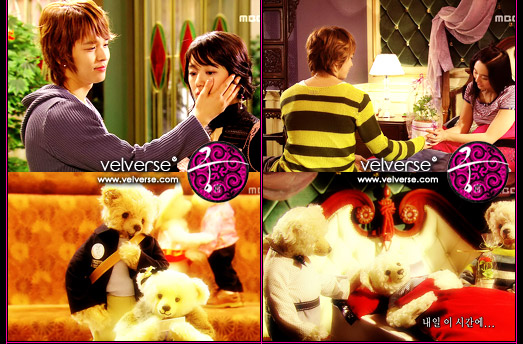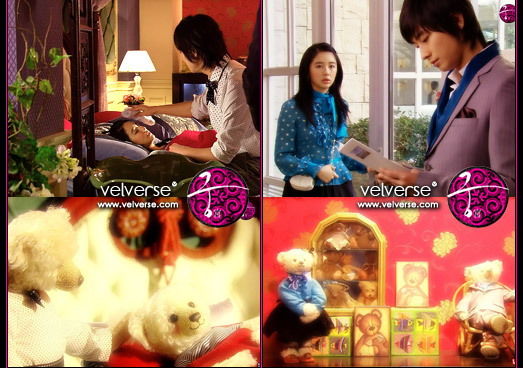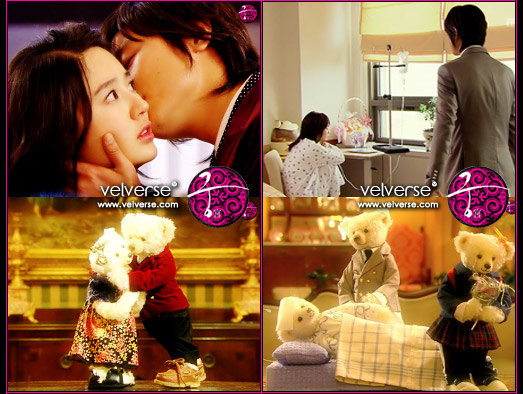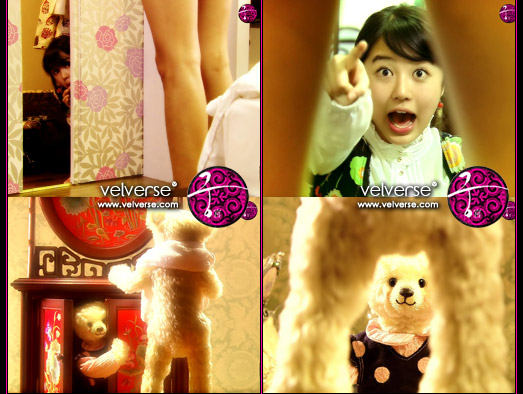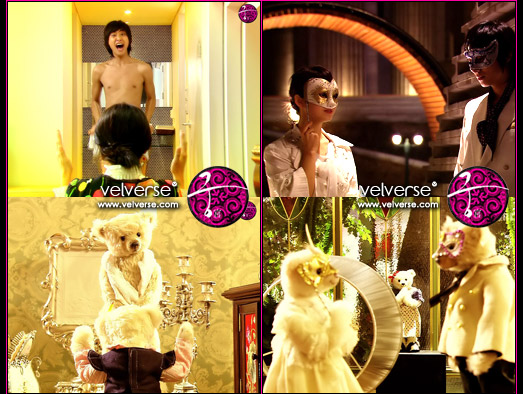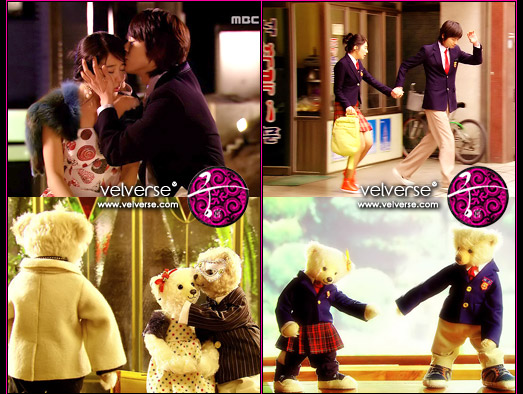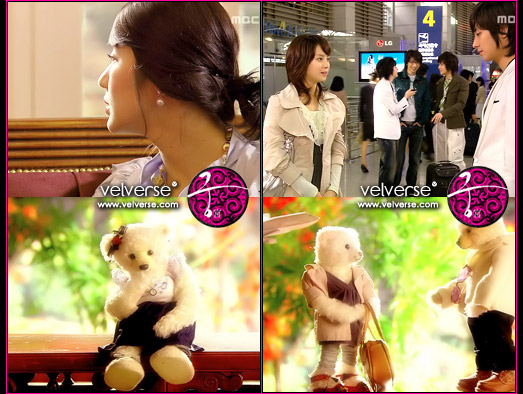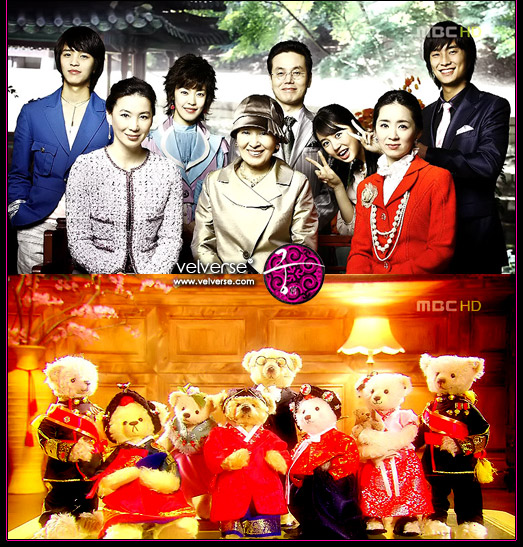 Amazing huh? No kidding. I somehow think it was really cool and beautifully done and this is only the starting. I have so much more to show. Rite… 7 days of work doesn't stop here only.

Posted by by velverse at Wednesday, February 14th, 2007
(versemark I'm a MOVIE-ho-lic!)
14 Comments » | Link to post
2007 velentine's edition: The people in Goong (Princess Hours)

Joo Ji Hoon (주지훈) as Lee Shin (이신)
Joo Ji Hoon is a popular model from South Korea. He is seen modelling for Levi's, Calvin Klein and Reebok. His became even more popular after taking up the role Lee Shin in Princess Hours. It was his first time acting and it has proven he has the built in talent, as a model and an actor.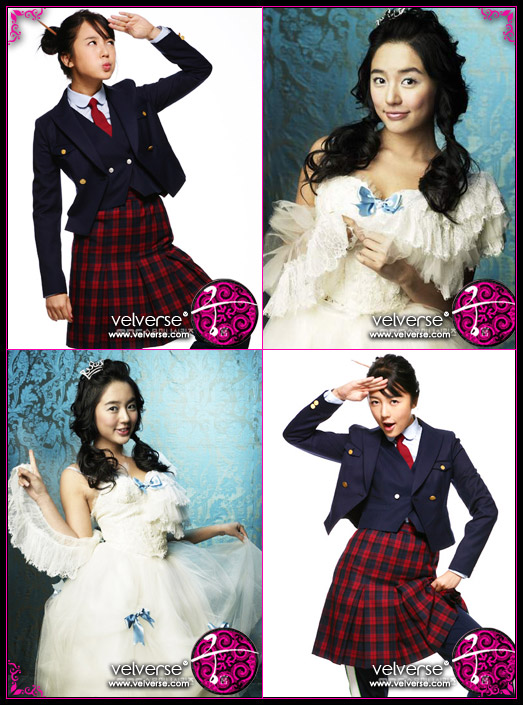 Yoon Eun Hye (윤은혜) as Shin Chae Kyeong (신채경)
Yoon Eun Hye is a singer, actress and model from South Korea. She is most likely to be known as a member of a famous girl group "Baby V.O.X". However the fame of the group didn't last long as they were always percieve as sexy and too wild when they release a photo album that showcase semi-nude images of the girls (with Eun Hye unable to participate due to her being underage). Eun Hye then left Baby V.O.X and then persue her acting career. Her first time acting was a major success when the public goes crazy over her character as Chae Kyeong in Goong (Princess Hours).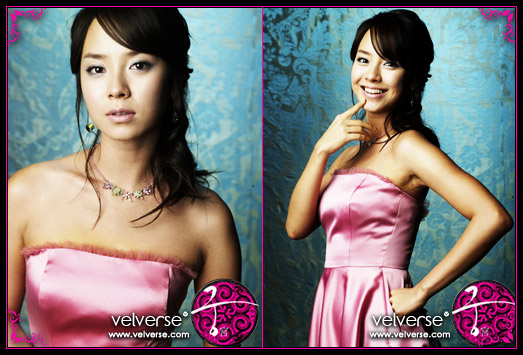 Sung Ji Hyo (송지효) as Min Hyo-rin (민효린)
Ji Hyo is a very famous TV actress. She was seen acting in Jumong (2006 MBC's top drama of the year). Taking up the role as Hyo-rin in Goong (Princess Hours) even bring her to anther level of popularity. Riding on the success of Goong, Ji Hyo is seen modelling together with Ji Hoon at some magazine covers.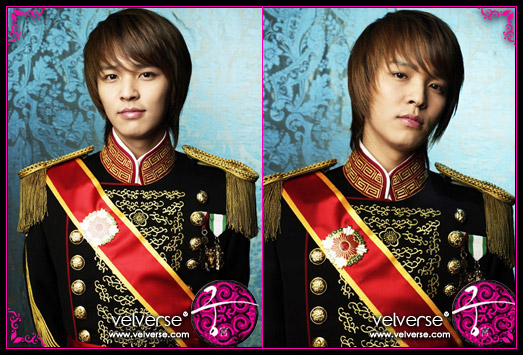 Kim Jeong Hoon (김정훈) as Lee Yul (이율)
Jeong Hoon is a famous singer from South Korea. He was initially a member of a duo group UN. The duo however goes seperate ways on 2005 where Jeong Hoon decided to persue acting. His cute looks and his warm hearted character in Goong have opened many doors for him. He is quite a hit in Japan.

Posted by by velverse at Wednesday, February 14th, 2007
(versemark I'm a MOVIE-ho-lic!)
14 Comments » | Link to post
2007 velentine's edition: All about Goong (Princess Hours)


Before I begin, yes… this is a very special velentine's edition I did up for this year. Eventually it is a promise I made to my sweetest and cutest cousin, Nicole and to my sister that I would do a super long winded post about Goong (Princess Hours) since I extremely love the show. Yes, the promise was made months back when she brought back the show purposely to share with me.
So I owe it so much to her and I promise her a super post with super pictures. Yes, notice I have been slacking in my post.. yeah, it's all for this velentine's edition. No kidding… all this Goong post montages and all took up 7 days to complete and I felt much better keeping my promise.
Why today? I pretty much think it is such a lovely series I would think it suits the occassion. I cried many times watching this show. So many times that I lost count. The best reason of all… it represents what I really think about love. My believe, my hope, my love. So yes, happy valentine's day to everyone who have the time to wait for the image to load and have much time to read this post.

Rating:
Goong (Princess Hours) official site: http://imbc.com/broad/tv/drama/gung/
궁 or Goong (Princess Hours) is a 2006 romantic comedy drama distributed by MBC. The drama was based on a popular Goong manhwa illustrated by Park So-Hee. Goong was a huge success and became one of MBC's most popular drama for the year 2006. Currently bein nominated for best drama, best new actor/actress and best couple award.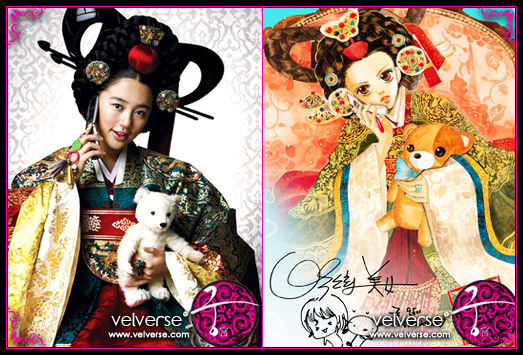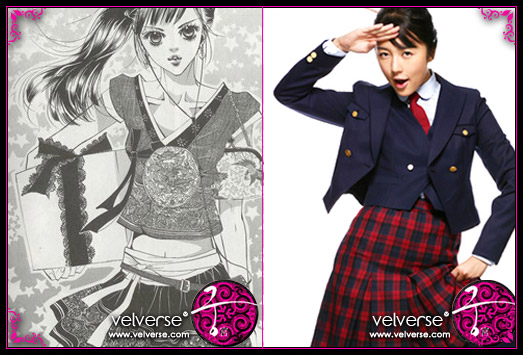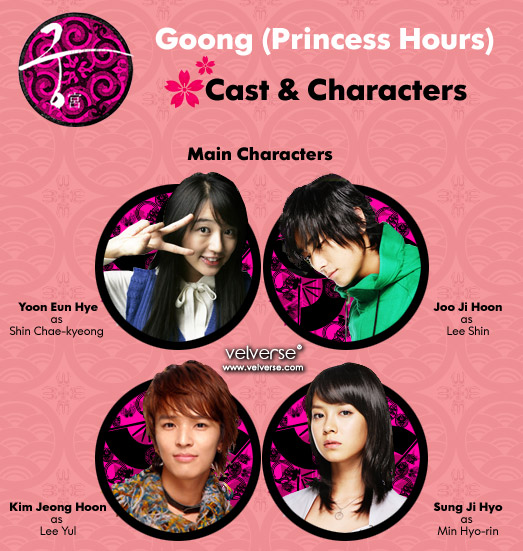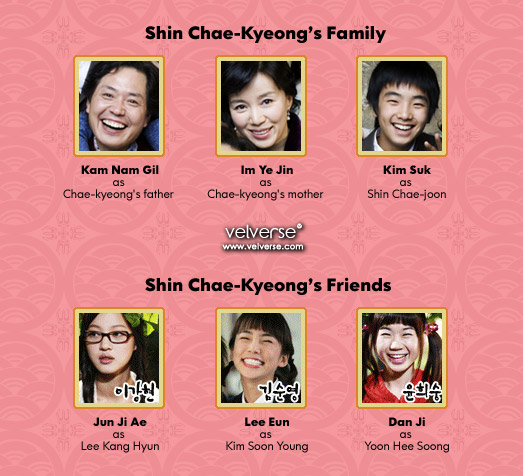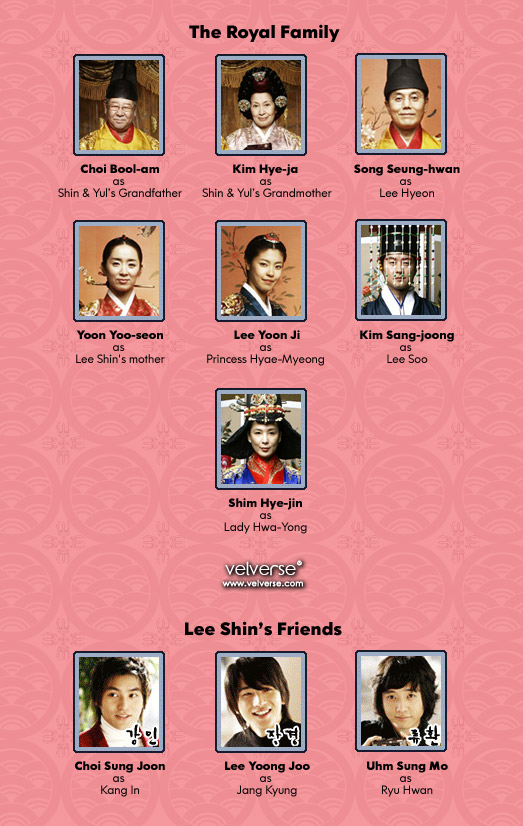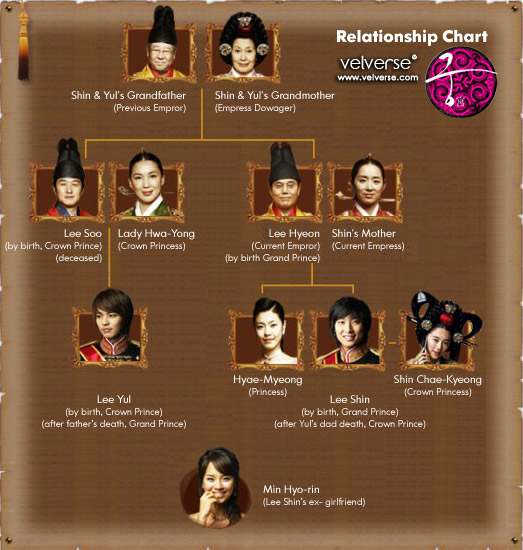 Okay… let's just get into the review. Of course everyone would have already know that the current Korea wasn't ruled by any royal families since the Japanese Occupation in 1911. However, the royal familiy in this drama was modelled after the last royal family in Korea (even actual shooting is done at the grand palace itself).
This drama practically resolves around the two lead. Lee Shin (Joo Ji Hoon) and Shin Chae Kyeong (Yoon Eun Hye). Lee Shin is the crown prince of Korea. He is very much interested in arts and studied flim making in a high school. He was often seen accompanied by his fellow buddies Kang In (Choi Sung Joon), Jang Kyung (Lee Yoong Joo) and Ryu Hwan (Uhm Sung Mo). The news have spread around that Shin will get married soon. It is rumoured that Shin's grandfather have arranged a marriage for Shin before he passed away and that the girl that Shin is supposed to married was from the same school.
It has then became a huge topic of discussion. However, Shin have different views. He has fallen in love with Min Hyo-rin (Sung Ji Hyo), a beautiful, intelligent and skillful ballerina. In other words, she is almost perfect. A girl every guy dream of having. In the very beginning of the movie, Shin proposed to her but he was quickly rejected by Hyo-rin. She actually think Shin was joking with her and furthermore, she didn't want to give up he hope of being a famous ballerina.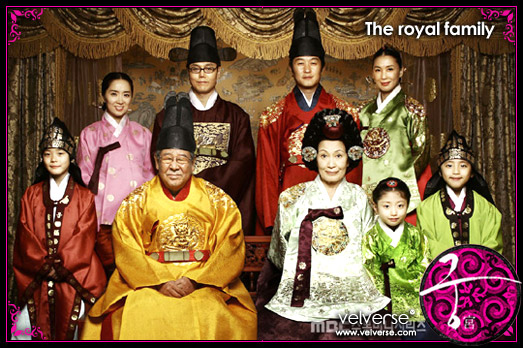 The funny parts soon begins when it was revealed that Chae Kyeong is to be the next Crown Princess. How does this happen? Chae Kyeong's grandfather was the best friend of Shin's grandfather (emperor at that time). Chae Kyeong's grandfather did save the emperor's life hence he dedicated Chae Kyeong to become the Crown Princess, which means that she is to marry whoever is the Crown Prince at the time of the marriage.
Upset over the fact that Hyo-rin rejected his proposal, he decided to agree to his elder's arranged marriage. Being a creative, artistic and active normal high school student… Chae Kyeong's life is about to change. Besides being a normal high school student, she will now have to learn the royal family's culture, language and manners. Chae Kyeong initially refuse to get married with Shin as they both have some small misunderstanding. Things take a dive when she finally agreed to marry the prince to save her family from bankruptcy.
The "drama" starts when Hyo-rin regretted her decision of rejecting Shin's love when she sees Chae Kyeong and Shin's wedding and how Chae-kyeong is loved by the people. The drama just got juicier when Lee Yul (Kim Jeong Hoon), Shin's cousin whom just return from a long stay in England with his mother, Lady Hwa Yong (Shim Hye-jin). Yul was a direct opposite of Shin. He is sweet, kind and romantic. He was madly in love with Chae Kyeong from the first time he bump in to her in school.
Yul was quite upset as the Crown Prince position originally belonged to him. Everything change when Lee Soo (Kin Sang-joo), Yul's father passed away from a car accident hence the Shin's father was appointed to take over the throne. Yul and his mother was sent away to England when Yul's mother was caught having an affair with Lee Hyeon (Shin's father) whom Yul's mother was originally in love with. She however married Yul's father because she wants to inherit the Crown Princess title.
Originally uninterested witht he Crown Prince title, Yul now have a reason to join his mother to compete with Shin for the Crown Prince title after falling in love with Chae Kyeong. He couldn't help but want to make Chae Kyeong his and give her all the happiness in the world thinking she was being ill-treated by Shin. Unknown to him, Chae Kyeong has fallen deeply in love with Shin not long after she enters the palace.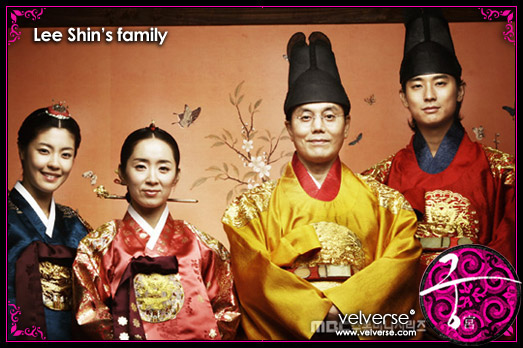 Hyo-rin on the other hand tries her best to get Shin back at all cost. At one point, she even find ways to meet Shin at Thailand when Shin was sent over to replace his father on a royal trip there. Thinking it would be one of their happiest moment, it only ended up letting Shin knows he has fallen in love with Chae Kyeong. However, things that happen between Shin and Hyo-rin was photographed and is being used by Yul's mother as a weapon against Shin.
Shin and Chae Kyeong's relationship was like a roller coaster. Each time they two get a little better, they were quickly troubled by some issues. But well, of course everything turns out fine at the end. It's a romantic comedy and well, most manhwa ends with a happy ending.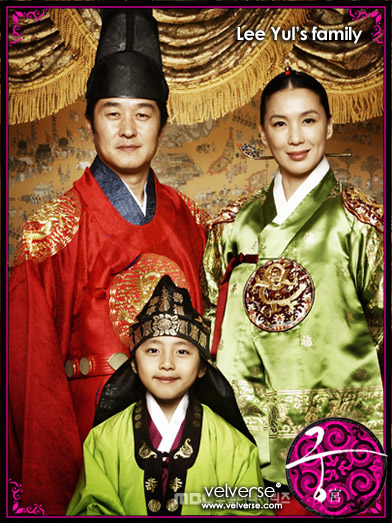 Okay… somewhat, if you have seen the drama, you would have notice I didn't give as much details as I normally do coz I was really hoping more people will see it. If you haven't, not to worry. I think 8tv is showing this drama on television soon. So stay tune. Yes, as for me… I can't help but to wait. I guess I shall never go out on the time it's airing only to watch it again.
So yes, please watch it. I think it is really a great drama to look into. Especially the clothings, accessories and not to mention the setting. Really worth a watch. Yes, no korean drama has actually got me so addicted before. I must say… none and you know it's never easy for me to give a almost perfect score to a show.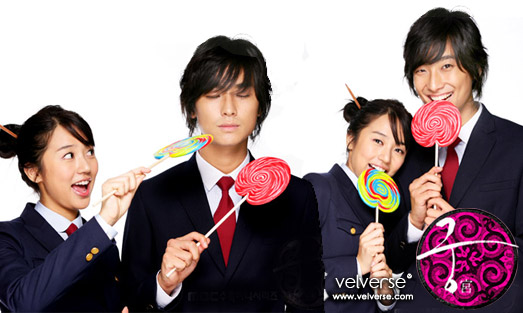 Posted by by velverse at Wednesday, February 14th, 2007
(versemark I'm a MOVIE-ho-lic!)
53 Comments » | Link to post
Cinderella
Cinderella official site: http://www.cinderella2006.com/
Okay… first of all, in need to stop some confusion, this movie was shown in Korea August last year. However, it only reach our region like… last month. The best part, the name was somehow altered. The word "ghost" was added in front of the beautiful word, "cinderella".
Don't ask me why, maybe they worry kids would roll on the floor asking their parents to bring them watch cinderella. So to avoid confusion.. an ugly/scary looking font type is picked to put the ghost word. Which in other words.. it's more known as Ghost Cinderella to all the people in Malaysia. So, if you really want to google or find out more about this movie, I think typing Ghost Cinderella won't really lead you to much info.
Now… the second confusion to actually clear, this movie isn't exectly a ghost movie despite the addition word. Well.. I don't know how to classify it. It's a bit (and I mean just a bit) scary while most of the part is actually very melodramatic. So don't get that panic! Right, so this isn't the movie that will give you the result of the girl sitting next to you jump up and hug you so tight that you couldn't breath (unless she finds reason to get close to you).
So, how melodramatic is melodramatic eh? Okay, let's start. Hyun Su (Shin Se-kyeong) is an art student. Being such a beautiful girl, she get lots of attention from her friends. Well, even Hyun Su's mum, Yoon Hee (Do Ji-Won) gets the equal attention and popularity among Hyun Su's friends. Why? She is a well-known plastic surgeon and all Hyun Su's friends are dying to get advice and some even consulted her mum to do plastic surgery for them.
Hyun Su and her mother are more like siblings. Their ideal mother-daughter relationship can really make everyone so jealous, including of course me :). Things started to go wrong when one of Hyun Su's close friend undergo a plastic surgery perform by Yoon Hee.
During the plastic surgery, something weird happen. Hyun Su's friend saw some weird vision which haunt her later on. No nothing went wrong during the surgery. Everything went perfectly fine. She turned out like a beautiful swan and have been the talk of the students. Other students can't help but to notice she is different from what she used to be. Prettier that is.
Tragic starts to happen when she hears weird whispering sounds and starts to have imaginations that her face got cut open. It was to this terrible stage that she refuse to see anyone, hide in her room.. so scared to see anyone. She keeps hearing this weird whisper saying that's not her face. She ended up commiting suicide. Hyun Su got so disturbed over the incident.
Hyun Su's happy life starts to go downhill when she accidently stumble down to the forbidden basement. A place where Yoon Hee would never want Hyun Su to get near. When Yoon Hee wasn't paying attention, Hyun Su sneak in out of curiosity only to find a picture of her when she was young. She was totally angry with her mother as her mother told her all her childhood pictures were gone when their previous house got burnt down.
Hyun Su then went to meet up his father to find out the truth. Of course the truth was a shocking one. Hyun Su's father told her that she is not their daughter and the real Hyun Su died many years ago. There was this incident when Yoon Hee brings Hyun Su along to pass a parcel to his husband. She left Hyun Su in the car thinking it would be a quick drop by. Yoon Hee got a shock of her life when she saw her husband having an affair with one of his colleagues.
In the midst of pulling, crying, running, screaming and explaining, they forgot all about Hyun Su. When Yoon Hee decides to run to the car and leave, the car overheated and exploded right in front of her. Hyun Su was sent to the hospital with a critical condition. Her face was terribly burnt.
One day while praying for Hyun Su to get well, Yoon Hee saw this lost little girl. The little girl kept calling Yoon Hee "mama" and that totally mend her wounding heart. Hence Yoon Hee brought her home and took care of her.
The story of course just didn't end there as the juicy part is about to be revealed. Guilty for not taking good care of Hyun Su, Yoon Hee perform a surgery and tranfer the little girl's face over to Hyun Su. The little girl was then locked at the basement where Yoon Hee would go and visit her secretly everyday. The little girl would always look up the small window and wanted to play with Hyun Su, go to school together. When the little girl finally knew Hyun Su's face was actually hers, she was so upset and angry. What upset her most is how Yoon Hee never allow her to go out and see the world and breaking her promise of getting her a new face. The little girl then commited suicide.
So yes, well.. there isn't much scare.. I wouldn't say there weren't any ghost element. But right, I like how the story flows on so well. Lots of bloody scene which will obviously make you think twice before doing plastic surgery. Trust me, the way she explains the procedure of doing a nose job… makes me wonder how some people is so brave when it comes to making decision like that.
Very nicely done but some scenes does look kinda dull. But what can I say, I like this type of movie. Not trying too hard to scare you with white image popping here and there. Instead let the emotions and true facts gives the scary feeling.

Posted by by velverse at Tuesday, February 6th, 2007
(versemark I'm a MOVIE-ho-lic!)
5 Comments » | Link to post
Want to chit chat with me but shy?
«
Mail to me!
Recently watched movie:
Movies, movies, movies... yeap I like watching movies. Lots and lots of em'. View my ratings list!
As you can see, this site is full of my crap shit which basically includes my opinions, comments and critics. Yep yep.. all mine!
If anyone finds content inside this blog as offensive, please stop browsing and .. let's see.. need me to show you the way out?