Good morning Hong Kong!
Ah.. it's really a wonderful feeling walking in the cold early morning.
Even better after the late and filling dinner/supper yesterday.
Yes.. we really need to walk it off before more food.
So where exactly are we going to?
Yes, that's right. We're heading to Lockhart Road (駱克道), Causeway Bay.
I just love the patterns that is created on the road… just so abstract.
Oh I just can't have enough of the stipres.
They are just too pretty. Makes me want to find a matching shirt too. Hehe!
While walking is really not my thing, but yes.. I will still carry on.
Especially when I can smell the food. So near around me.
So where am I exactly? And what's cooking?
Yum yum.. something light, something local.
Address:
Ocean Empire Food Shop (海皇粥店)
Ground Floor, No. 472 Lockhart Road,
Causeway Bay,
Hong Kong
Telephone Number:Â (852) 2891 1902
Website:Â http://www.oceanempire.com.hk/
Opening Hours:Â 7.00am to 2.00am
You know you are at the right congee place when you see deep fried Chinese crisps such as hot puffy sesame balls, chinese crullers.
Sesame ball is just madness.. the chewy and sticky texture is simply out of the world.
Even better with the crispy outer layer and the fragrance of the sesame seeds.
My favourite dish of all times. *drool*
Yes, while pan-fried white radish cake may look like a simple dish, not many succeed in impressing me.
Nothing much to shout about for this and a little longer pan frying will be good.
Hot lemon tea goes a long way in warming the body and soothes the throat during the cold days.
Ahhh.. yes, refreshing indeed.
Love, love and more love. It's really a simple dish combining both the steamed chinese rice noodle roll and chinese cruller.
But I still wonder why it's not commonly served in Malaysia since we sold both things separately.
How can we miss out lean pork and century egg congee.
It's one of the most commonly eaten congee especially in the morning and widely sold together with dim sum!
Yum.. anything with century egg is a go for me!
This is quite a new combination for me.
Thinly sliced fish with peanuts. I mean normally I would have peanut and lean pork.. never fish.
Quite light and sweet. Very much to my liking 🙂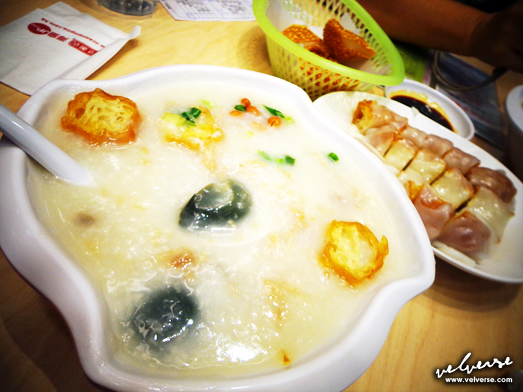 Now yes.. eat, eat and eat.
We'll have to keep walking after this.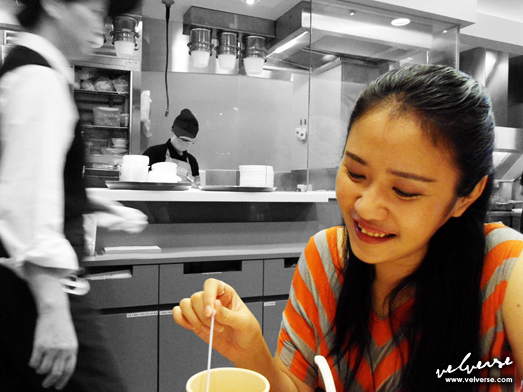 Ah.. *rub tummy* I am a happy little girl.
Ready to explore the world!
Go.. go.. go!