Phew!!! I am just in time to post this post before my cuzzie's birthday was over. It really isn't easy to find the right pictures to suit the rite post. So, Happy Belated Birthday, my cute little cuzzie!! And since it's your birthday, I decided to write something about you, you and you!!
Now, that girl on the left is my cousin… Nicole. Well, you would have know by now… she is the only cousin I am close with, since I was young. I wonder why… but well, I guess maybe we both were a little more "wide" than everyone else back then. Probably because my parents went down to KL for holidays that often and we would stay over at Nicole's place.
Of course when she had to leave to study in Aussie, it is a little sad… and we slowly stop communicating. Until one fine day, MSN connects both of us. Now that's how cool internet is! And yup, we catch up from then onwards. I guess I pretty much talk to my cousin every day.
The question of how come I'm so close to her still pops up once in a while. I guess it's because we have a lot of thing in common. We both, for sure love to eat. Who doesn't. We love sweet stuff!!! Yes, ice cream, cakes… yummie… syrup bandung!!! Also sausages… oh yeah~ I still remember our good old sausage galore moments in Bangkok. We love to take pictures and do cute poses and of course the "v" pose. We both fall in love with capsule toys… cute ones of course and for sure… any cute things.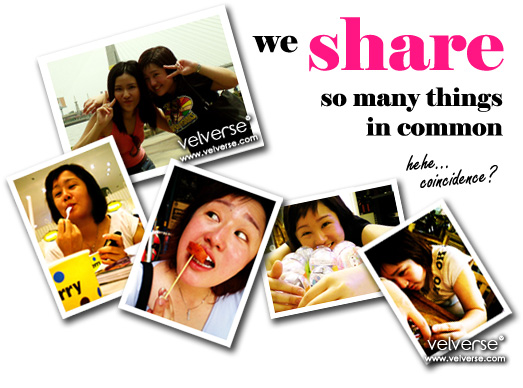 And best of all, we both love traveling. Hehe… Bangkok was our first time I actually go on holiday with her. Hehe… it is really super fun! Cause… we can just eat, eat… and eat. And our "morning routine" fits in just fine. No fighting for toilets, no hassle and it's all just free and easy.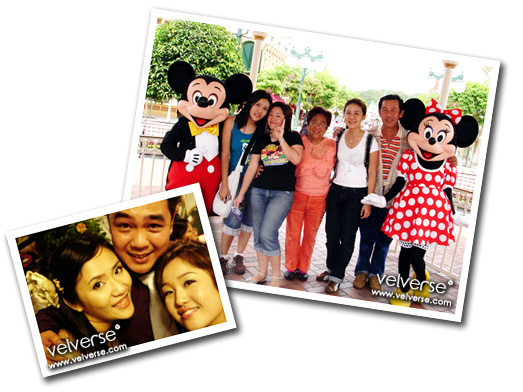 Hehe.. I treat her like my own family member. Yup, everyone always says my mum have 3 daughters. Haha~ looking at the pic, I guess we have 2 pet mouse as well not forgetting my dear dear too.
Glad you both really could joke around well, looking at how both of you fight in the previous trip is really so laughable and funny. So yup, hope to see you real soon… and can't wait to lepak and bake cupcakes together when I go visit you in Aussie. Me and Deon (and the cute panda, bear and er… I think is a dolphin) hope you have a great birthday. I'm so proud and happy to have a cute little cuz like you 🙂 . HAPPY SUPER DUPER BIRTHDAY!!! *hugz*