What dreams may come? I guess everyone would have at least dreamt once in their lifetime. Be it a sweet dream, or a nightmare. People like me… I call myself a dreamer. A dreamer that practically live in dreamland and tries to bring everything there to life. To the reality world… which at times is a cruel thing to do. So let's fall asleep so we can all dream of our dreamers.
First time appearing in Project Crossroad, Jon aka. Dorry Prince did this combo gift for me. He practically combine both Prince/Princess and Dreamer thing together and mailed it to me. I failed to notice the fish at first grance… thinking the apple in the white bubble is the dream bubble thing. Looking at it the second time only makes me notice it's actually a Dory fish outside. Nice.. but I would think it is sorta like a weird dream.
Woohoo… lots of newbie around this time. Winnie and her LiuLiu cat make a first time appearance. A cat that always daydream that someday he will be superman. Hemm… I always think cats would love to be like garfield or like "jiew choi mau" (japanese fortune cat doll). But well.. no harm dreaming the impossible. Coz impossible is nothing.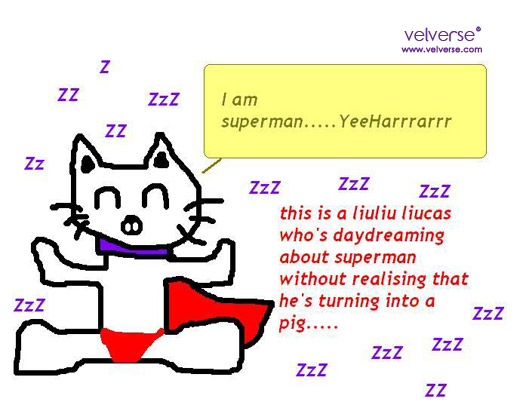 I drew something weird. Something I think of while doing sketches the other day. I actually have a few dreamer sketch but this one was picked because the meaning it brings. Well… from the graphic… my dream bubbles were actually clouds. Hehe… which makes someone else sits on my dreams.
Well… I think in real life.. we are living in other people dreams. Probably having lights at night was someone else dream last time… now we are practically living on it. Probably Internet was a dream back then.. to communicate with someone far. Ah… I think too much. Enjoy the artwork!
What is up next week?
Project theme: Clown
Project description: Yeay… someone with a red nose. Colourful hair… juggle balls around, make us laugh. Oh yes, I need a great laugh! Project deadline: 15 November 2006, Wednesday.
Submit to: mandy@velverse.com
Anyone and everyone is welcome to join. Be it good or bad… it's just something we do for fun! Generate some cool ideas and well.. surely fill up some of our boring times 😀
Click on the banner go link to the project crossroad gallery.