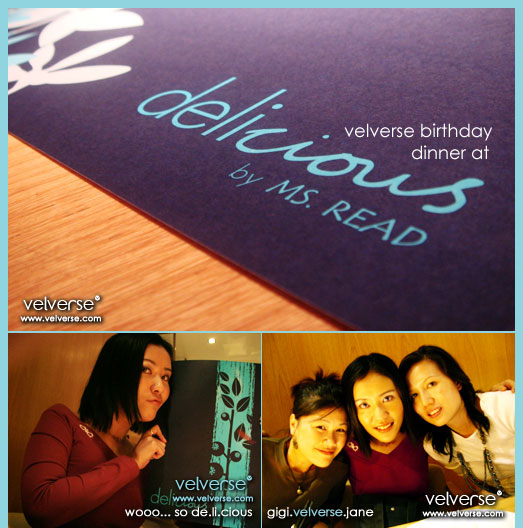 Backdated post. Actual event took place on 06 December 2006.
Yippie yeay yeay, an earlier birthday celebration as I will be away for some company & family trip the week around my birthday. So yeah, pretty much not staying and sticking around. I finally manage to celebrate my birthday together with my uni mates. Glad that they do free up their time to come dinner together :). Much appreciated! Really!
Hehe… I guess me, my birthday and Bangsar Village seems to be connected in many ways. I remember the previous year, I celebrated with my uni friends at Basil. Ah… coincidence eh? Fate I would say. I wouldn't say I was perticularly early… but at least I wasn't that late. I find it quite hard to locate this Delicious Cafe. It is very much hidden, if you come in from the information counter. One would have to go through the supermarket section in order to get in to the place (from inside the mall).
I love their graphics. From their posters to their menu, glass stickers and everything. Hemm… it seems like a thoughtful process whereby they carefully think and brand themselves. I really think it is pretty cool. They have lots and lots all cool stuffs like how they painted the bird cage in white and stuff. It really created a lot of ambience.
Their have an open area which have lots of cushion where one can practically have some pillow fights. Ah.. okay… now back to my birthday celebration. Everyone that promises to show up manages to show up except the host who have some work to do. Well I don't blame her, work always comes first 😀
We all were busy catching up with things we missed out.. Had some great laugh.. and I guess age is really catching up. Imagine the topic "when will you get married?" will never fail to pop up in the conversation. Which of course in my case, "when you gonna have a bf?" applies.
The food arrived… and I must say, they look very good. Food presentation wise, I think they practically nailed every single angle of it. Okay, maybe not every single angle, but at least it works for me. It manages to appeal to me. But taste wise… hemmm surely not the best. I would say, it is quite overly priced for the taste and portion they serve.
Probably it's a different chef, so yeah… I guess they pretty much didn't maintain the food quality standard. I think the branch in 1 Utama serves better food. Although a small place and less decorations, I think they really do server better food.
Hemm…. I don't really know, but one thing I can tell you, they have BAD CUSTOMER SERVICE. Yes, we have a serious issue about bringing a birthday cake my uni friends bought. Almost a big drama whereby they would wanna charge us some big amount of money. Yeah, I guess that amount of money is enough to buy another 1/2 cake.
For me, not allowing us to bring the cake in is not exactly what I meant by BAD service. Is the way they talk to you which sounded bad. I think I could use the word rude and not friendly… and I think those qualities are not what someone who is in a customer service line should have. What I hate most is the walk of with a dark charcoal face ignoring things. Yes, I hate that when they give me… "complain me if you want, I don't care face". I wonder why and how on earth people like this is hired. Sigh… yes, that pretty much spoils a little of the fun. So what happen to the cake? Tell you on the next post!
Address:
DELIcious by Ms. Read
Bangsar Village
GF-1, Ground Floor,
No. 1, Jalan Telawi Satu,
59100 Bangsar Baru,
Kuala Lumpur, Malaysia
Telephone: 03. 2287 9770
Website: http://www.delicious.com.my/